HP's newest Jet Fusion printers are faster, smaller, and less expensive.
At Solidworks World 2018, HP introduced its newest printers in its Jet Fusion line of 3D printers, the Jet Fusion 300/500. The new printers tick several important boxes: they print in color or black & white at voxel level control. The company says print performance is 10% faster than the earlier versions, and the machines are less expensive. The company is also announcing new innovations in materials through partnerships and internal research. Solidworks and HP are collaborating on 3D printing to further develop the interoperability between Solidworks 3D design software and HP's Multi Jet Fusion 3D printers.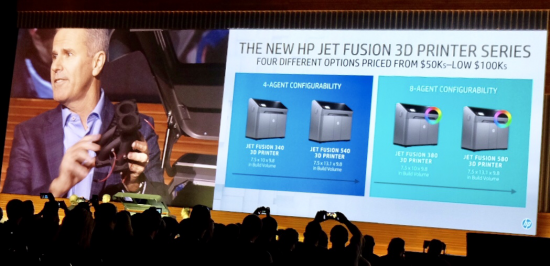 Steve Nigro, president of HP's 3D printing business unit, says the new printers are designed for small businesses, and it's being advertised as a prototype tool.
The machines in the 300 line, the 340 and 380 are for smaller parts and short runs. The 340 is a black and white machine supporting 4 agents, and the 380 is a color machine with support for 8 agents. The 500 line has a larger print bed and is heavier duty. It too comes in a black and white model, the 540, and a color version, the 580.
These are revolutionary machines for HP and fulfill promises made with the introduction of HP's Jet Fusion technology. In addition to color control at a per voxel level, the machines are also fully integrated in contrast to the original machines which have separate print module and reclaiming module. The machines now include material mixing, loading, printing, and reclaiming material in one machine resulting in a smaller machine and one that is neat, clean, and more efficient. The machine can extract and reuse unused material automatically. These updates bring HP closer to the easy printing model the company pioneered with its ink jet technology decades ago.
Another key focus for the new printers says HP is the major opportunity represented by medical technology. As an example, doctors can create a model of a unique part, such as a child's heart, which will enable doctors to explore the model, understand what is broken and what needs to be fixed, and to practice before actually operating.
HP has introduced a new material called HP PA Color Boost (CB) 12. The company says the material is similar to the materials used by HP's industrial printers. HP also has a development kit for materials, which is part of its Open Materials program introduced in March 2017. The program introduced HP's 3D Open Materials and Applications Lab and its Material Development Kit (MDK) that simplifies testing and certification of new materials for partners. Anyone can order an MDK to start developing materials for the HP Jet Fusion printers. Among the partners working with HP are BASF and Evonik.
As mentioned, the new printers represent HPs' further stop to democratize 3D printing and to become useful to more companies and individuals. To support the expanded market for HP's printers the company is expanding its reseller program with a specialization for 3D printing.
The new printers support three color file formats: OBJ, VRML, and 3MF. They are available for order now, and shipments are expected in the second half of 2018.
What do we think?
There are a wide range of 3D printers being developed for specialized use cases. This is a proof that the 3D printing revolution is well underway. HP has a bit of an inside track with its leadership in inkjet technology and strong industry relationships. When the Jet Fusion was first introduced, the machines were big, the capabilities and materials limited, and the multi-module design was not ideal. They're a long way away from desktop printing or even desk side printing. But, as Steve Nigro notes in his comments on the Jet Fusion 300/500 machines, the world is moving towards a platform approach. Certainly Dassault backs a platform approach. The company sees its bank of tools as a platform, though ironically, they have their own views of openness as does their peers in the business. Everyone is open in their own special way as it turns out. The field of materials is complex and often tied to use cases, but HP, with its position as a major player already guaranteed, is in a position to dictate terms.
In the future, HP's ability to have control at the voxel means that materials might be combined in the same way colors are combined, now enabling new materials to be created best suited for the design. Now that's compelling differentiation.