Always connected, Chrome-based devices from HP with Chrome-based built on Qualcomm 7c.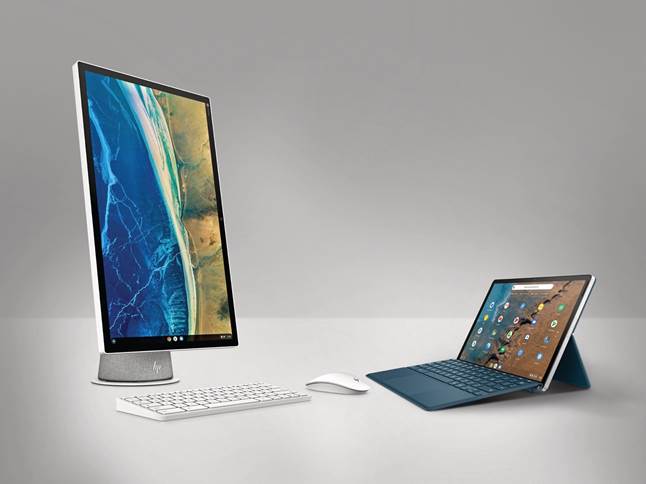 Chromebooks have been gaining a steady edge in the PC'ish market since their introduction in 2011. They have met the needs of students and people looking for a lightweight computer to provide walk-around accessibility to the Interest. Google's development has steadily attracted users as more people become used to cloud-based workflows and depend on Google's online. They're available from Acer, Asus, Dell, HP, Lenovo, Samsung—the major OEMs.
HP says 63% of people who buy Chrome-based devices today are looking for devices that enable them to work from home. According to HP's survey, 52% of people buying Chrome-based devices have children and 53% are using their devices for home and school.
On a call to press, Alexander Kuscher, Google's Senior Director of Product Management, observed that as we come back to work and school, "a new way of life requires a new way of doing it." Kusher says Chrome OS has continued to grow and evolve to meet new user needs.
HP has stepped up with new products for a post-pandemic world and the company has plans to stand out in a growing crowd. The company introduced the HP Chromebook X2 11 and the HP Chromebase 21.5-inch All-in-One desktop. In addition, HP has improved Chrome-life with a new monitor that "Works with Chromebook"—the HP M24fd USB-C monitor.
HP claims to have introduced the first Chromebook detachable with the 12.3 inch x2 in 2013.
The company believes their new version of the X2 with its detachable keyboard, and 11-'inch display pushes the segment forward. This machine is slim, fanless, and has snappy performance (according to HP). In addition to having a full-size detachable keyboard, HP has added a wireless charging USI pen that magnetically attaches to the side of the device when not in use and charges while connected.
HP has paid attention to the aesthetic details with a silver aluminum unibody and sandblasted finish. It has a volume rocker switch, two USB-C ports, a fingerprint reader built into the power button for fast unlock. It also has a combo microSD and nano-SIM card slot in the 2.57-pound package. The additional input slots give it an edge over Apple's iPad.
Following through on HP's claims for their Chrome device as an entertainment device, the new X2's display has 2K resolution, in a 3:2 ratio, which facilitates writing in portrait or landscape. Apple and Google claim to have improved the ability to write using the USI pen on the Chrome display. Early reviews are positive on this, but we haven't tried it yet. Handwriting is such a personal thing; it will be interesting to see if Google Cursive successfully challenges the Apple Pen.
HP is keeping up with Apple with the introduction of QuickDrop which enables users to pair their devices so that content can be easily shared like Apple's AirDrop. This again is a feature that Apple users have come to expect and would be greatly disappointed not to have in a competitive machine.
HP has also brought its advances for conference calling to the Chrome platform. The new X2 has two cameras, a 5 MP front-facing wide-angle camera and an 8 MP rear-facing camera. HP says the device's audio performance is also enhanced by the Bang & Olufsen speakers.
The new Chromebook x2 11 starts at $599.99. In addition to Wi-Fi 5 and Bluetooth 5, the new HP Chromebook can also be equipped with an optional LTE modem. HP says the battery life can be as long as 19 hours. Your mileage may vary.
Qualcomm powered
The HP Chromebook is powered by the Qualcomm Snapdragon 7c, which is a SOC that includes CPU, GPU, visual subsystem, and wireless connectivity. This processor has been optimized for always-on computer platforms. Qualcomm says the processor enables better performance on the X2 11. The Snapdragon 7c supports Windows as well as Chrome.
It includes such niceties as multi-frame noise reduction (MFNR) and multi-frame super-resolution (MFSR) for noise-free video capture and EIS, electronic image stabilization to enable improved conferencing capabilities on the X2 11.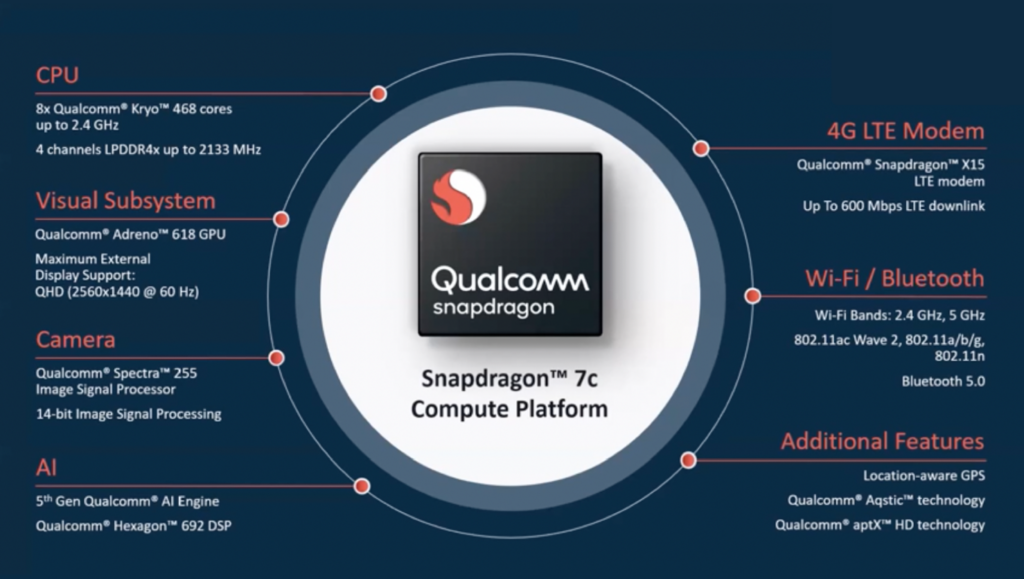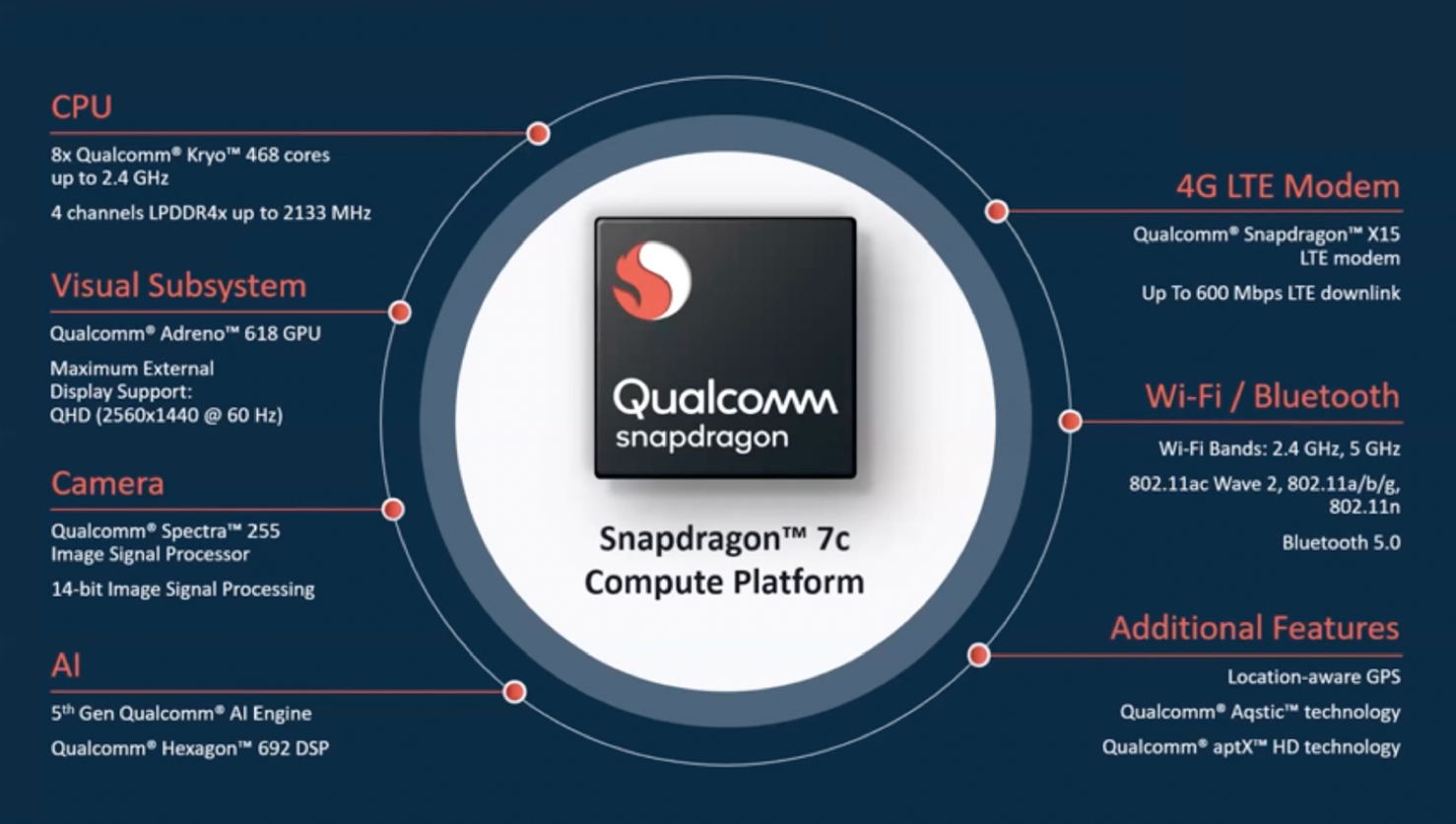 During the press presentation, the HP representatives were asked why HP had opted for the 7C rather than the more advanced and newer 8c. HP executives said this machine has been in development for some time but more tellingly, they also suggested there could be more in the pipeline. That would probably depend on the reception this machine receives out in the market.
All-in-One
The X2 is a snazzy machine, but HP showed a whole lot of love for their Chrome-based All-in-One. HP is calling it "the social hub for your home." The headliner feature is the distinctive conical base made out of die-cast aluminum, which supports a rotatable 21-inch touch display. The screen can tilt upwards 20 degrees and HP says its rotation feature is smooth. HP says the portrait orientation is ideal for reading but it also has a split-screen feature to allow multiple pages to be displayed simultaneously.
Note the base is elevated for better airflow and to further kid-proof the machine because it can resist minor spills. The base has a cloth cover that can be cleaned with a damp cloth.
The AiO feature Intel Core processors (Pentium Gold 6405U) up to 256 GB storage and up to 16 GB DRAM memory.
Like the X2, the AiO features audio by Bang & Olufson. It has dual 5W speakers and a 5 MP large sensor camera that can adjust for low lighting. The camera can be turned on and off with a privacy switch. There is a volume control in the base that is easily accessible.
Other features include a wireless keyboard and mouse, support for HP's QuickDrop.
HP says their new Chromebooks have special appeal for school kids because Chrome machines are likely to be what kids use at school, so the home machines will be more comfortable for them.
The HP Chromebase 21.5 inch All-in-One will be available at HP.com, Amazon, and Best Buy for $599.99.
… and a new monitor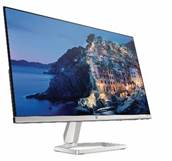 The monitor features HP Eye Ease with Eyesafe technology to reduce blue light effects without impacting the monitor's color. HP is also introducing the M24fd, a new monitor which is designed for the Chromebook. It is a USB-C monitor meaning an easy, compatible connection. It's been tested by Google as well as HP to meet connectivity, input, and power requirements and ensure transparent pairing.
The new monitor will be available for $249.99.
What do we think?
Chromebooks meet the needs of students and their families. That much is obvious, but do they have the ability to cross over into more mainstream use? Can they compete with Apple's iPads? The Chromebook detachable holds up against the iPad reasonably well, it's going to be important to see how well the Cursive feature compares to the Google pen. Also, Apple has gotten very good reviews on its performance for the new iPads featuring Apple's M1. The Qualcomm Snapdragon 7c might be a step behind. (But we haven't done any head-to-head testing).
As for winning the hearts of cold and calculating business people, well that challenge is going to take some time to play out. The real crossover happens when remote computing becomes ubiquitous and transparent. The Chrome devices can work offline but Google Drive has to be enabled for offline use. It's easy enough to do, but its usefulness may depend on how much local storage one has. And, right now, the Internet is known to go down suddenly. Oops, no time to turn on Google Drive for offline. Also, there is the issue of Google apps vs. Office and the feature differences and user familiarity. The files are generally compatible but Google office does not support all of the Office features like formatting tools and macros.
Another wild card in the deck is Microsoft 365, the online version of Teams and Office. Not everyone loves working with Google's office apps. It's getting wider acceptance but usually in conjunction with Microsoft Office apps as the primary authoring system.
Being good enough for schoolwork is one thing, but what about your job? There is still some infrastructure to be built.