New Zealand-based Cerulean Labs has announced a recent update to Spaces, its sketch-based conceptual design app for iPad. Spaces 1.3.1 offers two significant new features, Cladding Tool and Design Options, along with facade editing improvements with the ability to edit multiple facades in the same view.
After raising NZ$ 1 million to fund the commercial launch of Spaces in September 2021, Spaces 1.0 was released in October 2021. The basic version 'Spaces Starter' is free to download from Apple store but the maximum number of projects is limited to three. The advanced version 'Spaces' is available for US$ 29 per month, if paid annually in advance, and offers unlimited projects, export capabilities, and additional modeling and reporting tools. A one-month free trial is also available with this version. The company says that a pro version 'Spaces Pro' is coming in Q2'22.
Cerulean Labs was founded in 2020 by Campbell Yule, an architect and entrepreneur with specialization in subscription models, metrics, SaaS business models, digital marketing, BIM, CAD and 3D software for AEC, etc. Yule has worked with companies like Cadimage, Buildmedia, Graphisoft SE, and BIMObject. He says, "All great architecture starts with a line, and allowing architects to quickly sketch their design ideas and translate them into plans with real building information data is a unique offering in the market." Being an architect himself, Yule felt that most technology solutions focused on the later stages of construction documentation and construction itself while leaving the conceptual design team in an AEC project underserved.
Spaces focuses on the conceptual design stage of AEC workflow. The app has been built to take advantage of iPad and Apple Pencil. It quickly edits designs and works with live building model data. The company says that this data-driven approach to design ensures conceptual designs maximize potential while also aiding with planning compliance.
To watch a live demo of Spaces on March 9, 2022, register for the webinar here.
The company press release is as follows:
New Cladding Tool and Design Options in Spaces v1.3.1
Cerulean Labs is pleased to announce the release of version 1.3.1 of their sketch-based conceptual design tool. This latest version delivers two significant new features and several enhancements across the app.
Cladding Tool
The new Cladding tool transforms Spaces mass models into pieces of architecture. Customers can quickly assign cladding to the building faces to create curtain walls, shading systems, or combinations of both.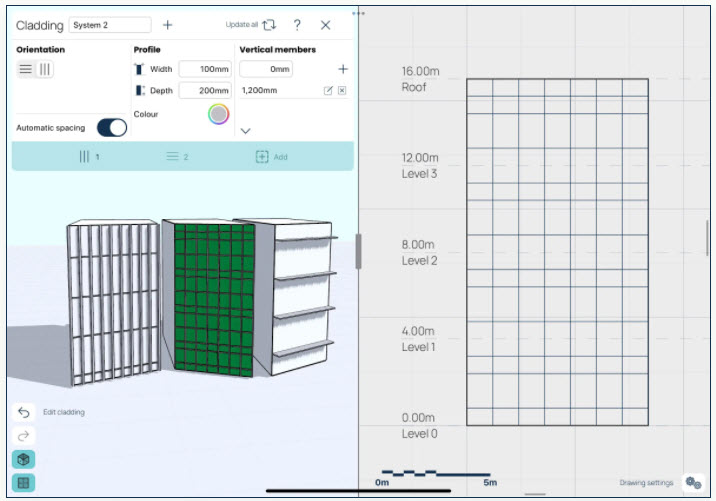 "This is the first release of our Cladding tool, and while we are immensely proud of this release, we still have many features we plan to add," says Campbell Yule, the founder of Spaces. "We were keen to get this new tool into our customers' hands early. As we continue our mantra of continuous improvement, customers will see this tool enhanced over our next few releases".
Underlying Spaces is a parametric geometric engine built to help designers quickly and effortlessly create their designs. Cladding can be applied to building designs very early on. Any changes to the underlying building form are automatically applied to the cladding without tedious editing tasks by the architect.
Design Options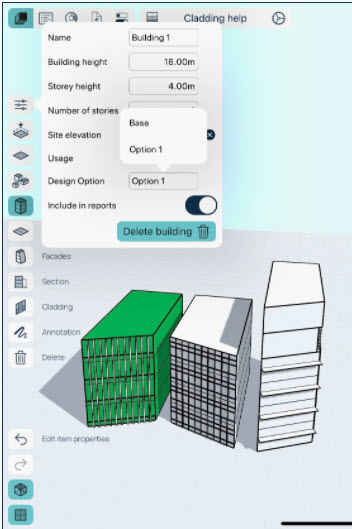 The second new tool gives the architect the freedom to explore different design options within the same project file. Quickly create options to explore an idea without creating multiple files. If an idea results in a dead-end, the architect can switch back to the original option and continue the iterative process of exploring and refining the design.
"Both these features complement each other extremely well, with cladding being a key element in the style of the architecture created. Our customers can now quickly explore all manner of styles by combining the new Cladding and Design option tools," concludes Yule.
Spaces is available from the Apple App Store.