One of the announcements Autodesk made at AU last week is the future availability of Autodesk Tandem, a platform for packaging digital twin BIM for handoff to owner/operators. During the general keynote session at AU, President and CEO of Autodesk, Andrew Anagnost said, "Construction will be permanently digitized. There's more need to coordinate workflows between teams and disciplines." Autodesk says that Tandem is a purpose-built tool that presently focuses on building owners' workflow. Digital data generated from design to construction phases can be used to create a meaningful digital twin that building owners and developers can use to manage the lifecycle of the building. Autodesk is inviting applicants to join Beta Program for Tandem.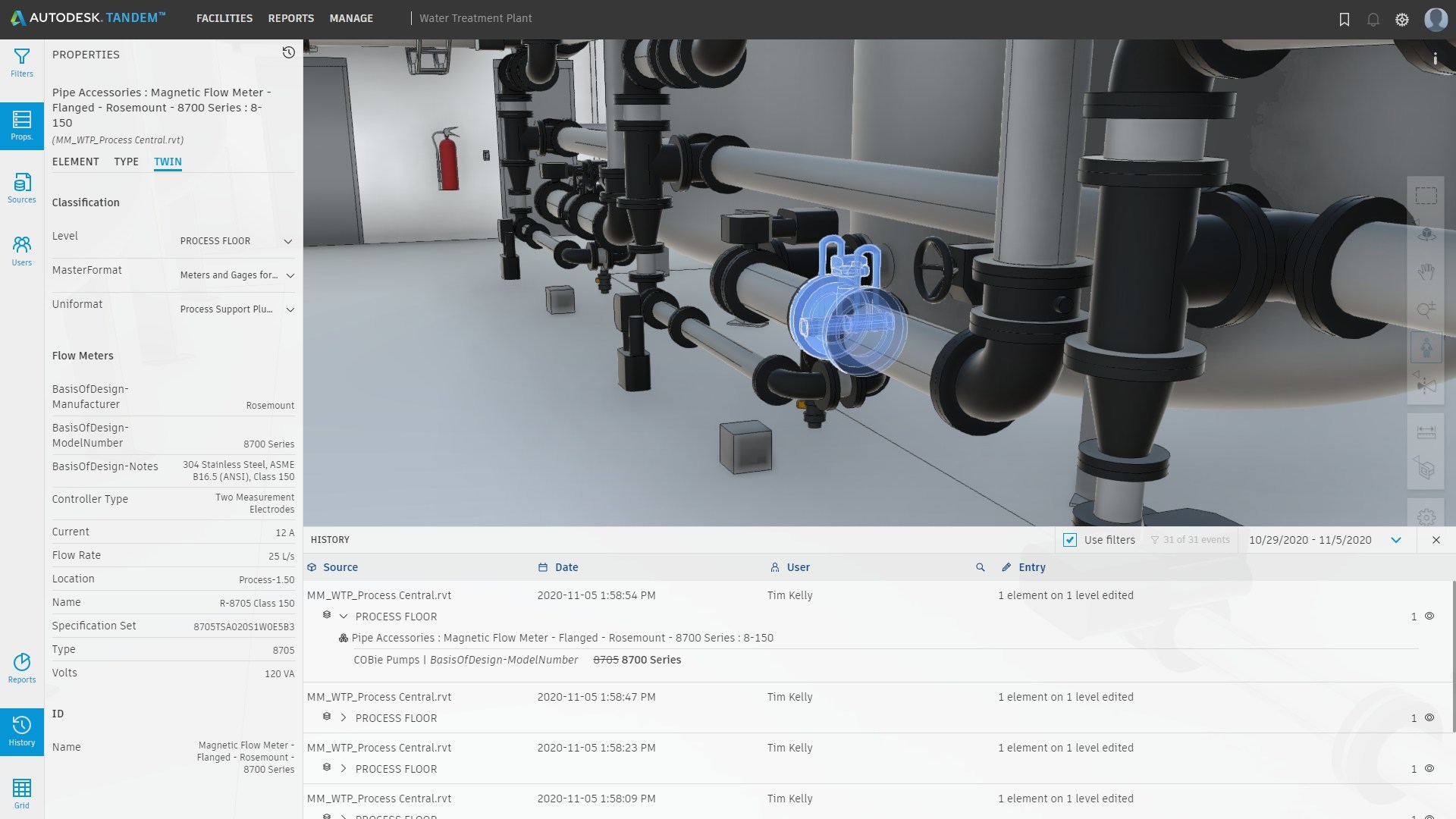 The press release follows:
San Rafael, CA—Autodesk University—Autodesk, Inc.  (NASDAQ: ADSK) today at Autodesk University Virtual announced the future availability of Autodesk Tandem. Autodesk Tandem brings project data together from its many sources, formats, and phases, to create a data-rich digital hub that tracks asset data from design through operations—a digital twin.
Autodesk Tandem connects the digital world with the real world, creating an up-to-date reflection of a model's physical self. This provides unique operational insight into a facility, building, bridge, or any structure, as well as its components, including, for example, the performance of heating and cooling systems, escalators, and electrical systems.
From design through construction, the project delivery lifecycle of buildings, facilities, bridges, and other physical structures creates an extraordinary amount of data. The data is often disorganized and left unused after handover to owners and developers when the project is completed. And building owners want digital data at handover given nearly 80 percent of an asset's lifetime value is realized in operations.
"If the valuable information created during the design through construction phase disappears at handover, owners will lose money," says Nicolas Mangon, Vice President, AEC Business Strategy, Autodesk. "Autodesk Tandem is a purpose-built tool that gives owners and operators greater insight into their completed project, so that they can make informed decisions to improve performance. We look forward to enrolling our customers into this beta."
With Autodesk Tandem, all project models are brought into a single platform, creating a digital view of projects, along with metadata for each asset. Architects, engineers and contractors can then fully support the digital handover, giving owners a digital twin of the final asset so that they can dive into all design and construction history. Leveraging nearly 25 years' leadership in intelligent 3D design and engineering, Autodesk credits Building Informational Modeling as one of the foundational components of Autodesk Tandem.
"We are excited about Autodesk Tandem's potential to deliver a holistic and useable view of design and construction data as a digital twin for operations," said Marin Pastar, Global Technology Leader for Vertical Information Modeling, Jacobs. "A single source of truth for operations will help reduce the total cost of ownership of projects, and help owners realize the value of BIM long after handover."
In October 2020, Autodesk became a Founding Member of the Digital Twin Consortium, an organization whose members are committed to using digital twins throughout their operations and capturing best practices. Autodesk is also a member of the Open Design Alliance, a non-profit technology consortium that provides support and access to design file formats. Autodesk's participation in both organizations is motivated by the company's commitment to openness, working with peers to advance industry, and improving customer experience in the AEC space.