PTC's fights above its weight at annual LiveWorx conference showcasing new products and new alliances.
The PTC conference kicked off this year with a show of strength and confidence. The company announced three major alliances this year and they highlight three different areas of focus for the company.
The company is teaming with:

Ansys is known for its simulation technology, especially FEA. Ansys has developed technology they call Discovery Live, which enables lightning fast simulations in context—at least in demos it was lightning fast. The cool thing is, by partnering, PTC's customers using Creo tools can get instant FEA by running it on a part within the model, and the answer comes back in the model visually, and the solution, modification, or fix can be built in the model, in realtime, so there's no going in and out of applications. The technology is being embedded in the Creo tools, but it is still a native analytics tool, not CAD. However, when its done its work, the modified part is incorporated into the model as a B-Rep model.

Rockwell Automation and PTC have announced a strategic alliance that will enable technology sharing for development and also plans to go to market together. The deal has been built around a $1 billion dollar investment Rockwell is making in PTC for 8.2% share of the company, or 10,582,010 newly issued shares at a price of $94.50. That price represents an 8.6% premium on PTC's closing price on June 8.
Rockwell CEO Blake Moret will take a seat on the PTC board. The two companies have teamed up primarily around IoT, AR, and the role new technologies are playing in factory automation but both companies also stress that there's a lot of potential for making money in this partnership, as they fill in technology gaps in each other's portfolios. On the technology side, PTC and Rockwell Automation will align their respective smart factory technologies and combine PTC's ThingWorx IoT, Kepware industrial connectivity, and Vuforia augmented reality (AR) platforms with Rockwell Automation's best-in-class FactoryTalk MES, FactoryTalk Analytics, and Industrial Automation platforms. This looks like a heck of a good deal for PTC, which has revenues in the range of $1.2 billion annually.

Microsoft and PTC teamed up at the start of the year around the Hololens for industry and IoT and PTC named Microsoft's Azure platform as its preferred cloud platform for industrial applications. PTC's ThingWorx is available on the Azure cloud, giving the companies a deal to sell to customers interested in building IoT applications. Creo and Windchill will be convenient capabilities for companies building out applications with PTC and Microsoft.
So, it's not like alliances are all that big a deal. Companies make them all the time. PTC is filling in blanks in its technology portfolio. Jim Heppelmann told the audience, "we need force multipliers." PTC didn't necessarily see it as necessary to buy companies to lock out its competition, and in fact, that strategy doesn't make sense in the world PTC wants to play in. It would seem they're looking for powerful partners who really can't be bought out. And, they're looking for power sharing.
What's important, especially in the broad and complex IoT business is that the game can be very effectively played by opening out to adjacent fields rather than trying to build a fence around territory. This is something all the CAD companies are juggling with in different ways.
So why these deals? It's pretty fascinating to look at the deals PTC is making and the gaps it's trying to fill. All the major CAD companies snapped up analysis software during the mid-2000s or so. During that same time, Ansys was doing plenty of acquiring on its own, building its own technology portfolio from companies left in the feeding frenzy. Ansys now has its own modeling system with SpaceClaim and makes licensing deals with partners, but it's quite happily standing alone.
Describing the deal with Ansys, Jim Heppelmann said that PTC knew they were competitively weak in analysis technology, especially against Dassault and Siemens so they went to Ansys to see what the company had and they were shown Discovery Live. Discovery Live works realtime to analyze a part. Heppelmann said his reaction was "Oh my God, you can't unsee that," and he said the PTC team realized it had to be incorporated into the CAD system, otherwise the advantage of realtime would be lost in all the back and forth between analysis tool and CAD tool, update, etc. Ansys is showing Discovery Live working with their CAD tool, SpaceClaim.
PTC says they're unique in being able to offer almost realtime analysis within the Creo tools. The result is that people really can iterate faster and more often. The analysis process does not have to come last, it is integrated in the modeling process. The company says they will back-port the Ansys technology so it will work in previous versions of Creo.
The Rockwell deal is more directly related to PTC's IoT plans and its interest in factory automation. The factory is another area where PTC admits it has a technology gap. In fact, the company has pushed its way into factory animation by a side door, or rather through the machines themselves thanks to the company's acquisition of KepWare and tools like ThingWorx and Vuforia, which companies have been using to build their own factory systems. Rockwell Automation brings sensor technology, robotics, machine automation, and also new markets for PTC such as Pharmaceuticals, and Oil and Gas. Heppelmann said that when it comes to the factory, PTC felt like it needed a "big brother" partner, and Rockwell does know its way around the neighborhood.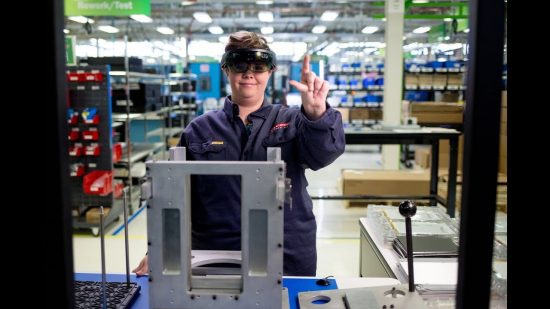 Then there's Microsoft—definitely a big brother and a logical partner. Microsoft announced early on that it would first focus its Hololens technology towards industry, the logical and easiest market to address for AR. PTC has taken an aggressive and pipelined approach to the AR, IoT, and Factory Automation markets that are also interesting to Microsoft and Hololens. As a result, it brings expertise technology and customers to the Hololens platform for Microsoft.
When Hololens was introduced, it had a good base for developers with its Universal Windows Platform and its SDKs. While the race had tightened as Apple ARKit and Google ARCore have both gotten new feature and multidevice support, Microsoft has been keeping up, and Windows is a known commodity for developers. ARKit, ARCore, and Microsoft, all support Vuforia. And, PTC is not about to close the door to other headset developers or platforms. Whatever, Microsoft is a pretty good force multiplier for PTC.
What do we think?
All the CAD companies are taking their own paths for an end-to-end model for design, manufacture, service, and optimization. The leading CAD companies all have very good technologies. PTC wants to make it very clear that their view is towards building bridges and connecting points. We like PTCs awareness that it's a big universe they're looking at in IoT; and we like their optimism about carving out a competitive space for themselves in that very large universe.