Good but not great quarter, $1.65 billion in sales, $102 million GAAP profit for the quarter, sales and profit up from last quarter.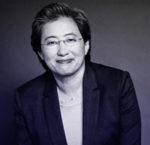 AMD reported its quarterly results for calendar Q3 2018, revenues and operating income were up year-over-year as well as its graphics and compute groups revenue and profits.
 "We delivered our fifth straight quarter of year-over-year revenue and net income growth driven largely by the accelerated adoption of our Ryzen, EPYC and datacenter graphics products," said Lisa Su.
"Client and server processor sales increased significantly although graphics channel sales were lower in the quarter. Looking forward, we believe we are well positioned for further market share gains as we continue making significant progress towards our long-term financial targets," said Dr. Lisa Su, AMD president and CEO.
Revenue was $1.65 billion, up 4% year-over-year and down 6% quarter-over-quarter. The year-over-year increase was driven by higher client revenue in the Computing and Graphics business segment. The sequential decrease was driven by lower graphics revenue in the Computing and Graphics business segment. Third quarter revenue included IP-related revenue, of which $86 million was related to the company's THATIC joint venture. Third quarter 2017 revenue also included IP-related revenue.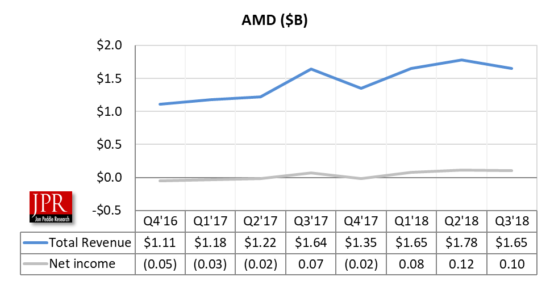 R&D expenses were $363 million (or 22% of revenue), up $5 million Y/Y and $6 million Q/Q. MG&A expenses were $148 million (9% of revenue), up $16 million Y/Y and $6 million Q/Q.
Graphics group
Computing and Graphics segment revenue was $938 million, up 15% Y/Y and down 14% Q/Q. The Y/Y and Q/Q increase was primarily driven by strong sales of Radeon graphics and Ryzen desktop processors.
Client processor average selling price (ASP) was higher year-over-year and quarter-over-quarter primarily due to higher desktop and mobile processor ASP.
Year-over-year revenue growth was primarily driven by strong sales of Ryzen desktop and mobile products, partially offset by lower graphics revenue. Blockchain-related GPU sales in the third quarter were negligible. In the third quarter of 2017, blockchain-related GPU sales were approximately high single digit percentage of total AMD revenue. The quarter-over-quarter decline was due to significantly lower graphics revenue driven by high channel inventory, partially offset by higher Ryzen processor revenue.
Operating income was $100 million, compared to operating income of $73 million a year ago and operating income of $117 million in the prior quarter. The year-over-year operating income improvement was primarily driven by a richer client product mix and IP-related revenue, partially offset by lower graphics revenue. The quarter-over-quarter operating income decline was primarily due to lower graphics revenue.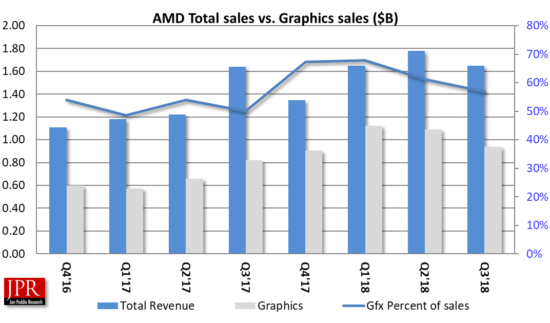 The company said their AMD EPYC datacenter processor adoption continues to accelerate, with new platforms and deployments from several industry leaders: Microsoft announced a new Azure H-Series cloud instance for high-performance computing workloads using AMD EPYC processors. Oracle announced the launch of multiple new AMD EPYC-based service instances on Oracle Cloud Infrastructure. Dropbox announced that it will use AMD EPYC 7351P one-socket processor platforms for future growth and to refresh its existing infrastructure, and Xilinx revealed a new world-record for inference throughput of 30,000 images per-second, achieved by a system using two AMD EPYC 7551 CPUs alongside eight Xilinx Alveo U250 acceleration cards.
The company expanded its client compute product portfolio with new desktop processors from high-end desktop to entry-level and launched its 2nd Generation AMD Ryzen Threadripper processors including a new WX Series for professional computing and improved X Series for enthusiasts and gamers. The company also introduced its first "Zen" core-based AMD Athlon and Athlon PRO desktop processors for entry level consumer and commercial desktop processing product line-ups. And the company introduced the Radeon Pro WX 8200 graphics AIB and Radeon Pro V340 AIB.
The company has steadily improved gross margin from Q1'17.

The company has been able to raise ASP on the basis of its new processors, and that has been recognized by Wall Street.
What do we think?
Su said she doesn't see a macroeconomic problem for the chip sector yet. But, Su told Barron's in a wide-ranging phone interview Thursday morning, "people are more cautious given the trade situation."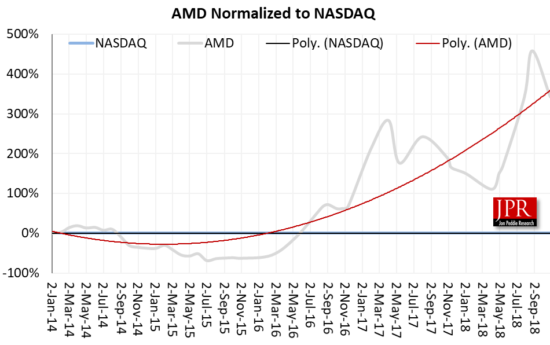 AMD adjusted earnings were 13 cents per share, roughly in line with the analyst consensus of 12 cents and $1.7 billion. But its fourth-quarter revenue outlook was significantly below the Street at a range of $1.4 billion to $1.5 billion, compared with the $1.6 billion average forecast. The quarterly guidance was the first time this year AMD forecasted sales materially below Wall Street expectations.