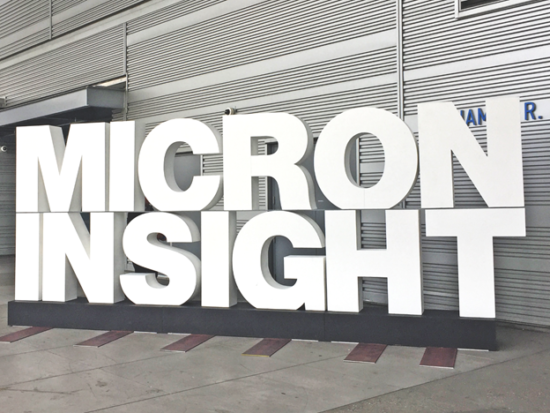 Micron Technology, in its 40th year and flush with new revenues from the huge amounts of memory being used by data centers, AI, gaming, visualization, etc., announced at the new event, Insight '18, its future plans that include support for AI startups and development. Micron staked out its position as being at the front of several technology transitions and highlighted trends affecting the sales of memory. The event also functioned as a bit of a showcase for the plans of newish CEO Sanjay Mehrotra who took the helm in April 2017.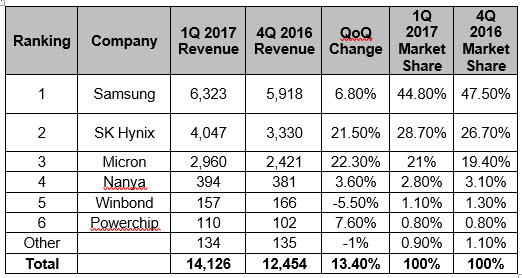 The event was held at San Francisco's truly snazzy cruise dock at Pier 27, where the company set out to communicate its plans for the future from a position of strength. Micron certainly looked rich enough there in that glassed in room surrounded by the glories of the San Francisco Bay. At the event, Micron announced a new $100 million venture fund for startups and a $1 million academic research grant program. Both programs are looking for new development in AI and 20% of the AI venture fund is devoted to projects involving women and underrepresented groups in industry.
Mehrotra said Micron is the only company that is a pure-play in memory and storage. The industry has consolidated to the point that three companies Micron, Samsung, and SK Hynix are building 96% of all DRAM.  Mehrotra told the audience that Micron intends to increase development to high-value products including high-performance DRAM for graphics, AI, HPC. He notes that every aspect of the semiconductor business is becoming more expensive and more complex, which means transitions are becoming more difficult to negotiate.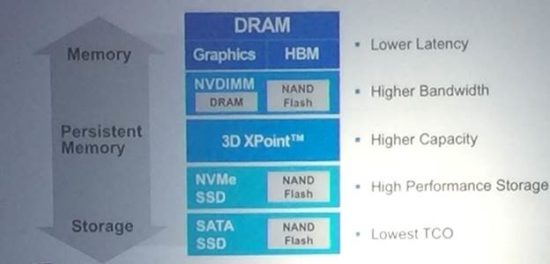 Mehrotra highlighted persistent memory as a key technology that has enabled the company to win customers in its fastest growing and richest markets—graphics and the data center. Persistent memory combines memory and storage. The technology brings nonvolatile, low-latency memory closer to the processor and can still provide fast access to critical data. It combines data reliability, with NAND flash and the fast access of DRAM.  Micron's two products that have come out of the persistent memory development are non-volatile dual in-line memory module (NVDIMMs) and 3D XPoint.
Micron's DDR NVDIMMs combine DRAM, NAND flash and a power source in a memory subsystem as an RDIMM. NVDIMMs have been developed for applications that require high performance but are also sensitive to down times. NVDIMM is a JEDEC industry standard and Micron's competitors are also in the game but some are taking different approaches with different storage strategies.
The 3D XPoint technology is an evolution of persistent memory technologies that has come out of a collaboration between Micron and Intel for better storage devices that utilize DRAM for density but non-volatile and significantly faster and more durable than NAND flash enabling devices that are fast enough to feed the processor for significant performance boosts in big data applications. Intel and Micron say the technology will enable new architectures that can bring larger amounts of data closer to the processor for better performance and reduced latencies. Intel has already delivered a 3D XPoint product with its Optane DC persistent memory. At Insight '18, Micron says its 3D XPoint products will be ready for market in 2019.
As of this writing, Micron has doubled down on 3D XPoint. The company announced that it will buy out Intel's share in IM Flash Technologies (IMFT), the joint venture that resulted in the development of 3D XPoint as well as other technologies such as the hybrid memory cube, and Crystal Well SDRAM for Intel's integrated GPUs. Intel and Micron have dissolved their joint agreement on NAND flash technologies and 3D XPoint as Micron prepares to field its own product. As a result of the deal Micron will own the IM Flash foundry which is the only foundry building 3D XPoint products including Optane.
The point at Insight '18 was that there's plenty of room for growth for everyone as AI grows to be part of every compute experience from the biggest super computer to mobile, to cars, and IoT.
Investing in the future
Also during Insight'18, Micron announced a $1M research and teaching grant program for AI development through its existing Micron Foundation and the company announced the first three grant recipients of its $1 million university grant program.
According to the official description of the program, the grant is for universities and nonprofit organizations to conduct research into how AI can improve lives while ensuring safety, security and privacy. These three groups will split the first half of the $1 million grant:
AI4All, a nonprofit organization that works to increase diversity and inclusion in AI education, research, development and policy is receiving $100,000. AI4All intends to grow the next generation of diverse AI talent through its AI Summer Camp, which is open to students in 9th through 11th grade. The camp gives special consideration to young women, under-represented groups, and families of lower socioeconomic status.
Berkeley Artificial Intelligence Research (BAIR) Lab, which supports researchers and graduate students developing fundamental advances in computer vision, machine learning, natural-language processing, planning and robotics, is getting $200,000. BAIR is based at UC Berkeley's College of Engineering.
Stanford Precision Health and Integrated Diagnostics (PHIND) Center, which is using AI to enhance its research on monitoring and improvement of overall human health, with a focus late-stage disease including treatments applied relatively late with suboptimal health outcomes. This group is also getting $200,000.
As you might imagine, analysts ask Micron representatives why such a relatively, paltry amount for the University groups. The idea they said is to target these grants to small groups that can really do the most with the money. Several times Mehrotra and other Micron execs stress that the whole field of AI research and startups is in the very earliest of days and Micron's programs likewise are just starting out and casting their nets. Or, put another way, there's probably more where that came from if Mehrotra right about Micron's positioning for growth.
Maybe I shouldn't have made you read all this before I gave you this link but I had to write all this before I found it. The AI discussions were wonderful and worth spending an afternoon watching.