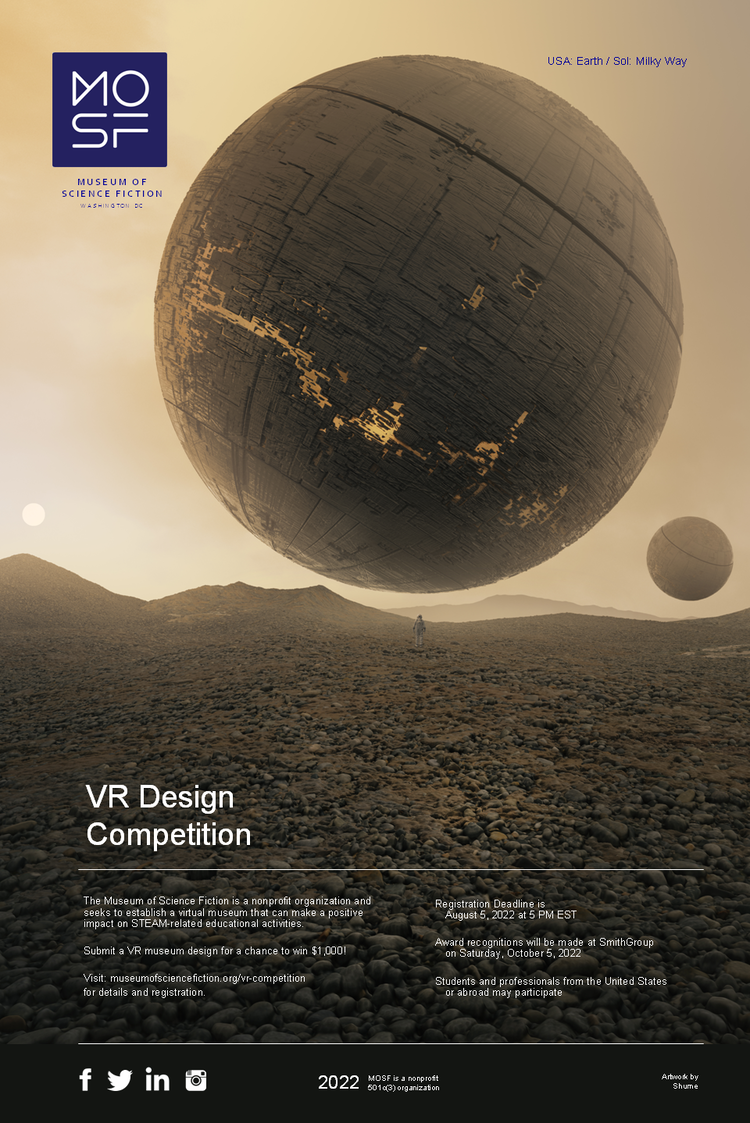 Museums today are not the same as they once were. Thanks to all the technology over the past decade, museums are far more interactive and exciting. By adding VR into the mix… well, amazing possibilities loom large.
The Museum of Science Fiction has launched a global competition to celebrate the importance of virtual reality design and innovation. The VR Design Competition, which runs now through August 5, 2022, is open to all students, architects, designers, engineers, builders, programmers, and artists in the US and abroad. Participants can work individually or in teams.
"We want this competition to inspire immersive and creative VR designs that showcase the unlimited possibilities that virtual spaces offer to museum visitors," said Greg Viggiano, executive director of the Museum of Science Fiction. "Virtual reality has long been a hallmark of science-fiction books and films, but now the real-life technology has reached the point where it can be practically realized."
According to Viggiano, the Museum of Science Fiction is creating what it hopes will be one of the most intriguing and fascinating museums ever. The museum intends to build a VR science-fiction museum that will be used to establish an immediate VR presence for the museum, test innovative new technologies, and gain visitor experience insights to inform planning for a physical museum in the future.
In 2015, the Museum of Science Fiction, along with a team from the NASA Goddard Space Flight Center, built a stand-alone proof-of-concept VR museum that demonstrated the viability of mixing educational science content within an engaging and interactive virtual reality science-fiction environment. With renewed interest in the prototype, the museum is redeveloping the VR Museum and holding the competition to showcase the best VR designs across all aspects of science fiction.
"VR can make our dreams real, and the Museum of Science Fiction brings together both the reality and the dream!" added Greg Bear, award-winning science-fiction author and an advisory board member for the museum.
The winning VR designs by the competition entrants will be featured in the VR Museum alongside the works of Bear and David Brin, also a science-fiction author and Museum of Science Fiction advisory board member, as well as digital artist Shume, with an initial "Creator Gallery" opening in the spring of 2023. The Creator Gallery is the first of seven other gallery spaces and will expand to include the most notable and significant contributors to the genre.
VR design entries will be judged primarily on the overall visual fidelity of the virtual environment by a professional team of judges consisting of digital artists, architects, museum staff, and VR design professionals. Finalists will be selected based on designs submitted online, with an awards ceremony set to take place in Washington, DC, on October 15, 2022.
A grand prize that includes $1,000 will be awarded to the overall winner. More information about the competition can be found on the museum's website.