Three all-new ThinkStations from Lenovo have made their debut ahead of their launch in May, and they will turn heads. The PX, P7, and P5 are the most technologically advanced desktop workstations Lenovo has ever built, featuring the latest technology from Nvidia and Intel. They also have an all-new look thanks to a design partnership with high-end car maker Aston Martin.
For those who need a high-performance desktop workstation, Lenovo is about to roll out three new offerings—the ThinkStation PX, P7, and P5—that are powered by the latest Nvidia and Intel processors, resulting in amazing levels of performance and speed.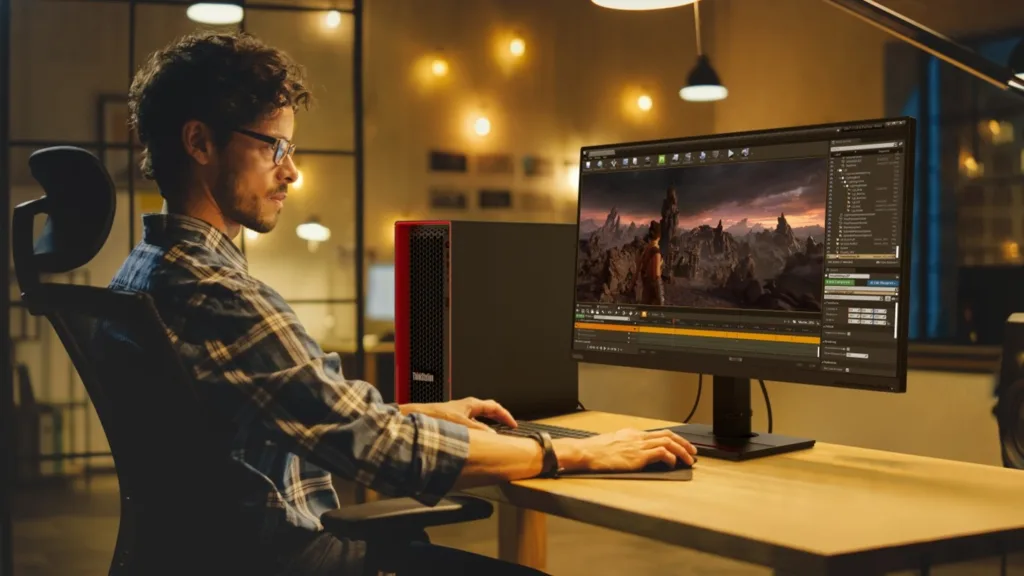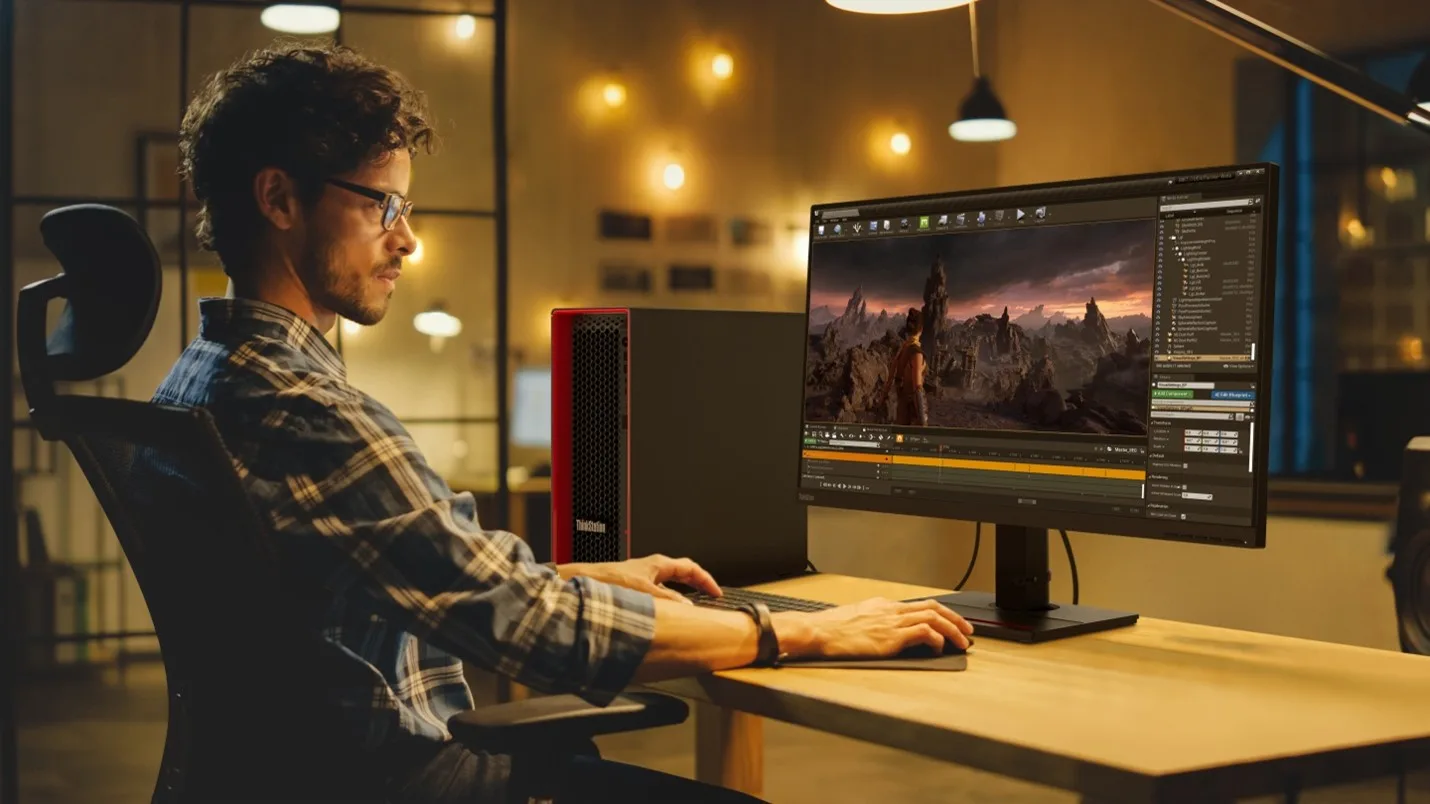 Designed from the ground up, these new desktop workstations offer up to 120 cores and support for Nvidia's high-end RTX GPUs, enabling them to handle complex workloads across many demanding workflows including VR/MR, machine learning, data science, virtual production, CAE, reality capture, AI, and more.
Sitting at the extreme high end, the flagship ThinkStation PX is rack-optimized for both desktop and data center environments, enabling a seamless transition between the two. This powerful machine contains the latest 4th Gen Intel Xeon Scalable processors, with up to 120 CPU cores resulting in a 53% average performance gain over the prior generation. The ThinkStation PX also supports up to four dual-slot Nvidia RTX 6000 Ada GPUs (an option available about a month and a half after shipping; until then, it will support up to four Nvidia RTX A6000s). It also has up to 4TB of DDR5 memory and ultra-fast bandwidth through PCIe Gen 5 lanes. The workstation further has an efficient 1,850 W PSU and optional redundant power supplies.
This is a product that is meant to address a brand-new segment of the market and brand-new workflows, said Jenni Ramsay, senior manager of the worldwide product management team at Lenovo.
Meanwhile, the ThinkStation P7 features a new compute architecture with the latest Intel Xeon W processors, supporting up to 56 cores in a single socket. Designed to handle challenging workloads, the ThinkStation P7 is also rack-optimized for use. It will initially support up to three dual-slot Nvidia RTX A6000s, with support for up to four RTX 6000 Ada-generation GPUs following shortly thereafter.
The ThinkStation P5 is the workhorse of the trio, with the latest Intel Xeon W processors, which offer up to 24 cores, and support for a maximum of two Nvidia RTX A6000 graphics cards, high-speed DDR5 memory, and PCIe Gen 5 bandwidth.
There's no doubt of the power, performance capabilities, and speed of these new ThinkStation Ps. And, that is emphasized in an all-new design resulting from a three-year collaboration with British sports car manufacturer Aston Martin, which is also a Lenovo customer.
The design of the new grill on the workstation chassis was inspired by Aston Martin's DBS grand tourer. But, there's more to it than just looks. The workstations also are designed for optimal performance, with advanced thermals. The team redesigned the air baffles and made larger three-dimensional hex ventilation openings, which, along with Lenovo's patented tri-channel cooling system, results in unobstructed airflow for maximum cold-air intake and hot-air exhaust. As a result of these changes, Lenovo was able to maximize the performance of the CPUs, GPUs, memory, and storage contained within.
Moreover, the new chassis sports a tool-less modular design with front access drives for easy serviceability as well as upgrade flexibility. While the look is very different, the new P ThinkStations retain Lenovo's signature red design language, both in a functional as well as aesthetic way.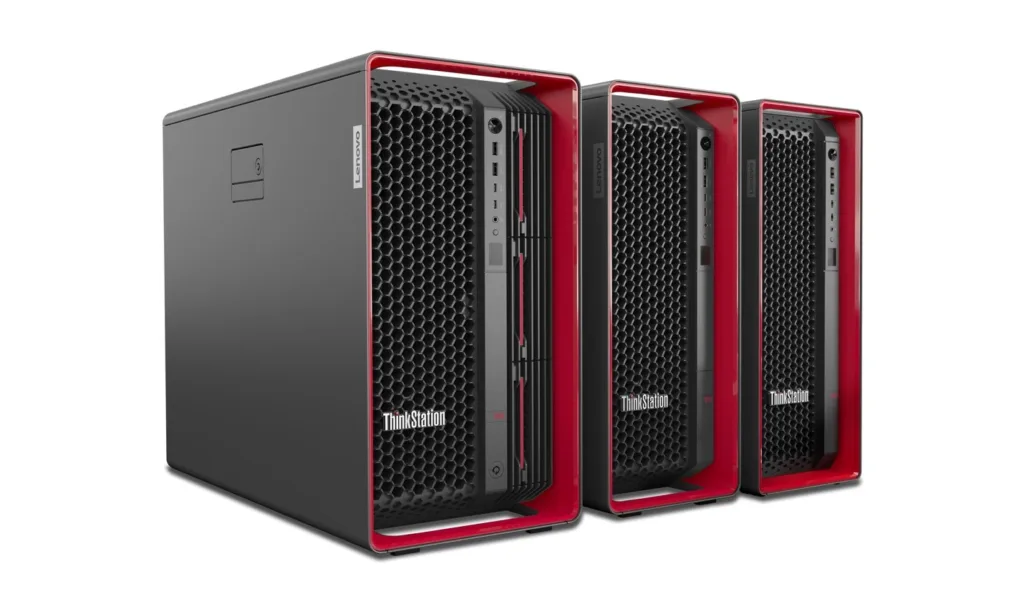 "We partnered closely with Intel, Nvidia, and Aston Martin to ensure these new systems offer the best of form and functionality by combining a premium chassis with ultra-high-end graphics, memory, and processing power," said Rob Herman, VP of Lenovo's Workstation and Client AI Business Unit.
The three new workstations will be available starting in May 2023. Pricing will be announced shortly.