And more details about Navi and an upcoming ship date for Rome.
Lisa Su seems to like Computex and Computex evidently likes Lisa Su. This year, AMD was invited to be among the Computex' keynote presentations, and Lisa Su snagged the all-important kick-off event. In this very interesting year with very interesting leaders. Taiwan is trying to ride out trade wars and maintain its dangerous dance with China, and somehow come out ahead. Right now, many companies which sent manufacture off to China, are repatriating as the US tariffs threaten to tilt the economic advantage back to Taiwan. Politics and technology are intertwined in Taiwan and handicapping the long-running competitive battle between industry giants including AMD, Intel, Nvidia to win the affections of ODMs and OEMs is a national pastime. Lisa Su is a perfect heroine. As AMD's CEO, she keeps the computer industry interesting by challenging both Intel and Nvidia.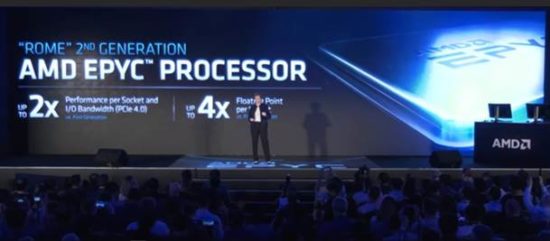 The secret to success in the tech industry is to keep moving. One home run is never enough, and in fact, it's probably better to be able to consistently produce competitive products cycle after cycle. That was the underlying message at this year's computex, and it has been AMD's message since its resurgence over the past 5 years.  The company has a 3rd gen Ryzen and a new 12-core desktop processor to challenge Intel. AMD's next evolution in graphics comes aboard a new architecture called RDNA. And the company is claiming the world's first PCIe 4.0 desktop PC platform.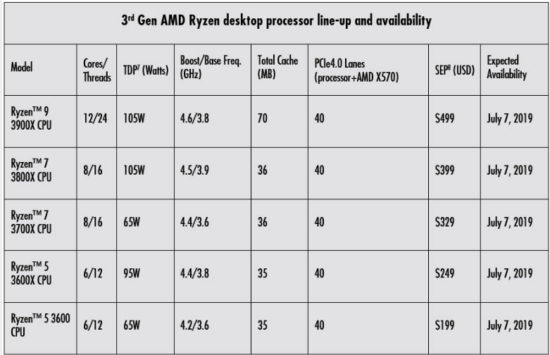 AMD has hit its stride with 7 nm. Thanks to TSMC's ability to deliver 7 nm, AMD has been able to leapfrog Intel's 14-nm process. The Rome processor, announced by AMD last year at a triumphant New Horizon event, has become real at Computex. AMD senior vice president and general manager, Forrest Norrod promised that Rome would arrive in the third quarter of 2019. AMD has followed up with a list of new processors, specs, and prices.
At Computex, Lisa Su said that developing for the data center enables AMD to help solve the world's challenges. She said that the Epyc processor family, introduced two years ago, was meant to bring in a new era in the data center. She said, there are now 60 AMD Epyc platforms in production and the company has cloud wins with Azure, Amazon, Baidu, Tencent.
The Rome generation of Epyc processors will have up to 64 cores, with 4× the raw floating point performance as a result of AMD's improved floating point engine developed for the Rome generation. AMD's calling card for its HPC processors has been its high memory bandwidth that, coupled with improved floating point performance, is giving AMD a good story to tell prospective customers. At Computex, Norrod pitted Rome processors in a dual-socket server against a dual-socket server with Intel's latest Cascade Lake Xeon 8280 processors. The two servers ran NAMD, parallel molecular dynamics code for high-performance simulation of large biomolecular systems.
Moving to desktop products, Su asked: is AMD going to do more than 8 cores? Absolutely yes, she said. The company said they found room for more cores to go along with the increased caches in the Rome chips.
At Computex, AMD and its partners talked about new desktop products on the way including the 12 core/24 thread Ryzen 9 3900X. The company also showcased 8 core Ryzen 7 models and 6 core Ryzen 5 processors. AMD's edge is in multi-threaded performance. This year, AMD showed off a Ryzen 7 3700X versus the Intel i7-7900K using Cinebench to measure realtime rendering. The Ryzen demonstrated 1% more single-threaded performance (or about equal, said Su), and 30% more multi-threaded performance. In gaming, AMD put the Ryzen 7 3800X against Intel's i9-9900K using PlayerUnknown's Battlegrounds and the Ryzen 7 held its own. Going slightly more head to head, the Ryzen 9 3900X beat the i9-9920X by 16% running Blender Render.
"Can I say, we love to win?" asked Su.
Sure she can, but the benchmarks will have to have time to shake out in real world tests as products start to ship.
Games are us
With its chips running most console devices, AMD claims the largest population of gamers. She said over 400 million gamers play on Radeon. That number can only grow, says Su with new deals in the pipeline and the company's relationship with Google Cloud.
Su said that the Vega architecture, so fresh and new just last year, has got plenty of running room and one of the places it's running to is the data center. Su told the audience, we'll continue to see Vega, but she added gaming is a social sport and for that AMD needed to build a new GPU architecture and that is the RDNA architecture which will supplant GCN. The Navi chips, which are on their way to market, are the first graphics chips in the line.
In the weeks preceding Computex, Navi was getting a lot of attention. It's designed to challenge Nvidia in price/performance. Lisa Su told the audience that Navi represents a significant increase over Vega, with a 1.25× boost in performance per clock, and a 1.5× improvement in performance per watt.
Nothing says winning like a supercomputer
AMD has won an important deal with Oak Ridge for Frontier, a new supercomputer, which will be powered by customized AMD Epyc processors and Radeon Instinct graphics. The workstation is being built by Cray and Cray has just been acquired by Hewlett-Packard Enterprises (HPE) for $1.3 billion. When you shell out that kind of money, it's nice that there's a deal that goes with it.  The new computer is expected to go online in 2021. In the meantime, HPE is expected to combine the technology it has previously acquired with Silicon Graphics, its own in-house development and Cray's advances to build online processor power and AI/ML capabilities.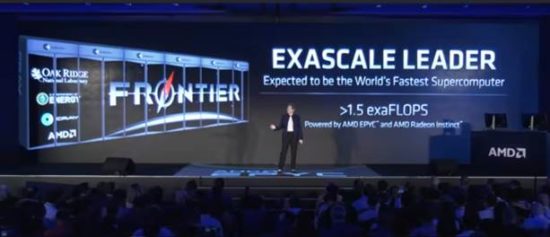 HPE is banking on optimistic market research that promises the HPC market will grow significantly through 2023. The CAGR's being quoted range from 8% to 12% and the total market could be as high as $50 billion by 2023. Gaming forecasts are as optimistic as they've ever been as new platforms are coming soon. And then there's the cloud. AMD already has a competitive spot in all these markets. After Computex, AMD expects its new Epyc and Navi along with the company's interest in customization for the right customers will give the company new opportunities.
What do we think?
With deals to crow about and new products to show off, AMD has been having a great 2019. They kicked off the year with a keynote at CES and follow it up with a starring slot at Computex. CES helped introduce AMD and its execs including Su to the wider technology world, but at Computex AMD is part of the family. If 80% of the battle is showing up, AMD showed up and has been showing up. Taiwan is the place where everyone understands what that means.