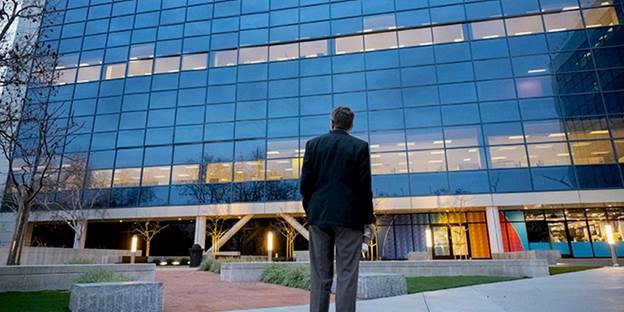 The fourth quarter of the year has traditionally been Intel's best for the year, but it reported a sharp loss for the quarter this time as sales stalled across all markets except Mobileye. In Q4 2022, Intel reported revenue of $14 billion, down 32% from $20.5 billion in Q4 2021. It swung to a net loss of $661 million, as opposed to a $4.6 billion profit in Q4 2021.
For the full-year 2022, Intel saw revenue of $63.1 billion, down 20% from $79 billion in 2021. Gross margin was 42.6%, down from 55.4% in 2021. Net income on a non-GAAP basis was $7.6 billion, down 65% from $21.7 billion in 2021.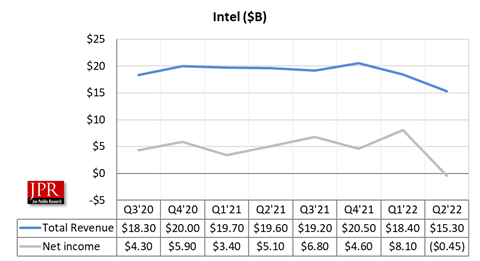 Significantly lower revenues were seen in both the client and data center businesses.
"Despite the economic and market headwinds, we continued to make good progress on our strategic transformation in Q4, including advancing our product road map and improving our operational structure and processes to drive efficiencies while delivering at the low end of our guided range," said Pat Gelsinger, Intel CEO, in a statement. "In 2023, we will continue to navigate the short-term challenges while striving to meet our long-term commitments, including delivering leadership products anchored on open and secure platforms, powered by at-scale manufacturing and supercharged by our incredible team."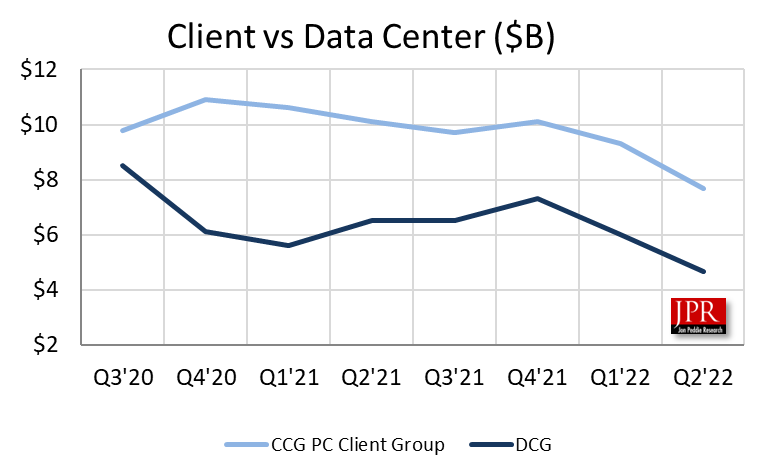 Clients are still the primary source of income, but the gap with data center revenue is closing as both desktop and notebook sales saw precipitous drops.
Notebook revenue was $3.66 billion, down 43.6% from $6.49 billion in Q4 2021. Desktop revenue was $2.5 billion, down 28.7% from $3.51 billion in Q4 2021. Intel delivered the 13th generation of Intel Core desktop processor family, code-named Raptor Lake, along with the accompanying Z790 chipset.
The company also introduced the Raptor Lake notebook family at CES, including the first 24-core laptop processor. Intel said it has more than 300 mobile design wins for Raptor Lake coming in the first half of 2023. Its successor, Meteor Lake, built on Intel 4 process node, is on track for the second half of the year.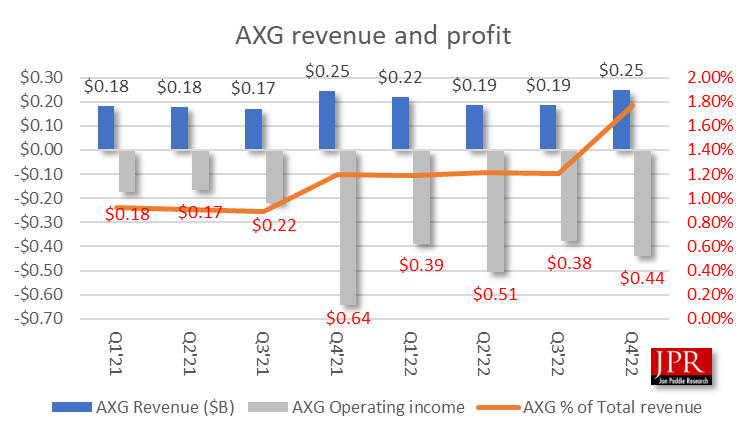 AXG delivered record revenue for both the fourth quarter and full year. In January 2023, AXG launched the Intel Xeon CPU Max series (formerly code-named Sapphire Rapids HBM) and the Intel Data Center GPU Max series (formerly code-named Ponte Vecchio). Intel also announced that with AXG's flagship products now in production, the company is evolving AXG's structure to accelerate and scale its impact and drive go-to-market strategies with a unified voice to customers. Accordingly, the consumer graphics teams will join CCG, and the accelerated computing teams will join DCAI.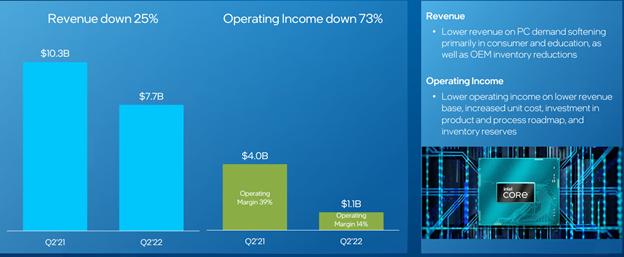 Customer inventory remains elevated beyond Intel's previous expectations and will continue to burn into the first half of 2023. Intel expects customers will burn through inventory at a meaningfully faster pace in 2023 than the prior few quarters in response to macro TAM softness, impacting the CCG, DCAI, and NEX lines of business. So, it expects most of the business units to be down sequentially by double digits in Q1. Intel added that it is expecting Q1 to see the most significant inventory decline.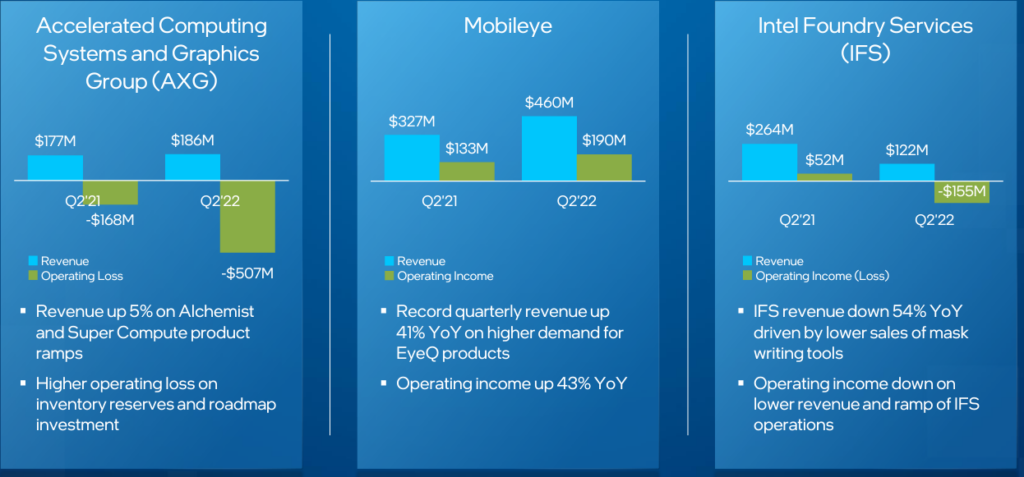 The few bright spots were in the non-traditional areas. For example, Network and Edge (NEX) was $2.1 billion in Q4, down 1% from Q4 2021, but for 2022, up 11% to $8.9 billion. Mobileye was $565 million in Q4 and $1.9 billion for 2022, a rise of 59% and 35%, respectively. AXG was $247 million for Q4 and $837 million for the year, a rise of 1% and 8%, respectively. And the Intel Foundry Service (IFS) business reported $319 million in Q4 revenue and $895 million for 2022, a rise of 30% and 14%, respectively.
Outlook
As a result of continued macro weaknesses, Intel is projecting a fairly weak first half to 2023, with recovery in the second half, although it declined to project any solid numbers beyond Q1. For Q1, it projects revenue in the range of $10.5 billion to $11.5 billion with a non-GAAP gross margin of 39%, well below the 50% or more Intel is known for. Non-GAAP earnings (loss) per share will be $(0.15).
Intel remains committed to $3 billion in 2023 cost savings as outlined in its Q3 earnings call. It has killed off six underperforming product lines, most notably Optane memory. On the earnings call, Gelsinger announced the end of investment in its Tofino switch ASICs. It will continue to invest in existing Tofino products as well as IPU development, but there will be no new Tofino products.
Effective January 2023, Intel increased the estimated useful life of certain production machinery and equipment from five years to eight years. When compared to the estimated useful life in place as of the end of 2022, Intel expects total depreciation expense in 2023 to reduce by roughly $4.2 billion, including an approximate $2.6 billion increase to gross profit, a $400 million decrease in R&D expenses, and a $1.2 billion decrease in 2023 ending inventory values. Intel's Q1 2023 outlook includes an estimated $350 million to $500 million benefit to operating margin, or $0.07 to $0.10 benefit to EPS from this change, split approximately 75% to cost of sales and 25% to operating expenses. The change in depreciable life will not be counted toward $3 billion in cost savings in 2023 or $8 billion to $10 billion exiting 2025 communicated at Q3 2022 earnings.