And builds tools for the times.
It's right around NAB time, and Blackmagic Design has just released its new lineup of cameras, switchers, and accessories for use in video production. As usual, the company has come up with a lineup of modular products with broad appeal—startups, indie producers, television and movie studios, and newsrooms. Coming out of 2020, Blackmagic is now remarkably well-positioned.
During a Zoom call, Bob Caniglia, Director of Sales Operations, was able to demonstrate how game-changing production hardware and software can be. During the call, after the usual polite hellos, Caniglia worked into the conversation the fact that he was in a small, plain office with a green screen. He revealed that the wall of books behind him was only a digital background and then switched to a series of shots and multi-frame shots to reveal new products and demonstrate the ease of use of Blackmagic's switchers.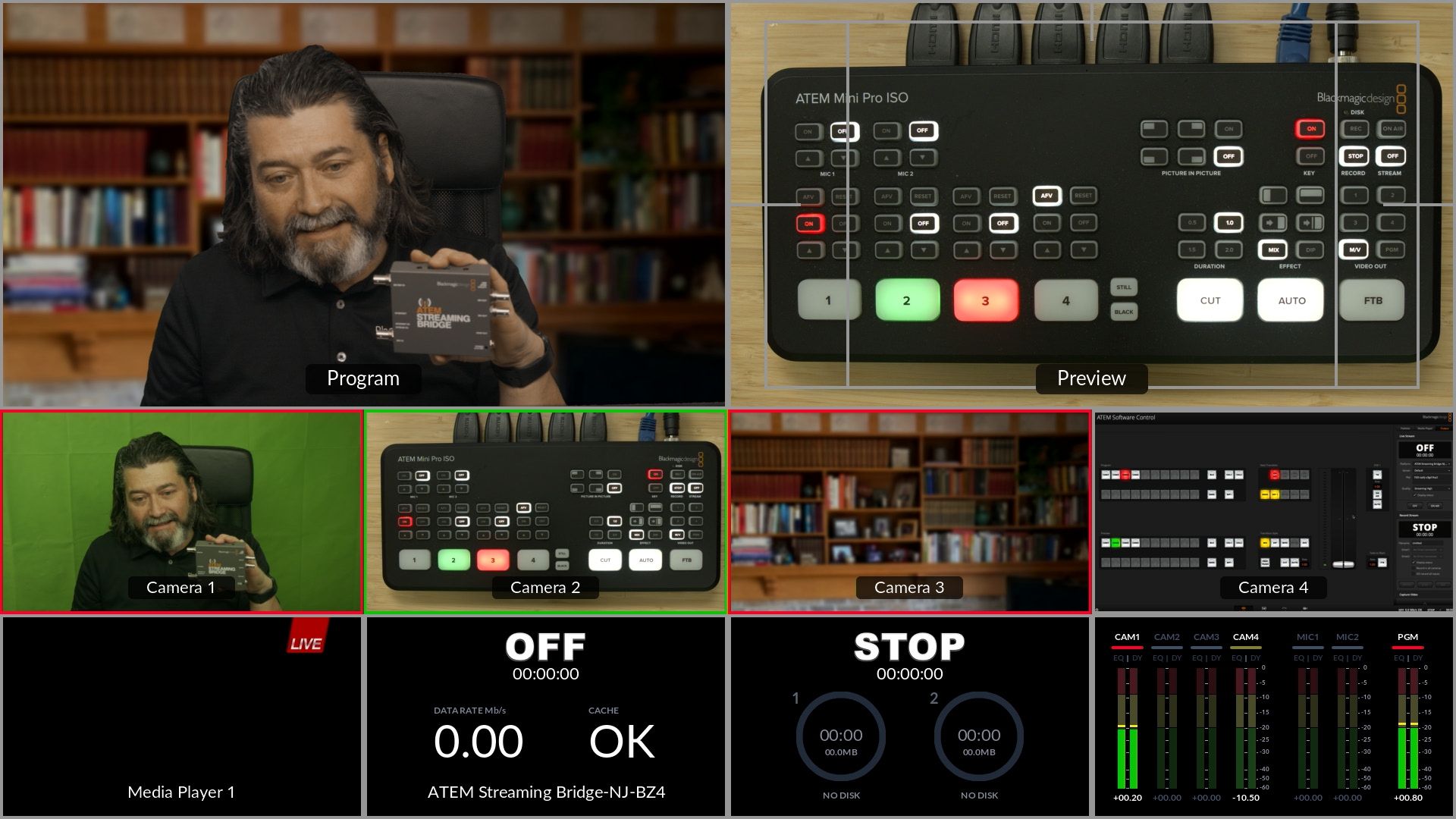 Blackmagic has fundamentally changed from its early days. Founded in 2001, the company sold video capture boards. Grant Petty said he started the company after a career in post-production because he was outraged at the high prices of equipment. In those years, we used to see Blackmagic at a tiny little stand at IBC (International Broadcast Convention( in Amsterdam. The company sold a lot of capture boards for MacOS. At the time, they were the first company to enable uncompressed 10-bit video to the computer and they were helping Apple's video tools gain market share.
These days the company sells an end-to-end line of video equipment including cameras, color correctors, video editing products, video converters, video monitoring, routers, live production switchers, disk recorders, waveform monitors (waveform monitors!), and realtime film scanners. The company has grown into a major equipment supplier for the worldwide film and video industry. And they seem to have done it by paying attention to every step of the pipeline. Blackmagic acquired venerable companies in the film intermediate business like DaVinci, Eyeon, and Fairlight and has made Blackmagic's video software and has made Blackmagic's video software products a major challenger to Apple, Avid, and Adobe, while the hardware is helping to change the financial equation of content creation. The ATEM line of switchers came to Blackmagic with the acquisition of Echolab in 2010. Blackmagic bought the company shortly after it shut down when it lost its funding.
Blackmagic has gotten to where it is through leveraging the work that has gone on before and Petty has always acknowledged the inherent value in the technology that has gone before.
The company began a dramatic transition in 2014 after chugging along fairly successfully. In an article published by the Australian Financial Review, Petty said the company got a rude wake-up call in 2014 when they saw their sales fall. Petty is clearly, not someone who is prepared to face a setback with equanimity. He said the company went full-on into recovery by committing a large proportion of the company's resources into R&D.
For a while, Blackmagic was grabbing the spotlight with its fabulous little movie cameras but they are not the company's bread and butter. The company was born of the digital film revolution and Petty's desire to build competitive products for the editing suite came out of a recognition that digital workflows would upend the industry and he intended to have a role every step of the way.
That, he has.
Blackmagic's new product introduction for Spring 2021
A look at some of the company's newest products reveals where their interests lie these days and it reflects some of area where the company is seeing the most success.
Blackmagic's new lineup includes:
An update to their  Pocket Cinema Camera line with the Pocket Cinema Camera 6K Pro that has a 1,500 nit adjustable HDR touchscreen screen, built-in ND filters, increased battery life, plus support for an optional External View Finder for $495. The camera has a Super 35 HDR image sensor with 13 stops of dynamic range and a native ISO of 25,600.
Another available option for the camera is a $145 battery grip.
In addition, Blackmagic is increasing the size of their ATEM Mini family of switchers. The company debuted the ATEM Mini in September 2019 for $295, which woke up the streamers and gamers, and now Blackmagic is introducing an advanced version in the ATEM Mini Extreme which the company says is "massively larger" and a full-featured model for $995. The company also offers the ATEM Mini Extreme ISO for $1295. Actually, the point is, that Blackmagic has a range of ATEM Minis from the itty bitty to working professionals. For this announcement, the company has put emphasis on flexibility and mobility, which makes sense as the world changes beneath us.
The new switchers, the big minis if you will, are described as Blackmagic's most advanced in the ATEM Mini line. The ATEM 1 Mini Extreme switcher features 8 inputs, 4 ATEM Advanced Chroma Keyers, and 6 independent DVEs, 16-way Multiview, 2 USB connections, and multiple HDMI aux outputs.
The ISO model has all this plus a recording engine that accepts 8 inputs plus the program for 9 streams of recording. Honestly, you could run Newsmax on this thing.
The company also announced an update for the ATEM Switchers that supports mobile phone tethering via USB for streaming using 5G and 4G phones. The ATEM switcher can detect the phone and will switch its internet connection in favor of the phone's connection. The mobile phone support enables mobile production possible.
On that subject, I should mention that the switchers' USB support enables connections to computers as well. The computer sees the switcher input as webcam content and allows the use of video editing software and even Zoom and Skype. The software support also enables computer control of the switcher via Blackmagic's ATEM Software Control.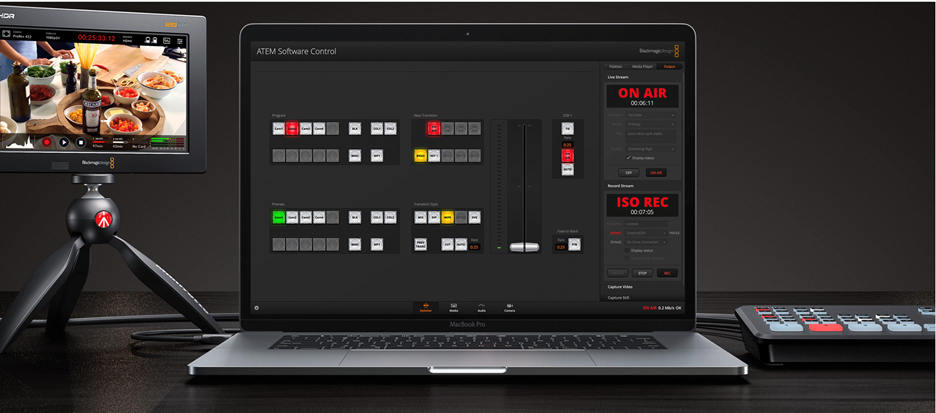 Blackmagic is also introducing its Web Presenter HD, yet another cute little gadget that is a self-contained streaming product with a built-in H.264 processor for direct streaming to online platforms such as YouTube, Facebook, Twitter, and more.

The Web Presenter HD includes 12G-SDI input with down converter allowing customers to connect HD or Ultra HD equipment and stream 1080p video. It has an LCD front panel with menus, USB webcam features, and monitoring output including audio meters, streaming status, and full SDI and embedded audio info.
On the software side, Blackmagic has released DaVinci Resolve 17 and DaVinci's node-based compositing tool Fusion Studio 17. The release is a major release with changes throughout the software including updates the addition of Fairlight audio core. To get an idea have look at the company's page.
For lots more detail, you can watch Grant Petty introducing the new lineup on a live stream that was carried by multiple sites including Blackmagic's page, YouTube and Facebook. It's available on demand.
Switching on new business
Caniglia's demo was a revelation. As you might have heard, there has been a virus pandemic affecting live production, businesses have been forced to send workers home, and everyone who works with a computer for a living has come face to face with video meetings. People are spending time in video that they would never have imagined a year or so ago. We're all learning how to work with video.
Zoom, by the nature of its shortcomings, has become an introductory class into video production. It's not surprising that Bob Caniglia can create a snazzy virtual office, but the point is made in its revelation. It looks completely real, no black halos as the software struggles to keep up with subject movements, and as Caniglia switches from input to input, to content being captured by Blackmagic camera, and monitors all the inputs … just about anyone gets the picture especially if they think about the last time they tried to share their screen on a video call. "Can you see my screen?"
Gamers and streamers have caught on. They can connect their computer and cameras using an ATEM switcher and create a much more professional-looking live stream session with picture-in-picture. Teachers can project their PowerPoints, themselves, and video.
On the professional side, Caniglia says Blackmagic's digital video tools help introduce the whole product line into studios. He says Blackmagic's small Pocket 6K cameras and Ursa Mini Pro cameras are finding their way into the hands of DPs for a variety of uses. For instance, he says they are being used to shoot VFX plates for video walls. They're being used to capture locations. The Ursa Mini Pro 12K is finding work in wildlife documentaries.
The DaVinci tools have also changed Blackmagic's fortunes because it's being used onset. The Resolve Live feature can take feeds directly from cameras and perform on-the-spot color correction. It's a short trip to send the feed to video walls or out over the Internet to the teams.
Blackmagic is profiting from the enthusiasm for giant LED screen volumes in Hollywood. The company's interfaces are able to handle the resolutions and the performance required.  DaVinci Resolve was already being used for live events. It was put to work to make the Elton John biographic Rocketman, and in fact, Elton John's team had been using Blackmagic on tour for some time. It was natural they've adopted DaVinci Resolve for the Farewell Yellow Brick Road world tour.
Blackmagic Resolve's roots are in color correction and it is a leader in that segment, but as Blackmagic has built on capabilities and has made sure its hardware and software is interoperable, it has earned a place in onset work. What's interesting today is that Blackmagic's wide range of capabilities is increasing its use into the entire production. It's helping to break down the silos in the Post and VFX because it's a lot easier to have a consistent environment for all phases of production. It enables more collaboration. Blackmagic has been rapidly updating DaVinici's software to compete head-to-head with the traditional industry leaders.
Often, says Caniglia Blackmagic products make their way onto the set because someone just needs a way to stream the signal out so people can see them. Blackmagic can provide a switcher and maybe a converter box so the stream is encoded and secure, but once the tools are on the set he says, people find more uses for them and more components find their way to the set.
"Sometimes," he says, "when you reduce costs you're enabling people to do more."
Finding success where others fail
So here's the punchline. Since Blackmagic's big investments in its product line in 2014, the company has seen its revenues grow. As a private company, Blackmagic Design does not routinely reveal revenue figures but Petty revealed surprising figures in interviews with the Australian Financial Press (AFP). The paper said Blackmagic increased revenue in the 2018–2019 period by 21% to $384 million. They did even better in the next period. In a more recent article from AFP, the company's revenues increased 74% to $670.
In 2020, Blackmagic equipment and/or software played a role in 50 productions that made it to the Sundance film festival. Because Resolve is available in a free version as well as Pro, it's attractive to low-budget productions but also small, portable cameras and compact gear can make a lot of sense when productions may have to shoot and run.
It's been an astounding few years for video. Even before the pandemic Avid, Adobe, and Apple have all seen increasing revenues as streamers redefined the internet conversation with video to replace Tweets, text, and pictures. The pandemic has just supplied the accelerator. Blackmagic has got the pedal to the floor.
What do we think?
So why Blackmagic? Maybe It's timing. Maybe Grant Petty lost money and got his wake-up call right at the right time. And, to a certain extent, that's true. Leading up to 2014, the video industry had seen closely matched battles of interlopers like Blackmagic, Aja, Red, Bluefish, Matrox—all elbowing each other for a little traction.
Petty has drawn on his experience in VFX and post to build products that he would have liked to had access to during his career. He seems to have hit a nerve for a lot of Post and VFX professionals.
Blackmagic is an interesting company for another reason. It seems to buck the trend in its combination of hardware and software. We thought we had seen that movie. The companies Blackmagic and its competitors have displaced are some of the companies Blackmagic later acquired. They were brought low by their dependence on high-end product lines of tightly coupled hardware and software suites at a time when new digital tools brought the ability to modularize and rely on common computer platforms.
Blackmagic makes it an advantage to work with its hardware and software together, but it's not a requirement as it was in the earliest days of digital content creation.
What happens when the wheel comes around again? Competing on price is never enough. So far, Blackmagic has been remarkably nimble. Other companies in the film and video business are watching Blackmagic closely. So are we.