Ongoing partnership between Bentley and Microsoft blossoms with Hololens 2.
Bentley Systems and Microsoft have been collaborating since at least 2016, when the company announced its commitment to Microsoft Azure for its AssetWise CONNECT Edition and ProjectWise CONNECT Edition tools. Since then, Bentley has expanded the list of products that take advantage of Microsoft's Azure cloud services and the company has been named a partner in Microsoft's CityNext Partner of the Year, signaling, we suppose, Microsoft's endorsement of Bentley's technology for smart cities. More concretely, Bentley is a member of Microsoft's Mixed Reality Partner Program and as a result receives training, technical assistance, sales and marketing support, and business planning help from Microsoft.
Microsoft has announced the imminent arrival of Hololens 2. Like its predecessor, it's a professional product with a professional price tag, $3,500. More important is Microsoft's development of an ecosystem for AR that allows tool development. Bentley is a charter member of that ecosystem. The rise of Azure as a business platform for cloudification coincides with Bentley's own incorporation of cloud-based resources to complement its extensive toolset for project-based data management.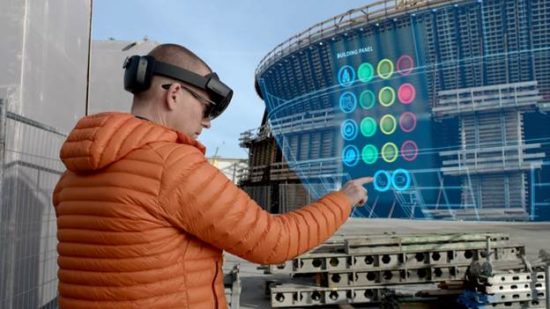 Bentley Systems' territory is primarily in the realm of infrastructure—the design and management of very big projects and structures. The company builds by acquisition and in general has managed that process well. We've admired the company's immediate adoption of drone technology and point clouds to take advantage of photogrammetry for model building on a large scale.
The new Synchro XR product fits with Bentley's other tools that are designed to let all stake holders in large projects take a step back and assess projects. Synchro XR enables customers to "immersively" visualize 4D construction, meaning 3D + time, through the use of digital twins and Hololens 2 to track progress, anticipate problems, allow those on site to understand intent, and those in the office to understand conditions on the ground.
Bentley says they've designed Synchro XR for construction managers, project schedulers, owner operators, and other project stakeholders. They believe the ability to go beyond computer displays and mouse and instead experience a more physical relationship with a project by being able to reach into the model and interact is much more impactful for their customers.
The Royal BAM Group is one of the first organizations to put the new Hololens 2 and Synchro XR to work. They are using it to build the distinctive mirror-clad museum that will be a showcase of Rotterdam's Museum Park. The building was designed by MVRDV and is planned as a resource for the public to see the collection of the Museum Boijmans Van Beuingen, which is currently only able to show a small percentage of its collection. The project is valued at 43 million Euros and will be completed in 2019.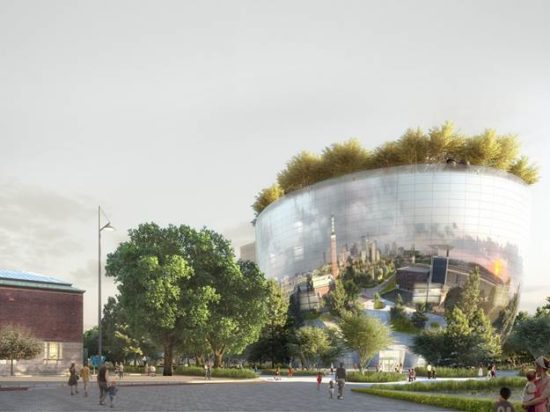 Menno de Jonge, director of digital construction for the project for Royal BAM says there is a real need for digital transformation in the construction industry. "Using this technology," he says, "we can easily visualize the construction schedule. Then, we can see if we are behind in schedule, we can flag any potential problems or issues, look into the problems, and get back on track."
Menno de Jonge, director of digital construction for the Royal BAM Group, said, "We are currently using SYNCHRO and HoloLens 2 mixed reality solution for the construction site for a large museum project in the city of Rotterdam. The real need for a digital transformation in our industry is about avoiding rework at our construction site. Using this technology, we can easily visualize the construction schedule. Then, we can see if we are behind in schedule, we can flag any potential problems or issues, look into the problems, and get back on track."
What do we think?
In some ways, the idea of the digital twin is more fully realized in AEC than in manufacturing because the industry has been building the pieces of the process to better manage a process that is inherently distributed among multiple stakeholders. Infrastructure is a great place to start, because there are large enterprise companies that have the resources to better manage huge projects, and there are many owner-operator entities participating in the segment so at least more of the projects fall under the control of large construction companies rather than a myriad of contractors. In addition, AEC has had the concept of using digital information for building management from the very start, and as new technology such as scanning, real-world point cloud data, sensor monitoring, photogrammetry, drones, etc., come on line, they are being incorporated into projects.
That's the theory at least, and Bentley has demonstrated success with several high profile projects including rail and transit projects in China and the U.K., mining and off-shore engineering projects, and dam construction in Portugal.