Tiny slippage in sales in 4Q15, as vendors steal market share from each other.
Workstation continues to outperform the broader PC markets. Industry reports have noted double-digit percentage decline in PC shipments in 2015, yet research firm and market watcher Jon Peddie Research reports the workstation market fell only 0.8% in the fourth quarter of 2015 (year over year), and about the same for 2015 overall. All told, the industry shipped around 1.04 million units in 4Q15.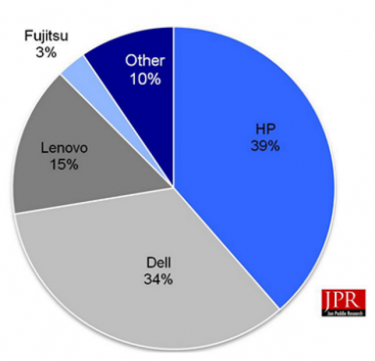 Why would two sister platforms experience such different market dynamics? Senior analyst and JPR Workstation Report author, Alex Herrera explains. "PC and workstation products are built off much of the same core technologies, but the workstation is designed and built with different priorities in mind: maximum reliability and application-optimized performance for high-demand, visual applications. Many mainstream PC users have found their primary applications still run fine on machines three or more years old—or even run acceptably on phones or tablets—so there's little motivation to pay for a new one. But the same is not at all true for users in areas like CAD, digital media and entertainment, geoscience, and finance. These buyers need and value the return a new, higher-performance machine can provide in increased productivity."
Market shares for the big three workstation OEMs—HP, Dell, and Lenovo—don't tend to fluctuate a great deal quarter to quarter. In the big picture, however, there had been a couple of notable stories over the past few years: Lenovo climbing slowly but steadily, and Dell stabilizing after a long decline at the hands of HP. With a seemingly clearer focus and more precise execution in wake of its privatization, Dell's workstation business had not only successfully stopped the decline, it had been managing to pull back a bit of share over time, from a low of 30.7% up to 35.9% in 3Q15.
HP threw a damper on Dell's comeback run in the fourth quarter, however, tacking on 1.5 points while Dell dropped by over two. Also impeding Dell's progress was Lenovo, which added 1.2 points to post its highest ever worldwide share of 15.1%. Fujitsu contributed another 2.9% in the quarter, while a host of smaller players accounted for the remaining 9.5%.
More information: The JPR Workstation Report – Professional Computing Markets and Technologies