HP pulls ahead in market share, but all players saw increased sales.
The workstation market is thriving. In 2Q16, Jon Peddie Research reported results as inspiring. 3Q16 results were even better, record-setting. 4Q16 results require a new level of superlatives. If a mature market like this one can be said to have a "blowout" quarter, this would be it.
With total shipments of around 1.23 million units, the worldwide market for workstations grew at 20.1% year over year (with revenue close behind at 18.6%). The quarter not only set another record in units, but the 20.1% growth is at a level not seen since 2010. And it's worth noting, 2010's growth numbers were not very representative of real conditions, since they were measured relative to levels of 2009, when virtually all markets worldwide had bottomed in the depths of the Great Recession. If we ignore 2010's recovery, the fourth quarter's YoY growth beat all previous quarter, going all the way back to early 2006.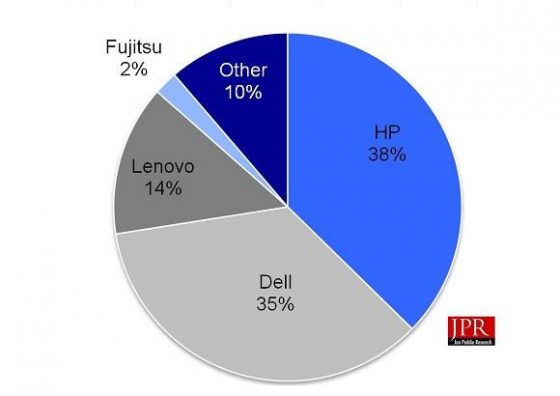 The JPR Workstation Report Market Quarterly for 4Q16 delves into comprehensive depth across all slices of the workstation and professional GPU market, including:
Complete breakdown of traditional workstation market by units and revenue, and across product classes (mobile/entry/mid/high), platforms (mobile/entry/mid/high) and geography

Workstation market forecast

Complete breakdown of workstation GPU market by units and revenue, and across product classes

Breakdown of workstation market by vertical

Analysis and sizing of the impact of Apple platforms versus Windows/Linux workstations

Analysis and sizing of the impact of emerging workstation virtualization (in its multiple forms)

Analysis and sizing the impact of Intel's CPU-integrated graphics