Head-to-head tests with competing units from Lenovo and Boxx show the mix of components is the differentiating factor.
By Alex Herrera
[Editor's Note: Full-size versions of all charts from this article are available at the GraphicSpeak Facebook page.]
We've had a steady parade of workstations coming through our doors recently for review. They've come in a range of shapes, sizes, and prices (but not colors, they were all black). The latest is from HP, which sent us its Z230 deskside tower, outfitted with Intel's latest Haswell-generation platform. With its starting-at price of $869, the single-socket Z230 fills out the Entry class of HP's Z line of workstations, beneath its siblings, the Z420, Z620 and top-end Z820.
| | |
| --- | --- |
|   | HP Z230 |
| | An entry chassis with mid-range components and price |
| CPU SKU | Intel Xeon E3-1280 v3 ("Haswell") @ 3.6 GHz |
| # CPU cores (physical/logical) | 4/8 |
| Memory | 32 GB DDR3-1600(4 x 8 GB DIMMs) |
| Disk(primary) | 1 TB 10K RPM SATA HDD(WD VelociRaptor WD1000DHTZ) |
| Graphics | AMD FirePro W7000 with 4 GB |
| OS | Windows 7 Professional (64-bit) |
| MSRP | Starting at $869$4,007 (as configured, sale price) |
Configuration specifications for our Z23 (Jon Peddie Research)
We define an entry level workstation as one priced at $2,500 or less. The more attractive prices of the entry class make it the high-volume segment, accounting for six times as many units shipped as the mid-range ($2,500 – $7,000) and high end ($7,000+) combined. Now, while this machine might start out as entry class, our model certainly didn't come configured as one.
HP spruced up the components, particularly by cranking memory up to a big (and fast) 32 GB of DDR3-1600, and by adding the mid-range AMD FirePro W7000 GPU with 4 GB of video memory. More commonly found in one of its higher-priced sibling Z workstations, the W7000 sells currently for around $800 (ASP) and is a non-standard option for the Z230, though it can be arranged for special configuration. A higher-end Haswell-class Xeon E3-1280 SKU (3.6 GHz) rounds out the premium touches, in the end yielding a more premium price of $4,007, one that puts it squarely in the mid-range. In this age of "mass customization," like many of its peers, the Z230 can scale from an entry-level machine to a full midrange machine.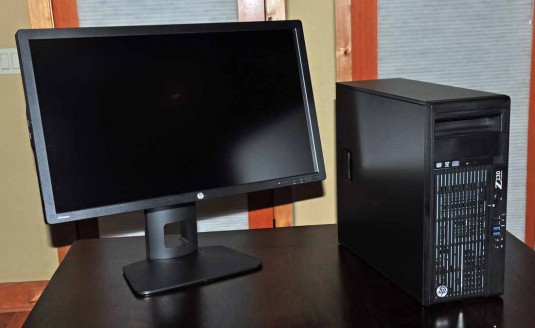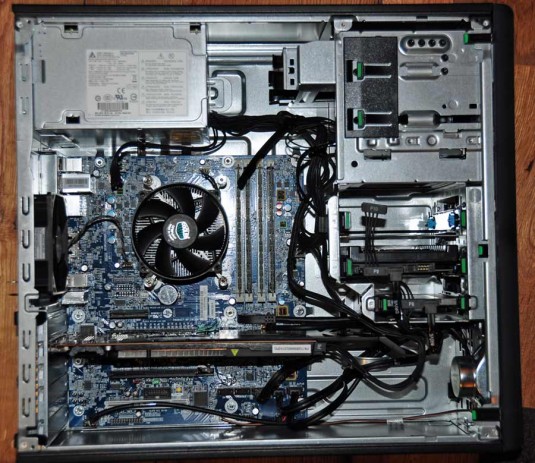 The Z230's exterior shares the same look-and-feel as the rest of the HP Z family, including the handle HP introduced with the unveiling of the Z line back in 2009. Unlike its higher priced siblings, this handle (optionally) displaces one of the optical drive bays, unlike that of the Z820, for example, which protrudes above the chassis. As with all of the high-quality Z line, the interior of the Z230 is impeccable, neat and organized with tool-less access for both side panel and internals. The signature green tabs lead your fingers to slide drives into bays and operate retention mechanisms.
Despite its classification as an entry-class machine, the Z230 has an impressive 92% efficient 400 Watt power supply, which should be good for 80 Plus Gold or Platinum level (though HP doesn't label it as such — perhaps has not been officially tested). Compare that to the Lenovo ThinkStation E32. Its standard supply delivers 85% efficiency, 80 Plus Bronze (though Lenovo can arrange for "special bid" configurations to come with a 92% efficient unit of the same wattage). More efficient power supplies, in addition to saving money on power, also run cooler and therefore are less noisy.
The Z230 delivers as much or more I/O as you'd expect from any deskside tower workstation, including: four USB 2.0 and two USB 3.0 in the rear; two USB 3.0 and two USB 2.0 (one charging) in the front. The rear panel also includes a DVI-I and two DisplayPort ports, supported by the Haswell GPU.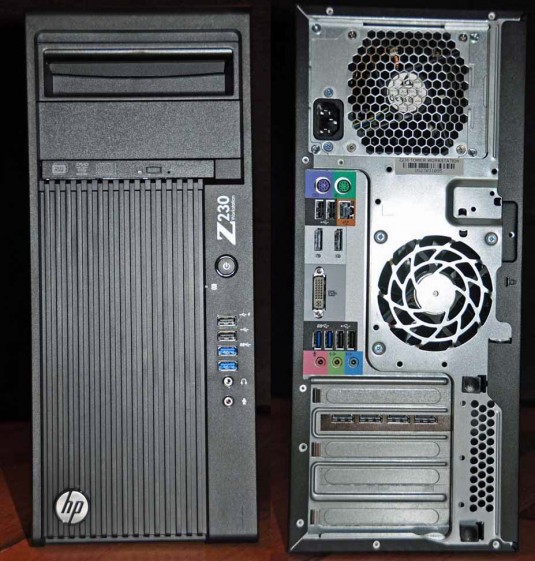 HP has been pairing up a line of professional class monitors with its workstations with the Z branding for a few generations. The most recent refresh of the "Zxxi" line (where "xx" is the diagonal size) included the Z22i, Z23i, and Z24i, introduced last summer and fall. Then in conjunction with the launch of the Z230 last fall, the company added the Z27i and Z30i; the former we had the pleasure of reviewing.
The models differ in size but share some key professional caliber features, including In-Plane Switched (IPS) displays, flush-mounted VESA Quick Release for orientation adjustment, and a wide range of connectivity options, including local USB. Height (up to 150 mm) and tilt adjustment are simple and sturdy, but the Z pro monitors throw in rotation to work in portrait mode as well as the typical landscape orientation. All support small system attachments on the back to support streamlined thin client configurations for crowded offices and kiosks.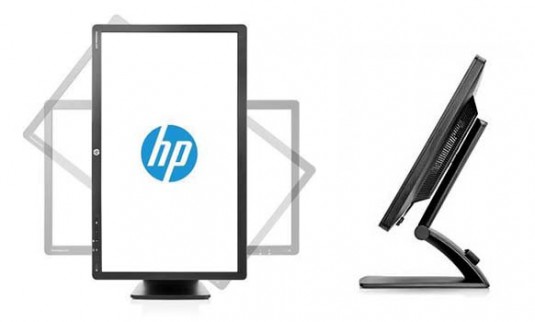 IPS improves on conventional TN LCDs by addressing one of the latter's notorious drawbacks: poor viewing angle. We're all familiar with the phenomenon—as the view gets more oblique, the image fades. IPS displays, on the other hand, typically offer (as with the HP Z family) 178 degree viewing angle. Where IPS may not be important for displays that are typically faced with just one set of eyes, a professional caliber monitor is often a collaborative surface where a wide angle is highly advantageous, if not required.
The Z27i we tested provided high resolution and high precision to go with its ergonomic design. A professional caliber monitor of this size has to go above HD (1920 x 1080), and the Z27i does, with 2560 x 1440 resolution at 350 cd/m2 luminous intensity. Furthermore, a display claiming to serve professional spaces like Digital Media and Entertainment (DME) has to be color-accurate. Again, the Z27i complies, with a gamut of 100% coverage of sRGB color space.
Other bells and whistles that separate the Z27i from mainstream competition include a range of display and I/O connectivity beyond what we've seen before. It's less of an issue than it used to be, but we all still need to pay close attention to the specific connector our graphics card uses, and which the display uses, to avoid a mismatch (or having to order an adapter we didn't plan on). That's not an issue with the Z27i, because it has them all: DisplayPort, DVI, VGA and HDMI. And since it brings out HDMI and DisplayPort, it would make sense to output audio… and it does.
Finally, whether your deskside has enough USB connectivity or not, ports aren't the most accessible in a tower sitting on the floor, whether they're in front or back. More accessible on the desktop, the Z27i delivers four USB 3.0 ports via an integrated hub.
Benchmarking the Z230… and comparisons with two other Haswell-class deskside workstations
We received our Z230 for review just as two other machines were leaving: the Lenovo E32 small form factor (SFF), and the Boxx 4150 XT workstation. The two represent good comparisons for the Z230, though from somewhat different perspectives. The E32 SFF is also an entry class machine, but unlike the Z230 retains a more minimalist configuration and economical price ($1,149). By contrast, the Boxx 4150 XT pushes well upstream, sporting a mid-range price, though at $5,260 around $1K higher than the Z230.
| | | | |
| --- | --- | --- | --- |
|   | HP Z230 | 3DBoxx 4150 XT | Lenovo E32 SFF |
| | An entry chassis with mid-range components and price | The ultimate in mini-tower performance | Workstation functionality at a PC price and size |
| CPU SKU | Intel Xeon E3-1280 v3 ("Haswell") @ 3.6 GHz | Intel Core i7-4770K ("Haswell") over-clocked and liquid-cooled to 4.3 GHz | Intel Xeon E3-1240 v3 ("Haswell") @ 3.4 GHz |
| # CPU cores (physical/logical) | 4/8 | 4/8 | 4/8 |
| Memory | 32 GB DDR3-1600(4 x 8 GB DIMMs) | 16 GB DDR3-1600(4 x 4 GB DIMMs) | 8 GB DDR3-1600(1 x 8 GB DIMM) |
| Disk(primary) | 1 TB 10K RPM SATA HDD(WD VelociRaptor WD1000DHTZ) | 240 GB SATA SSD(Intel SSDSC2BW24) | 1 TB 7200 RPM SATA HDD(Seagate Barracuda ST1000DM003) |
| Graphics | AMD FirePro W7000 with 4 GB | Nvidia Quadro K5000 with 4 GB | Quadro K600 with 1 GB(low-profile/half-length) |
| OS | Windows 7 Professional (64-bit) | Windows 7 Professional (64-bit) | Windows 7 Professional (64-bit) |
| MSRP | $4,007 (as configured, sale price) | $2,800 (base)$5,261 (as configured) | $1,149(model 30A3-001WUS) |
Configuration specifications for our Z230,
compared to two other Haswell-class desksides. (Jon Peddie Research)
Charting the three systems' key component metrics, we see commonality in the Haswell generation CPUs. But there are substantial differences in GPU and memory, where the Lenovo ThinkStation E32's specs pale in comparison to those of the Boxx 4150 XT and the HP Z230.
Of course, higher specs come at a cost, and the Lenovo E32 is much less expensive than the Boxx 4150 XT or the HP Z230.
How did the Z230 stack up against the higher-priced desksides on SPECwpc? The new benchmark reports a composite score, aggregating sub-test results, for each of the six application suites.
The 4150 XT's composite scores win by a considerable margin across five of the six SPECwpc test suites shown. What about the sixth, Media and Entertainment? Well, we couldn't compare composites, because one of our machines failed on one component (Handbrake). Here's how the three workstations fared on the individual M&E sub-tests:
So looking at Media and Entertainment, the story is for the most part no different. Again, the Boxx reigns supreme.
You'll notice that the Boxx machine edges out the Z230 in Financial Services, but beats the latter by a large margin in the other test suites. It's possible those tests favor the Boxx CPU's super-fast, liquid-cooled cores over the Z230 CPU's slower cores. But the difference is more due to the Boxx's SSD versus the HDD in the other two. All of the test suites, with the exception of Financial Services, include IOMeter as one component included the suite's composite score. And IOMeter doesn't just run a little faster with an SSD—it's an order of magnitude faster, which gets reflected in the superior composite. Clearly, an SSD makes a big difference in SPECwpc benchmarking.
Meanwhile, the Lenovo E32 SFF trails both by anywhere from modest to large margins.  That's understandable, considering the machine's specs can't match those of the other two machines, particularly in memory and GPU. But again, consider the relative price points—the Lenovo E32 costs a lot less. So guess what happens when we instead chart SPECwpc composite (and M&E test suite) scores per dollar? Yup, the Lenovo E32 wins by a wide margin.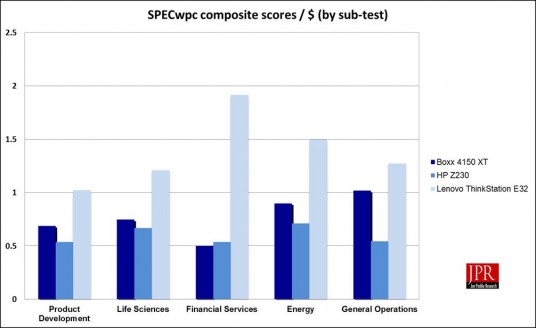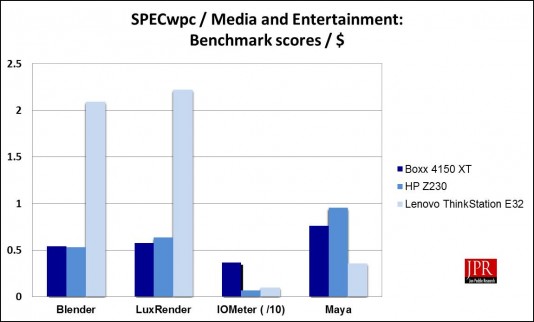 So far, the results discussed make general sense: the most expensive machine posts the best performance while the least expensive machine triumphs in price/performance. There is one exception to what one might expect—the more expensive Boxx 4150 XT tops the less expensive Z230 in price/performance.
Why is that? Is the Z230 a dud? No, not at all. The results demonstrate how system "balance" is critical to delivering optimal price/performance. The Boxx machine configuration spends extra dollars in a fast CPU and a fast SSD, where the HP spends the extra dollars in memory, saving a few dollars with a nominally clocked CPU and HDD. In this case, the SPECwpc benchmark clearly favors the 4150 XT's faster I/O and CPU over the E32's 2X memory footprint. In large part, that's a due to that weighting the benchmark gives to the IOMeter sub-test component.
That doesn't mean that the 4150 XT's system balance will be the right choice for all workstation- applications. There are plenty that would reward the Z230's choice to maximize system memory over CPU and I/O (we see one example in the medical-01 component of the Life Sciences test suite).
For completeness (and to introduce SPECwpc further), we include the rest of the suites' sub-test results as follows, both raw scores and scores / $. Though the degree varies by application space and sub-test, the results track the overall composites, with the Boxx leading in absolute score and the Lenovo E32 leading in scores per dollar.
There's one notable exception, where the 4150 XT wins on both counts, by a huge margin in raw score and by a narrower edge in scores / $. That's I/O, and for a good reason. The Boxx comes configured with an SSD, rather than the mainstream HDDs found in both the E32 (7200 RPM) and Z230 (10K RPM).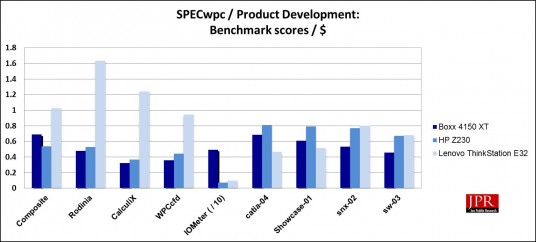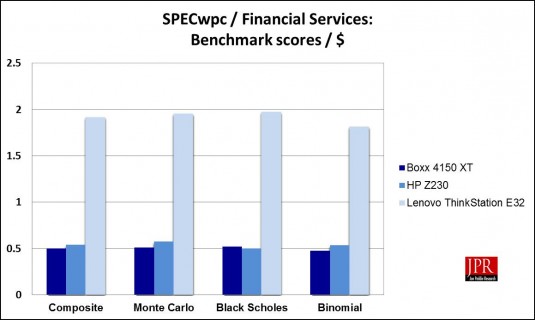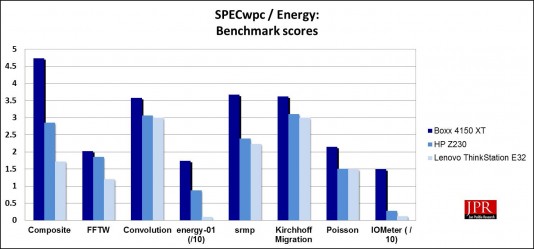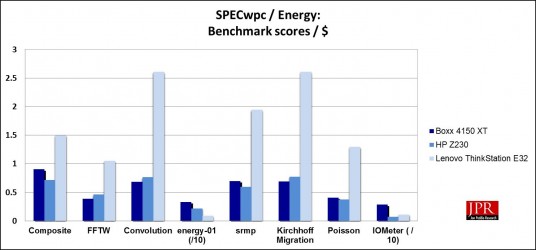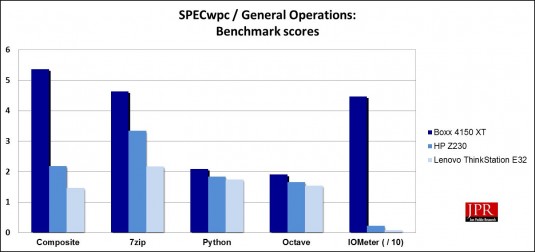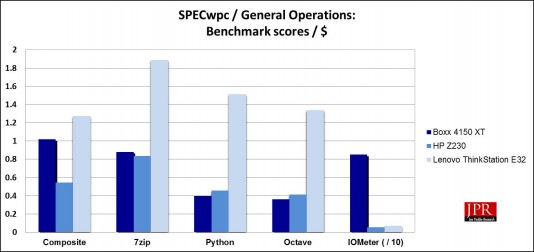 What do we think?
Comparing machines without regard for price is a pointless exercise. Unfortunately, it's done too often in the press, leaving readers of these reviews with unfair impressions. Vendors like Boxx, HP and Lenovo know what they're doing when it comes to building workstations, and are tapping off the same foundation of silicon technology from suppliers like Intel, Nvidia and AMD. So given the same constraints — most importantly, price — they're going to be on relatively equal footing. But the designers of these machines didn't have the same price limits at all. And consequently, the workstations we reviewed performed well, given their price points, though the balance of the Boxx machine appeared most in line with what SPECwpc stresses most.
Comparing head-to-head the HP Z230 and Lenovo ThinkStation E32 would be tempting; after all, they're both called entry machines with similar starting-at prices. But our Z230 came configured with premium components, while the E32 did not. That made the former a better performer, but at a substantial cost. The latter proved the better price performer, which is exactly what it should be.
The better comparison, though still not quite apples-to-apples, is seeing how the Z230 stacked up against the Boxx 4150 XT. The Z230 starts out as an Entry machine, but by the time HP was done upgrading components (CPU, GPU and memory), its price was not much below the 4150 XT. Still, the 4150 XT's higher price allowed Boxx to build in some premium touches the Z230 couldn't, namely overclocked CPU and high-speed, low-latency solid-state drive (SSD). And those touches, particularly the latter, made a big difference in running SPECwpc.
Normally, we'd expect the higher price machine to win on overall score, and the lower price machine to win on price/performance. That's pretty much how the E32 fared. But with the closer-in-price Z230 and 4150 XT, that's not how it panned out. Among the two, the higher-priced 4150 XT came out on top not only in raw performance, but more often than not in price/performance as well. And the reason is quite revealing and shows how judging benchmark results require context—and a look beneath the surface.
The 4150 XT's SSD had the biggest impact in separating the two machines. It costs more than the Z230's HDD, but the way SPECwpc weights its sub-test components, the dramatic difference in performance between the two more than made up for the cost. In particular, it made the 4150 XT's score per dollar far superior on IOMeter, helping improve the composite score per dollar for all sub-tests that include IOMeter. Boxx's faster CPU core also appeared to prove more valuable to most of SPECwpc's test than the Z230's bigger (2X) memory.
So does that mean HP's choice to spend dollars doubling memory size rather than upgrading to an SSD was the wrong one? Well that depends on the context—on whether your application is well represented by  SPECwpc, or specifically the suites or sub-tests that were helped so substantially by the SSD's higher performance. Now, anecdotally we know users are seeing similarly substantial benefits from SSDs in actual applications, not just SPECwpc. We've talked to those in CAD, for example, who say they won't even consider upgrading other components until they've made sure their OS and application are running off an SSD (with big datasets on a secondary HDD, perhaps). And we know that a low-latency SSD will to a significant degree mitigate some of the benefits of a bigger memory footprint.
Ultimately, the SPECwpc results from these systems don't impugn any vendor. After all, the Z230 offers SSD options as well, options that simply weren't chosen. What it does imply, which tracks our anecdotal experience, is that SSDs—particularly with today's more competitive pricing—provide a big bang for the buck and should be one of the top considerations when upgrading any workstation model from its "starting at" configuration.
Alex Herrera is a Senior Analyst for Jon Peddie Research.