The rising star among Dassault Systèmes executives is working on a long-term global marketing theme of ubiquitous 3D experience.
By Randall S. Newton
When a company releases a new product, it always distributes a press release which almost always includes one or more direct quotes from a company representative. Last week, when SolidWorks introduced its new module for Plastics, for the first time the obligatory quote came not from someone at SolidWorks, but from an executive at parent company Dassault Systèmes. Specifically Monica Menghini, Dassault Systèmes executive vice president for "Industry, Marketing and Corporate Communications." Reading the tea leaves to understand why the quote came from Menghini and not SolidWorks CEO Bertrand Sicot or one of his lieutenants gives insight into where Dassault Systèmes is headed these days.

Menghini has been with Dassault since 2007, starting as the leader of the 3D SwYm group for online communities. She moved quickly up the corporate ladder, becoming a vice president in 2009 and senior vice president in January 2012. Prior to Dassault she worked for marketing consulting firm Saatchi & Saatchi and consumer product goods giant Proctor & Gamble (a big Dassault customer). The former professional volleyball player with a law degree attended SolidWorks World for the first time in 2012, where DS CEO Bernard Charlès showed her around, meeting with every SolidWorks constituency except the press corps.  (By the way, if you've ever heard Charlès refer to Dassault brands as "love marks," it's a Saatchi & Saatchi term.)
Big companies like Dassault Systèmes weigh each and every word that appears in a press release, so it is no accident Menghini was the quoted representative in the Plastics announcement. She probably doesn't know beans about designing in plastic; Menghini was quoted because Dassault is hard at work promoting its big new vision of the 3D Experience Platform, and she is taking the lead. As the closest thing to a retail division inside Dassault Systèmes, SolidWorks has been singled out as the first platoon with significant revenue to march into battle.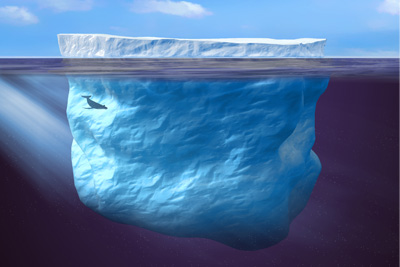 The 3D Experience Platform is not a new theme, but it is getting new emphasis. When Menghini was promoted in January, the press release quoted Charlès:  "The addition of intelligent information search-based technologies, social innovation capabilities and realistic 3D virtual experiences made us ready to pioneer a new technological wave: a 3D Experience platform to serve the 'Social Enterprise' of the 21st century. … Our ambitious roadmap and the major social transformations that our customers are going through called for the reinforcement of our executive team. … [Menghini] will connect the dots between brand equity, product innovation and marketing excellence to ensure we bring the best value to our customers in all the industries we serve together with our partners."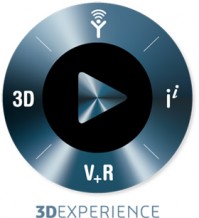 If Charlès sang the verse, Menghini sings the chorus: "The way enterprises work internally and externally will change significantly in the next coming decades. Therefore, our objective is to provide our clients with a powerful platform, which uses the universal language of 3D and the Web as the user interface, to help them to connect the dots for a game-changing increase in end-user value."
Menghini's first move to get the 3D Experience message out was to design a new company logo. The teal circle that looks like a high-tech oven knob has a glyph for every major Dassault product family.
Selling experience, not CAD expertise
CAD software users like to feel they are part of the company that takes their hard-earned money in exchange for design tools. Generally speaking, they don't approve of their vendors making overtures to the consumer products market. But Dassault knows they won't stop buying SolidWorks, Catia, or Simulia just because of new marketing ventures.
Dassault bases the whole 3D Experience initiative on the notion that its customers are not in the CAD or PLM business, but in the business of pleasing its customers. "We want to help them move from vehicle attributes to vehicle experience," says Menghini. "We are looking at the world through their eyes. The 3D Experience platform will help them create winning consumer experiences."
Dassault is thinking in big terms, of all consumer product experience and for decades. But for quite a while it will be up to the Boeings and Fords and sole-entrepreneur engineers of the world to fund the vision. They all need to hope Monica Menghini knows who is buttering her company's bread as she continues to set the agenda.