Workflow between Vectorworks Spotlight and ESP Vision Pro will be tightly synchronized.
Design software developer Vectorworks, Inc. is best known for its architectural design capabilities, but for years has gained a solid following in stage lighting design with Vectorworks Spotlight. The company has announced it is beefing up Spotlight by acquiring the ESP Vision product line, including Vision Pro, considered by industry insiders to be the most advanced lighting pre-visualization stage lighting software available for both PC and Mac operating systems.
Many stage lighting pros use Vectorworks Spotlight to design the set, then use ESP Vision Pro to visualize the final effects and to set up production cues. Vectorworks says the acquisition allows the two products to work more closely. "Bringing Vision into the Vectorworks product portfolio places the integration of its pre-visualization capabilities on the Spotlight software roadmap," says Stewart Rom, Vectorworks' chief marketing officer.
Rom says Vectorworks will continue to support ESP Vision's existing customers. In addition, Vision's technical team will join Vectorworks' development and support group to further develop integrated tools that serve professionals involved in the design and production of live events and exhibitions.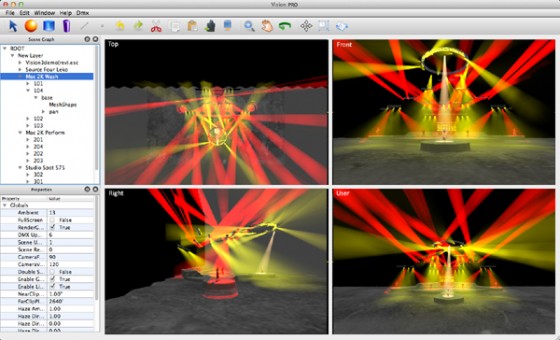 "It's an exciting time for Vision and Vectorworks Spotlight software users, as the industry standard in lighting design documentation now also owns the highest-quality pre-visualization software in the industry," says Alan "AJ" Jesse, director of support at ESP Vision. "Our companies have thrived when working together over the past few years, and I can't wait to see what the future has in store for these two products."
A YouTube recreation of a lighting scheme created in ESP Vision Pro for "Live and Let Die." (Source: Derek Heckler, distributed by YouTube)