RTT technology provides photorealistic still, animated, and cutaway views, saving Navistar thousands of dollars compared to transporting their massive diesel engines to customers and trade shows.
Heavy equipment manufacturer Navistar is using advanced 3D photorealistic viewing technology from RTT to give potential customers a close-up look at their latest diesel engine. Navistar is saving thousands of dollars by avoiding the high cost of transport. The US office of Munich-based RTT consulted on the virtualization.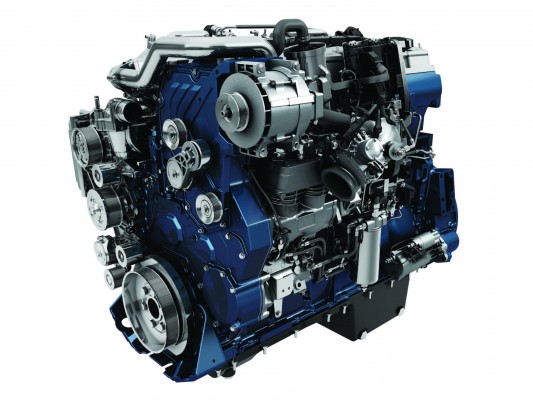 Navistar's new MaxxForce 15-liter diesel engine made its first virtual appearances recently at the 2011 Con Expo in Las Vegas and the 2011 Mid-America Trucking Show in Louisville. Six main engine components were brought to life in the animation:
Fuel System: An inside look at the high-pressure fuel system illustrates the engine's combustion cycle.
Pistons: The animation visualizes how fuel is sprayed and atomized into the piston bowl—a new feature Navistar designed to evenly distribute fuel into the cylinder, resulting in more complete burn and increased power and efficiency with less exhaust.
Turbocharger: The outer components are peeled away to expose air-flow in the small and large twin turbochargers. The smaller primary turbo responds quickly for immediate acceleration at low speeds, while the larger provides peak power at highway speeds and on steep grades.
Exhaust Gas Recirculation Valve: The engine's floating core helps to eliminate torsion stress and heat cycling, extending component life. The animated butterfly valve eliminates a spring system that could comprise function.
Isolated Oil Pan: The MaxxForce 15L uses an isolated oil pan to reduce engine noise.
Engine Brake: The animation ghosts back the valve to expose and animate the engine brake as it transitions from a dormant to operational position. This feature gives the MaxxForce 15L the highest braking horsepower of any engine brake in its class.
The end result is more than a photorealistic animation for one-time use. The images created by RTT can be leveraged across all media platforms with the opportunity to be repurposed for sales, training and marketing—providing continued time and cost savings.
The MaxxForce 15L engine recently received 2010 emissions certification from the EPA and the California Air Resources Board (CARB).
The animation is online at http://maxxforce.com/Application/truck-and-bus/Engine/MaxxForce_15