SPECwpc V2.0 takes new solid-state storage and multi-core workstations into account.
The SPEC Workstation Performance Characterization Group (SPECwpc) has released SPECwpc 2.0, a major upgrade to its benchmark software. SPEC says the update "improves scalability measurement" for workstations with large numbers of processing cores and "fully integrates solid-state storage into performance testing."
The new SPECwpc V2.0 benchmark measures all key aspects of workstation performance based on diverse professional applications. Members of the SPECwpc project group include AMD, Dell, Fujitsu, HP Inc., Intel, Lenovo, Micron, Nvidia and VMware.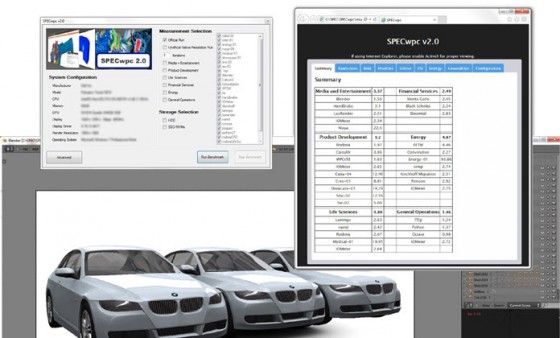 Major upgrades in the SPECwpc V2.0 benchmark include:
Improved storage workloads that better reflect performance of NAND Flash devices for high-capacity data storage.

Better scalability measurement for multi-core systems and the ability to request a specific number of threads or processes for multi-threaded workloads.

Ability to condition drives for NAND Flash devices before performance measurement.

A new PTC Creo CAD/CAM workload in the product development category.

Real-world enhancements for several workloads in the test suite.
More than 30 workloads in the SPECwpc V2.0 benchmark test CPU, graphics, I/O and memory bandwidth. The tests are divided by application categories that include media and entertainment (3D animation, rendering), product development (CAD/CAM/CAE), life sciences (medical, molecular), financial services, energy, and general operations. Individual scores are generated for each test and a composite score for each category.
The benchmark does not require the full application and associated licensing to be installed on the system under test, simplifying set-up, running and results reporting.
The SPECwpc V2.0 benchmark runs under the 64-bit versions of Microsoft Windows 7 SP1 and Windows 8.1 SP1. Results from SPECwpc V2.0 cannot be compared to earlier versions of the benchmark.
"The additions and improvements in SPECwpc V2.0 represent our ongoing efforts to accurately measure every facet of performance for today's continuously evolving computer workstations," says Tom Fisher, chair of SPECwpc. "We believe this latest version will continue to be a vital tool for OEMs, ISVs and the professional workstation user community."
The SPECwpc V2.0 benchmark is available for immediate download under a two-tiered pricing structure: free for non-commercial users and $5,000 for commercial entities. Commercial entities are defined as organizations using the benchmark for the purpose of marketing, developing, testing, consulting for and/or selling computers, computer services, graphics devices, storage devices, drivers or other system components. Media companies and individuals using SPECwpc for reviews are not counted as commercial users.