AMD gained market share at Nvidia's expense. Quarter-to-quarter shipments increased 27.6% but decreased 3.8% year-to-year.
Jon Peddie Research (JPR), has announced estimated PC graphics add-in-board (AIB) shipments and suppliers' market share for the third quarter of 2015.
Two big introductions came in the third quarter. AMD released their Radeon AIB lineup: the Fury series, powered by new high-bandwidth memory (HBM), and the company's brand new Fiji GPU.
At Nvidia's GPU Technology Conference in Japan, the company revealed its next-generation GPU code-named "Pascal." AIBs based on Pascal will have up to 16GB of HBM2 with up to 1 TB/s bandwidth.
The news was encouraging and seasonally understandable. Quarter-to-quarter, the AIB market increased 27.6% (compared to the desktop PC market, which increased 7.6%). On a year-to-year basis, JPR found total AIB shipments for the quarter fell 3.9%, which is less than desktop PCs, which fell 8.9%.
However, in spite of the overall decline, due somewhat to tablets and embedded graphics, PC gaming momentum continues to build and is the bright spot in the AIB market.
The overall PC desktop market increased quarter-to-quarter including double-attach (the adding of a second (or third) AIB to a system with integrated processor graphics. To a lesser extent, dual AIBs in performance desktop machines with high-end CPUs also added to the quarter-to-quarter increase. Typically, these machines use either AMD's Crossfire or Nvidia's SLI technology.
The attach rate of AIBs to desktop PCs has declined from a high of 63% in Q1 2008 to 39% this quarter.
The quarter in general
JPR found that AIB shipments during the quarter behaved according to past years with regard to seasonality. AIB shipments increased 27.59% from the previous quarter (the 10-year average is 12.6%).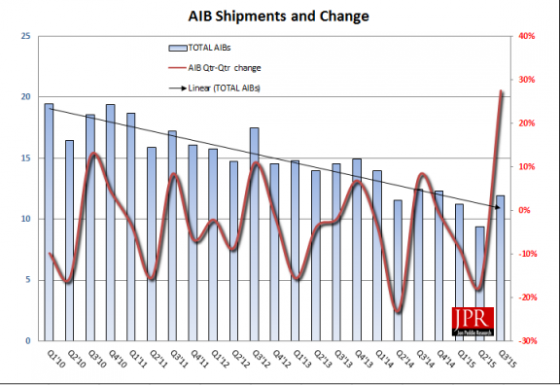 From last quarter, total AIB shipments decreased to 12.0 million units this quarter. AMD's quarter-to-quarter total desktop AIB unit shipments increased 33.3%. Nvidia's quarter-to-quarter unit shipments increased 26.4% Nvidia continues to hold a dominant market share position at 81.1%. Figures for the other suppliers were flat to declining.
The change from year-to-year decreased 3.8% compared to last year. This quarter compared to quarter-to-quarter percentage changes for the vendors are shown in the table below.

The AIB market now has just four chip (GPU) suppliers, who also build and sell AIBs. The primary suppliers of GPUs are AMD and Nvidia. There are 48 AIB suppliers, and they are customers of the AIB OEM GPU suppliers.