The Broadwell-EP CPU is front and center.
Lenovo continues to embrace the Intel Broadwell line in its workstation line, using primarily the Xeon E5- 1600 v4. This is second part of their Broadwell launch, the first being in April and based on the Intel Xeon E5-2600 v4 series, resulting in the release of the upgraded ThinkStation P710 and P910. The EP-2600 v4-based products offer more multi-core horsepower (up to 22 cores) for those applications that need it, and dual CPU workstations.
The two new additions to the lineup are the P410 and the P510. Lenovo used the recent PTC LiveWorx conference to show off the latest and greatest. Workstation Marketing Manager Cassidy Lammers laid it out. She said that the P410 was a direct response to customer requests. "It fills out our product line," she said, and fits in a desirable price niche for customers who may think the P510 is just a little bit more computer than required but they want more performance than the P310 offers. It's a notch above an entry-level workstation with more capacity for memory, and a high core count. It's built on the new Intel Xeon E5-1600 v4 processor with Turbo.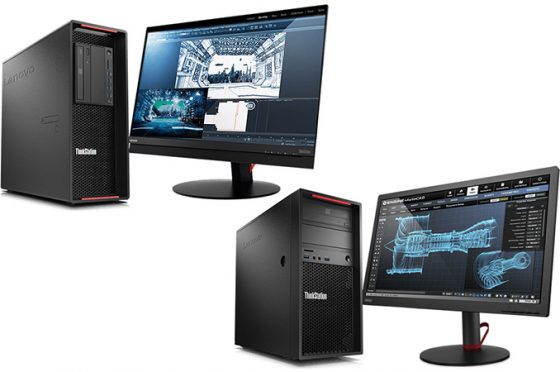 Likewise, the P510 rounds out the high end with a single-socket workstation, with double the storage capacity and quadruple the memory capacity of an entry workstation. It is built on the Intel Xeon E5-1600 v4 processor with Turbo Max 3.0 technology and will take up to an Nvidia Quadro M6000 graphics board.
The Xeon-E5 1600 v4-based machines in this new release is aimed at the needs of a larger percentage of users, looking for a cost-effective, lower core cores—the Xeon-E5 1600 v4 maxes out at 8 cores.
Lenovo has remained loyal to Nvidia and made this new offering of products exclusively Nvidia PGU add-in boards (AIBs); AMD isn't even an option. Nvidia doesn't recommend, or support, more than two AIBs in their SLI mode. Accordingly, the Lenovo workstations have a maximum fill out of two AIBs.
Lenovo is also including the Lenovo Performance Tuner (LPT), a software program that give users the ability to fine-tune their workstation to their own experience based on their specific software demands. LPT offers:
Application affinity
Application priority
Power management
Resource monitoring and tuning
Graphics management
BIOS management
Lenovo has created predefined profiles for the most popular applications to help adjust and manage resources, all completely open to customization. Users now have the ability to designate an application to run on the specific core(s) they choose to keep the system running smoothly, optimizing power and resources for both single-core and multi-core applications. This is a feature customers like because it gives them the ability to tune their computer to their usage models, but it can also give IT a tool to set profiles for users based on their use and jobs.