Bradley Munkowitz and Navarro Parker talk about the digital effects they created for a Sony ad campaign.
By Meleah Maynard
Daniel Craig is agent 007 in a new Sony global broadcast ad campaign, 'Intelligence Gathered.' In the spot, a mysterious woman uses several Sony devices to track an unidentified man as he storms past armed guards and high-tech security systems on his way to the dark control where she no doubt presumed she was safe. Just as his identity is confirmed on her Vaio laptop, James Bond enters the room and calmly takes a seat, saying, "Looking for someone?"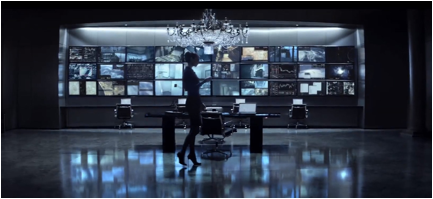 Weiden+Kennedy Portland collaborated with RSA Films London and MPC Los Angeles to make the "Mouse and Cat" spot, which features several Sony products. Graphic content that appears on the many video screens in the spot was created with Cinema 4D and After Effects by a small team of artists led by designer/director Bradley (Gmunk) Munkowitz. (The spot "Mouse and Cat" is posted to YouTube.)
Munkowitz is perhaps best known for leading a team of digital artists who crafted more than 12 minutes of holographic content for Tron: Legacy. He was brought onto the project by Weiden+Kennedy, along with Emmy award-winning graphic artist and designer, Navarro Parker, whose credits include The Avengers, Iron Man and The Amazing Spider-Man.
The two worked together at MPC in Los Angeles, and eventually brought on animator/designer Joseph Chan, who had worked with Munkowitz on Tron: Legacy. "I worked with 'Chanimal' [Joseph] before on Tron, and a couple of other projects, he's an easy-going guy and a wonderful designer and illustrator," Munkowitz recalls. "He animated all of the flat, UI stuff that represents the computer in kind of a dark, evil way."
A Passion for Screens
Though this "Super Bowl-level" ad was complex and included "a lot of layers of people to please," Munkowitz and his team enjoyed a great deal of creative freedom as they worked on it for nearly three months. Guided by concepts and general references from MPC's creative director, Paul O'Shea, Munkowitz and Parker came up with ideas, which they pitched to him as they went.
"We knew what the bar was for this, and MPC wasn't just going to hire two freelancers and let them be creative directors, so we would always go through Paul," Munkowitz recalls. "But once he saw the enthusiasm we brought to the project, he gave us a lot of freedom to just run with things."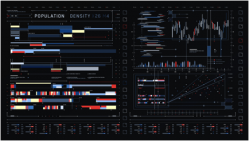 Parker, who describes himself as having "a passion for screens," knows exactly what it takes to create the kind of graphic content seen in the Sony spot. Over the past five years he has created interfaces for several different films (picture all of the data Robert Downey Jr. accesses inside his helmet in Iron Man). In "Mouse and Cat," one of the most striking examples of Parker's work is the facial reconstruction happening on screen in the control room as the high-tech equipment surrounding the mystery woman works to identify the intruder, Daniel Craig.
 The making of a face
"A thermal snapshot appears and then construction starts on a face that slowly turns out to be Daniel Craig and you're like, 'Oh, $#|+! That's James Bond,'" Parker says, explaining that he primarily relied on Cinema 4D for the facial reconstruction graphics, which gradually evolved from a low-poly mesh to a high-poly mesh and, eventually, skin.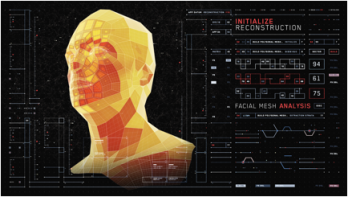 Parker started with a 3D scan of Craig's head, which was provided by MPC London, where they were working on the new James Bond film, Skyfall. Using PolyFX, he was able to control each polygon of the model using standard MoGraph effectors. "I built a ton of animated texture maps in After Effects and used the Shader Effector to control the timing and direction of how the polygons transformed," he explains.
To create the sense of the data organically resolving itself into the head, Parker built a series of thin cubes in a cloner that was controlled by a plain effector with a linear falloff. "As the cubes approached the 3D head, they would grow to full size, and as they continued past the head, they would shrink to zero," he explains. 

"Then, I put that cloner and the 3D model into a boole object, so when the cubes raced past the head, the boole would form a negative space of where the head would be." He then exported it from C4D as an OBJ sequence and imported it into After Effect using the Plexus plug-in. Parker used Plexus to form the connected web of lines and nodes that animate across the head.

Mapping the intruder's whereabouts
Early in the spot, the mystery woman uses her smartphone to pinpoint the location of the intruder. She watches the screen as a wide shot of the city quickly hones down to a red dot that is right outside the door to her building. Bradley wanted to do a point cloud representation of the city, but flying to London to take LIDAR scans of the Fishmonger's Hall building featured in the ad wasn't in the budget.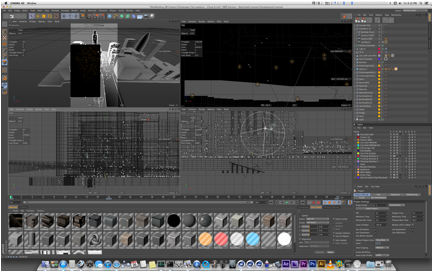 Instead, they modeled the map in C4D, and MPC's 3D department modeled Fishmonger's Hall and helped them track and model other elements in the scene. Parker used Thinking Particle's PMatterWaves node to project particles onto the surface geometry from various light sources, allowing him to control where the stationary particles were sprayed onto the city scene. "I put a spotlight aiming at the front, side and top so I could get a volumetric representation of the city from each X, Y, and Z axis," Parker explains. "Wherever the light didn't shine, no particles would be created, and this replicated the LIDAR look perfectly."
The goal was to make the phone appear to be generating data from the geometry in real time, says Munkowitz. "Nav rendered out a bunch of stuff for us to work with, and I took it into After Effects and put it together," Munkowitz explains. "That's the nice thing about how we work together. He gives me everything I ever wanted, and I make it pretty."
These days, the duo is working together on the sci-fi thriller, Oblivion, starring Tom Cruise. "GMUNK and I have got a great rhythm going here, and the musicians are composing music 50 feet away, and the director is right here working, too," Parker says. "If we want to show him something, we just say, 'Hey, Joe [Kosinski], look at this."
Meleah Maynard is a Minneapolis-based freelance writer and editor.