How the HP split will benefit shareholders
HP will do what Meg Whitman said shouldn't be done when she took over—spin off the PC group. Evidently the purchasing power Whitman referred to in her reasons for not selling off the PC group haven't produced the ROI shareholders want, and it's time for Plan B.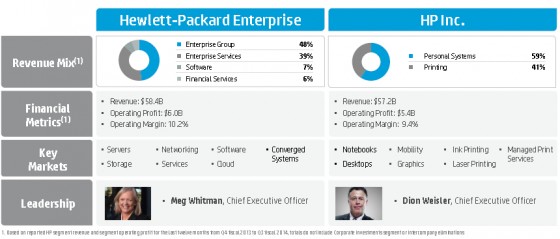 HP will separate into two new publicly traded Fortune 50 companies: one comprising HP's market-leading enterprise technology infrastructure, software, and services businesses, which will do business as Hewlett-Packard Enterprise, and one that will comprise HP's market-leading personal systems and printing businesses, which will do business as HP Inc. and retain the current logo.
Immediately following the transaction, expected to be completed by the end of fiscal 2015, HP shareholders will own shares of both Hewlett-Packard Enterprise and HP Inc. The transaction is intended to be tax-free to HP's shareholders for federal income tax purposes.
HP's plan to split in two is the latest move by a large company to divest their original core businesses in the hope for growth in new markets. To date that hasn't turned out too well for other  companies that have tried it, although there have been some examples where it paid off quite well, e.g., Lenovo. And HP spun off their HP Labs and their medical devices group and that seems to have worked out OK.
But why didn't HP sell off the PC group? Who would buy it, and for the price HP likely wanted?
HP is under pressure from investors to show more ROI for the share price, and probably some growth. The PC group will probably be an abandoned baby, and all the Wall Street and media attention will be on the enterprise group.
And which company gets to offer remote graphics and virtualization— both? Remote graphics by the PSG and virtualization by Enterprise? That's not divide and conquer, that's divide and confuse.
A side effect of this split is the company now anticipates laying off another 5,000 people, bringing the 2014 total to around 26,000. The headcount are planned to be used in FY15 to fund investment opportunities in R&D and sales. So if you're in sales or R&D you get to keep your job?
Change is scary. HP had to change. Laying off loyal, hard-working people is never easy or desirable, but economy of scale and the competitive market place dictate it must be done. HP has taken a really brave step in splitting up. They've also leveraged it in a way to reduce costs. The stock market is going to love this, and of course, if the stock market likes it, that translates directly into the payoff for the senior execs and their bonus packages. So except for the discharged employees, this probably looks like a win-win situation for the two companies and the senior management.