The $32.5 million deal grew out of a 15-year partnership that gave 3D Systems its ProJet technology.  Why would Xerox sell off such an accomplished engineering group?
3D Systems (3DS) said today it will acquire the Xerox product design, engineering, and chemistry group based in Wilsonville, Oregon. 3D Systems will pay $32.5 million in cash for the team and its assets; the deal is expected to close before the end of the month.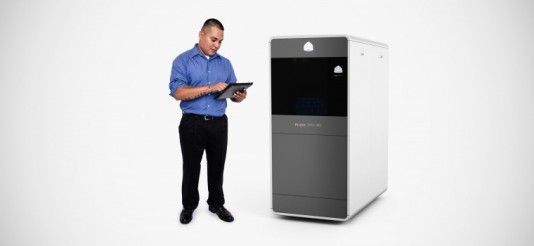 3D Systems and Xerox have been research partners for almost 15 years; the ProJet line of multi-jet 3D printers came from their collaboration.
As part of this agreement, 3DS expects to add more than 100 experienced Xerox engineers and contractors specializing in product design and materials science to its global R&D team. 3D Systems intends to operate its own facility within the Xerox Wilsonville campus. Xerox will maintain ink and print head development resources along with research relevant for digital printing and the 3D markets.
As part of the announcement, 3D Systems said it plans to progressively increase its annual R&D expenditures by approximately 75% to 100% over the next few years as it completes certain Xerox related engineering services commitments and fully leverages its expanded capabilities.
"We are pleased to expand our relationship with an innovative partner of the caliber of Xerox and expect that acquiring some of the Xerox Wilsonville engineering team, together with their state-of the-art development labs and selected licensed IP, will catapult our 3D printers' development and manufacturing capabilities forward,"
"This bold step is consistent with our belief that we must act quickly and decisively to extend and cement our marketplace leadership position by taking full advantage of the window of unprecedented opportunity in front of us," said Avi Reichental, 3D Systems' President and CEO.
What do we think?
Every press release follows a formula; the news, with glowing quotes from the executives involved. Then at the end there is usually an "About [Company X]" statement, especially if the press release involves more than one company. The press release announcing this acquisition includes a line about Xerox that puts this acquisition in perspective: "Today, we are the global leader in business process and document management …" Xerox no longer sees itself as a research-driven innovator, but a business processes solutions firm. Research into 3D printing—no matter how good the research—is no longer part of the Xerox core mission. Moving the research group to 3D Systems allows Xerox to redirect money in the organization, gives the team in Oregon an emotional boost, and 3D Systems gains a brain trust with the stroke of a pen.