The well-funded start-up continues to build out its browser-based design collaboration site.
Browser-based 3D design collaboration site Sunglass is rolling out new features to its users this week. The well-funded start-up continues to pursue the dream of making any browser the portal to collaborative product design.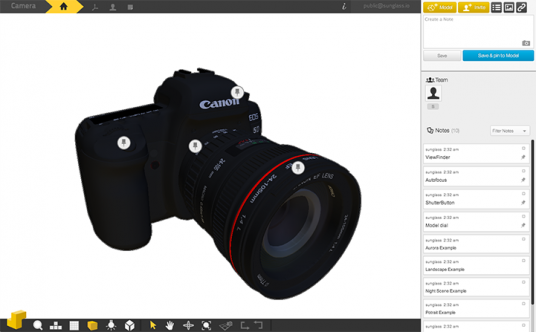 Sunglass is one part interactive 3D viewer and mark-up tool, one part social design space, and one part interoperability solution. When a 3D model has been uploaded to the Sunglass "stage" it can be viewed in real time by one user or several. The company likes to say it is the equivalent of Google Docs for 3D product design.
First on the list is increased support for SolidWorks files, including assemblies and models created by the 2013 release. Co-founder Nitin Rao says a second update coming later this week will further improve Sunglass responsiveness when working with very large models.
The user interface has been updated, giving more attention to collaboration notes and issue tracking. Sunglass continues to add to the list of products it supports with plug-ins; it currently supports Autodesk Inventor, Dassault Systèmes SolidWorks and Trimble SketchUp, and will soon release a plug-in for direct support of McNeel and Associates Rhino 3D.
A third new feature is the ability to embed a 3D model view in any web page. This feature uses the same technology as YouTube; Sunglass provides a line of HTML which is then added to a blog or other web page to embed the model.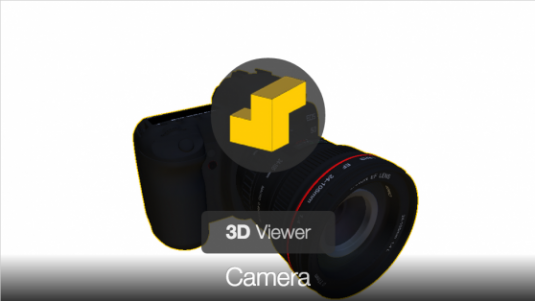 Sunglass has released an iOS app, but still considers their mobile viewers for iPad and iPhone a work in progress. Rao says Sunglass will continue to work on the iOS apps until they are robust and then turn their attention to creating an Android app.
Sunglass currently has eight venture capital investor listed on its website: General Catalyst Partners, Lerer Ventures, Kapor Capital, Webb Investment Network, Sherpalo, Radar Partners, Cloud Capital, and Red Swan.