3D printing is growing rapidly in Europe. Stratasys is in leading vertical markets, building a complete ecosystem, and accelerating product development. Correspondent Tom Lansford reports from Frankfurt, Germany.
By Tom Lansford
Ten years ago at Euromold, 3D printing and related technology occupied a small corner of Hall 11. Today, 3D printing dominates the show and is viewed as a strategic technology for many manufacturing companies. As a leading provider of 3D printing technology Stratasys was out in full force at the show, eager to discuss its strategy to keep the company in a leadership position.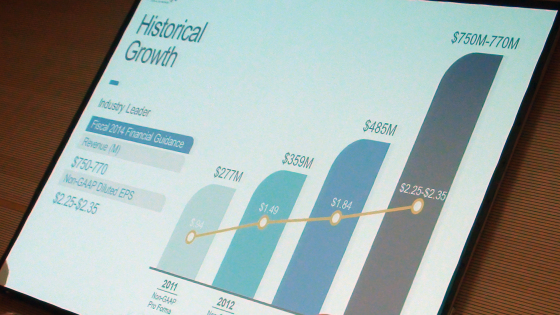 It can be hardest to run a race from the front of the pack. Stratasys clearly leads the additive manufacturing market. The company's growth has exploded since the merger two years ago of Stratasys from Minnesota and Objet from Israel. The company went from 900 to around 3,000 employees in 23 months. Several acquisitions have supported the growth of the company. Stratasys is focused on staying in the lead by bringing together products, technologies, services, and communities in order to create a complete design-to-print ecosystem.
A six-point strategy to lead in 3D printing
David Reis, Stratasys CEO, says he wonders why so many companies attempt to hide their strategy. Stratasys wants to share its strategy with customers and partners so they can move forward together. At Euromold Reis outlined six strategic imperatives:
Lead in prototyping

Grow direct digital manufacturing (DDM)

Introduce vertical market applications

Accelerate delivery of new solutions to the market

Improve 3D printing accessibility

Increase customer intimacy
Leading in prototyping is critical for the company. The PolyJet technology of the Connex products with color and multi-material printing is key to maintaining the lead.
The DDM market segment is growing faster than the company expected. Stratasys is responding with significant upgrades to the Fortus product line to meet the special requirements of manufacturing.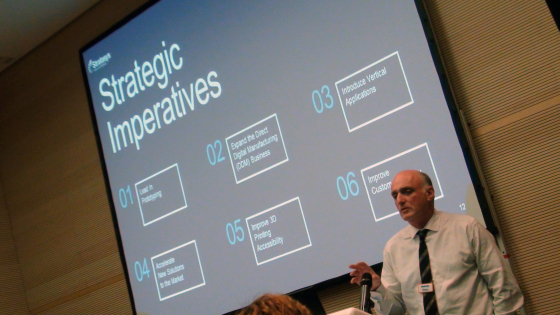 Vertical markets are important to Stratasys for two reasons. A simple view of 3D printing technology would find it to be a horizontal technology. And the market is a broad market. But this broad market consists of many specialized vertical markets which may require special products, a special approach or both.
A product release cycle of two to three years was acceptable in the past. It is not the case today. Stratasys replaced 70% of the existing product line with new products for next year. Faster product releases will be standard for the company.
Less access to 3D printing limits growth. It's not simple to use 3D printing today. Stratasys wants it to become easy. Access is also an issue when customers need multiple printing abilities for their workflows, but only have one type of printer in their company or need the printed part in a different part of the world. Partnerships and acquisitions support the drive to increase access to Stratasys technology and increase market growth.
Stratasys growth
The company is investing and growing. Profitable growth allows Stratasys to invest in R&D which in turn supports growth in their prototyping and manufacturing markets.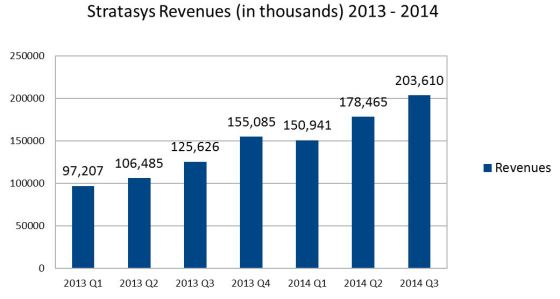 The financial results show year-on-year gains around 60%. Removing acquisitions, the company is predicting more than 25% organic growth in 2014. Both are important. Organic growth currently comes from high-value and high-margin products. And the acquisitions support the company's strategic initiatives in ecosystem development, accessibility to 3D printing, ease of use, and intimacy with customers' business needs. Thanks to growth in direct digital manufacturing, Stratasys saw 70% revenue growth in some European markets.
I sat down with Andy Middleton, Stratasys General Manager in Germany, to discuss key elements of Stratasys' European success. I wanted to talk about growth in Europe, faster product development cycles, and building an ecosystem.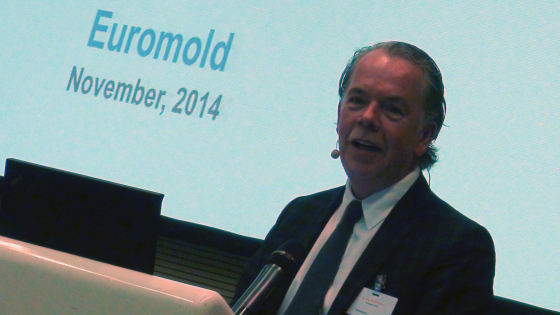 Growth came from three areas. First, Connex PolyJet technology grew prototyping. Stratasys believes in color and multiple-material printing for prototyping; Connex delivers both.
Connex products and PolyJet technology allow a single printer to print multiple material types and multiple colors in a single, 3D printed object. Initially it had been difficult to explain the multi-material printing and the benefits. Today, customers better understand the Connex technology and the benefits of printing multiple materials in a single print. They understand and want color printing. This has increased demand.
This year began with upgrades to triple-jetting 3D printing with the release of the Objet 500. In November, the triple-jetting technology was released in the Objet 260 and the Objet 350.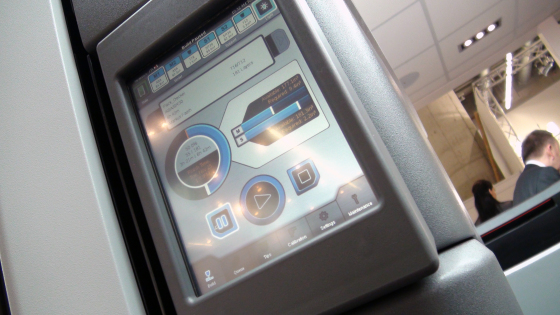 The Fortus hardware products have more than doubled their growth this year. That gain has been driven primarily by sales in manufacturing. Fortus produces very high performance plastics. One use is to produce parts for manufacturing – printing jigs and fixtures for assembly lines. This can be for holding parts during manufacturing or a fixture for mounting an emblem on a product. These used to be machined, metal parts and now they are lighter, high quality, 3D printed plastics. In the Stratasys manufacturing facility where they build their printers, there are 800 jigs and fixtures on the shop floor – and they are all 3D printed.
A third point is geographic growth. The UK market has had 70% growth year-on-year. This is the fastest growth in Europe and the UK has overtaken Germany as the single largest market in Europe for Stratasys. The growth comes from both prototyping and manufacturing. The UK has seen growth in demand from service bureaus, in automotive, and in education and research. Middleton notes that the first four Objet 1000 printers were delivered to customers in the UK. Nonetheless, Germany has still seen excellent growth during the year in automotive. France has also done well in the automotive and aerospace industries.
Product development is accelerating at Stratasys. This year, the company says 70% of the products on display at Euromold did not exist 30 days before the event. Stratasys has consolidated the PolyJet technology into the Connex product line. All mid-range to high-end Connex products are now capable of color, multiple materials, transparent materials, and medical materials. As the only company able to deliver this flexibility, Stratasys is driving it across a range of build sizes for the Connex 3D printers.
Increasing ease of use touches on many aspects and Stratasys has eliminated the need to manually set material colors for the print job, making color printing easier and more accessible. This is especially important with the triple-jetting technology available in the Connex product line.
The Objet 30 Prime desktop 3D printer has been introduced at the same price as the previous generation but with the ability to print soft and hard materials so that multi-material printing can be done on a desktop printer for the first time.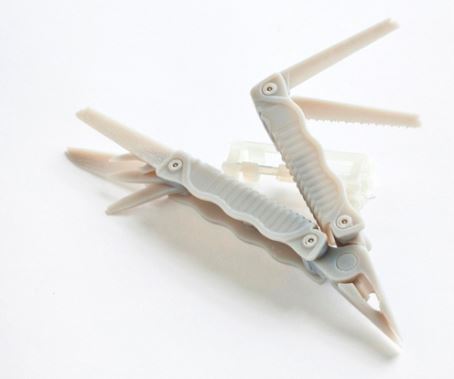 The Fortus line has been "reinvented," says Middleton. The company increased the speed, increased the build envelopes, and increased the reliability. The Fortus is also easier to use with a new user-friendly control panel.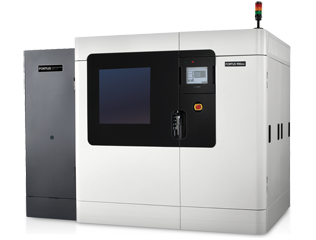 The Fortus 360 and the Fortus 400 have been replaced by the Fortus 380 and the Fortus 450. This increases the build envelope in addition to increasing the printing speed and the reliability. The new products are around 20% faster and can be 50% faster on some printing tasks.
While the products were already reliable, the demands of the manufacturing market have driven the company to produce Fortus 3D printers with a mean time between failure (MTBF) of less than 1 per year, which Middleton says is unheard of in the 3D printing market.
Faster product development cycles are now the norm for Stratasys. Customers are not only becoming more aware of the benefits of 3D printing, but making the technology strategic within their companies. This drives a need for more features and abilities. Stratasys intends to adapt to the market demands, keep their leadership position, and push the expansion of the market as rapidly as the technology allows.
Growing the market also means making 3D printing more accessible. Stratasys must build an ecosystem that supports many aspects of design and engineering workflows. The vision is to allow customers to easily share and print designs. And to do so easily, when they need it, how they need it, and where they need it. 
The acquisitions of MakerBot, GrabCAD, Harvest, and Solid Concepts were all done to develop the vision, says Middleton. The ecosystem partnerships with companies like Adobe and PTC support the same vision.
Imagine your design is ready for comment. You share it securely in the cloud. Comments and changes are made. You print a version on your desktop directly from PTC Creo. You check it. Now you need three more samples using different materials and colors. You send those to a service bureau online. Early next week, a customer in Brazil requires 10 copies which you print locally, in-country. The ecosystem provides seamless, accessible, design to print.
There remains much work to build this vision. However Stratasys is putting the pieces in place. GrabCAD already has an enormous community sharing designs publicly and privately in the cloud. Stratasys has a worldwide network of service bureau. The ability to print directly from Adobe Photoshop CC and PTC Creo did not exist two months ago. An eco-system will exist which provides ease of use, accessibility, and a worldwide workflow.
What do we think?
Stratasys has a solid grip on the market: 55% of industrial systems and 35% of desktop 3D printers. They have growth in service bureaus. They have new products and unique technologies.
Nonetheless, executives like Reis and Middleton know that being a leader is a challenge. The company's six strategic imperatives result from their vision of the future. Initiatives at Stratasys target each strategic point, aiming for a future where 3D printing for design, prototyping, and direct digital manufacturing will be easy, accessible, connected, collaborative, and global. Customers will expect and receive parts in any of hundreds of materials and colors to meet their project needs.
With the 3D printing industry set to become a $21 billion business in a few short years, there will continue to be many competitors; delivering on this vision is how Stratasys plans to stay at the top of the market.