Wondering what to get that graphics professional who has everything? This richly illustrated book is a page-turner.
A new book released today harken back to an older time, when beautiful oversized books were the easy buy during Christmas holiday season. What could be better in the iPad era than a real physical book that gorgeously celebrates the history and technology of computer graphics in the film industry?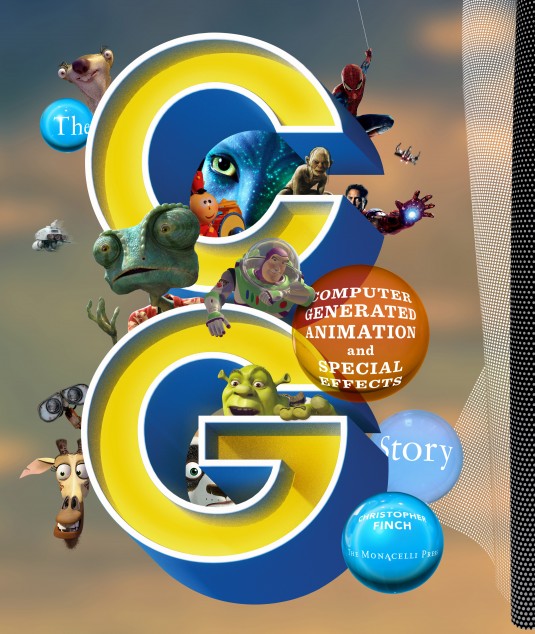 "The CG Story: Computer Generated Animation and Special Effects" by Christopher Finch (Monacelli Press) celebrates the impact computer-generated special effects and technology-enabled imagery have had on movies over the years. CG has created a revolution in live action filmmaking and also brought about a new age of feature animation.
When my review copy came in the mail, I couldn't put it down. Every page is a "oh, I remember that" moment. I was a huge fan of CG before I became part of the computer graphics industry; often I would attend such CG milestone movies like Star Wars twice: once to sit in the middle of the theater and enjoy the story, and once to sit in the front row and immerse myself in the special effects. This book is a page-turning opportunity to relive that second viewing.
Finch's book takes a decidedly 21st Century look at computer-assisted techniques and the new visual language of cinema. It starts with a close and richly-illustrated look at the early days in the creative development of special effects technology with a chapter-by-chapter, back-and-forth approach comparing live action and animation filmmaking, and then investigates the rapid advance of this visual art form up to the present day.
Notable technologists and filmmakers featured in the book include: Steve Jobs, Steven Spielberg, George Lucas, James Cameron, Stanley Kubrick, Douglas Trumbull, Martin Scorsese, Robert Zemeckis, Tim Burton, Peter Jackson, Alfonso Cuaron, Ang Lee, Ridley Scott, John Lasseter, Pete Docter, Michael Bay, Andrew Stanton, Christopher Nolan, Joss Whedon, Sam Raimi, Lana and Andy Wachowski, and Brad Bird.
The book also explores the creation of CG projects with movie star performances from the likes of: Tom Hanks, Daniel Radcliffe, Cate Blanchett, Mike Myers, Harrison Ford, Johnny Depp, Ellen DeGeneres, Keanu Reeves, Angelina Jolie, Tim Allen, Antonio Banderas, Ian McKellen, Heath Ledger, Robin Williams, Queen Latifah, Leonardo DiCaprio, Milla Jovovich, Elijah Wood, Maggie Smith, Eddie Murphy, Helena Bonham Carter, Zoe Saldana, Ewan McGregor, Robert Downey Jr., Tilda Swinton, Jim Carrey, and Salma Hayek.
Key film milestones include: 2001: A Space Odyssey; Star Wars; Tron; Close Encounters of the Third Kind; Blade Runner; Beauty and the Beast; Jurassic Park; Forrest Gump; Toy Story; Titanic; Shrek; Avatar; Lord of the Rings; Wall-E; The Matrix; Finding Nemo; The Dark Night; District 9; Up, Gladiator; X Men: The Last Stand; Monsters Inc.; Iron Man;  and The Avengers.