New version texts workstations running Windows 7 using NX 8.5.
SPEC's Application Performance Characterization (SPECapc) project group has released updated benchmark software for systems running Siemens NX 8.5.  SPECapc for Siemens NX 8.5 runs on the Windows 7 64-bit operating system.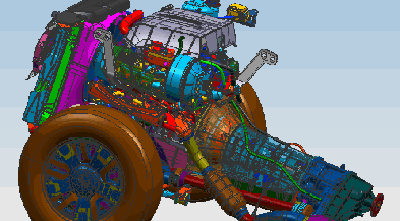 The updated benchmark includes four models ranging in size from approximately 87MB to 347MB.  It tests performance for operations such as loading parts, booleans, rotations, zooms, pans, front and back clipping, modifying perspective parameters, full-view generation, different edge modes, translucency and hidden-surface removal. Composite results are recorded for graphics, CPU and disk I/O operations.
New features in SPECapc for Siemens NX 8.5 include quality control improvements, faster runtimes and automatic collection of system information for results submissions to the SPEC website.
SPECapc for Siemens NX 8.5 is available immediately under a two-tiered pricing structure: free for non-commercial users and $2,500 for commercial entities. Commercial entities are defined as organizations using the benchmark for the purpose of marketing, developing, consulting for and/or selling computers, computer services, graphics devices, drivers or other systems in the computer marketplace.
SPECapc was formed in 1997 to address performance evaluation based on professional workstation applications.  Current members include AMD, Dell, Fujitsu, Hewlett-Packard, Intel, Lenovo, NEC and NVIDIA.  SPECapc is part of the Standard Performance Evaluation Corp. (SPEC), a non-profit corporation formed to establish, maintain and endorse a standardized set of relevant benchmarks that can be applied to the newest generation of computers.  For more information, visit:www.spec.org.