The latest release stresses integration between design and engineering analysis and introduces the company's vision for high-definition PLM.
Siemens PLM Software today released NX 8, the latest edition of the company's flagship CAD/CAD/CAE software. New features include more efficient integration of design and engineering simulation, and an initial implementation of the company's vision for high-definition PLM (3D PLM).
NX 8 for simulation offers new solutions for optimization and multi-physics analysis, along with new methods for analyzing complex assemblies. Enhancements to NX Nastran include improvements in nonlinear and dynamic analysis, as well as increases in computational performance and modeling ease-of-use. Siemens PLM says the functionality in NX CAE helps reduce the time spent preparing and solving analysis models by up to 70% when compared to traditional CAE tools.
Other simulation and analysis enhancements include:
New topology optimization and multi-physics analysis solutions
Systems-level simulation improvements for computational fluid dynamics (CFD) analysis
High Definition 3D (HD3D) capabilities include enhancements like new simulation "results measures" that allow users to tie results directly to requirements.
Enhancements to the NX 8 manufacturing capabilities include new or extended functionality focused on both machinery and tooling design, such as optimized NC programming for machinery and heavy equipment part production, along with improvements that combine tooling design automation with CAE-based validation tools.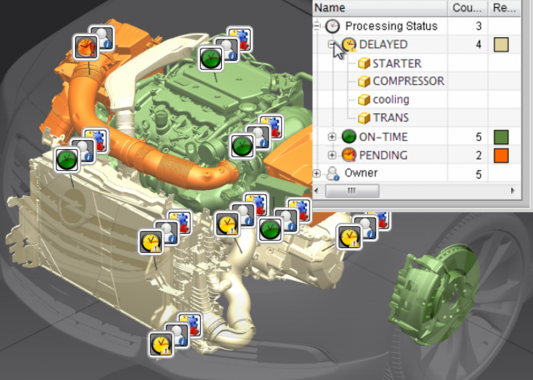 NX CAM enhancements for machinery and heavy equipment extends existing CAD/CAM, programming automation, and integrated machine tool simulation capabilities with new automated, context-specific functions to simplify the generation of smart tool paths for prismatic parts. Siemens says its new volume-based 2.5D milling operations provide faster programming, automatic tracking of uncut material across multi-stage machining processes, and programming automation for multi-part setups.
Enhancements in product design include:
New "part modules" technology which simplifies modeling and editing of complex designs by allowing users to subdivide designs into functional elements that support concurrent development by multiple designers
Expanded HD3D and design validation tools provide enhanced interaction, more powerful reporting and enriched visual presentation of PLM information from more sources.
Synchronous technology (direct editing) enhancements make it simpler and easier to modify models and handle a wider range of geometric modeling problems, while new capabilities have been added for feature-based modeling, sheet metal, patterning, freeform design, routed systems, visualization, and more.
Feature modeling in NX 8 has received several enhancements including more flexibility and control in creating patterns. More pattern layouts can be created including linear, polygon, along, reference and circular spiral, and users can now fill specified boundaries with a pattern feature, create symmetric patterns in linear layout, and more.
See also the recent GraphicSpeak article, "Siemens PLM Software sees HD-PLM as design evolution milestone."