Nvidia was the big winner, up 21% sequentially; AMD and Intel also saw GPU shipments increase.
Although the PC graphics semiconductor industry continues to decline, shipments increased in the third quarter of 2015, reflecting the overall global increase in consumer confidence. GPU sales, integrated and discrete, desktop and notebook were up significantly from the last quarter, according to the latest GPU Market Watch report from Jon Peddie Research
The third quarter is typically the strongest in the seasonality cycles of the past and was above the ten-year average of 7.02%.
Quick highlights:
AMD's overall unit shipments increased 15.87% quarter-to-quarter,

Intel's

total shipments increased 5.08% from last quarter, and Nvidia's increased 21.39%.

The attach rate of GPUs (includes integrated and discrete GPUs) to PCs for the quarter was 138% which was up 1.24% from last quarter and 29.95% of PCs had discrete GPUs, which is up 3.51%.

The overall PC market increased 7.55% quarter-to-quarter, and decreased -8.94% year-to-year.

Desktop graphics add-in boards (AIBs) that use discrete GPUs increased 27.59% from last quarter.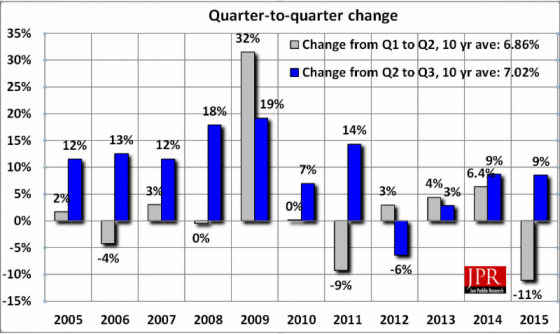 The third quarter is, on average, usually up from the previous quarter, and the PC industry seems to have recovered its seasonal rhythms after the economic shock of 2009 to 2011. The 10-year average to 7% and makes the 9% this year above average.
Since a GPU goes into every system before it is shipped, GPUs are traditionally a leading indicator of the market. Most of the PC vendors are guiding cautiously for Q4'15.
The Gaming PC segment, where higher-end GPUs are used, was a bright spot in the market in the quarter. Nvidia's new high-end Maxwell GPUs sales were strong, lifting the ASPs for the discrete GPU market.
The quarter in general
AMD's shipments of desktop heterogeneous GPU/CPUs, i.e., APUs, increased 15.0% from the previous quarter, and were down -1.0% in notebooks. AMD's discrete desktop shipments increased 33.33% from last quarter, and notebook discrete shipments increased 17.6%. The company's overall PC graphics shipments increased 15.9% from the previous quarter.
Intel's desktop processor embedded graphics (EPGs) shipments increased from last quarter by 6.9%, and notebooks increased by 4.2%. The company's overall PC graphics shipments increased 5.1% from last quarter.
Nvidia's desktop discrete shipments were up 26.35% from last quarter; and the company's notebook discrete shipments increased 14.1%. The company's overall PC graphics shipment increased 21.4% from last quarter. Nvidia had an exceptionally strong quarter.
Total discrete GPU (desktop and notebook) shipments from the last quarter increased 21.86% and decreased -15.69% from last year. Sales of discrete GPUs fluctuate due to a variety of factors (timing, memory pricing, etc.), new product introductions, and the influence of integrated graphics. Overall, the CAGR from 2014 to 2017 is now -4%.
Ninety nine percent of Intel's non-server processors have graphics, and over 66% of AMD's non-server processors contain integrated graphics; AMD still ships integrated graphics chipsets

Because Graphics chips (GPUs) and chips with graphics (IGPs, APUs, and EPGs) GPUs shipments are a leading indicator for the PC market. At least one and often two GPUs are present in every PC shipped. It can take the form of a discrete chip, a GPU integrated in the chipset or embedded in the CPU. The average has grown from 1.2 GPUs per PC in 2001 to almost 1.55 GPUs per PC.
For more on the Market Watch Report, visit the Jon Peddie Research website.