AMD dropped 26% sequentially in a quarter that saw all GPU players take a hit, says Jon Peddie Research.
The market for discrete GPUs continue to slip as embedded GPUs in the CPU and APU bring better performance for free. According to the latest market report from Jon Peddie Research (JPR), shipments of GPUs dropped 18.8% from a year ago. Measured sequentially, AMD dropped 26%, Nvidia was down 16%, and Intel dropped 7.4%.
According to JPR, the erosion of the low end of the market by tablets seems to have subsided, as even tablet sales were off for the second quarter in a row. The second quarter is typically down in the seasonality cycles of the past and was below the ten-year average of 6.86%.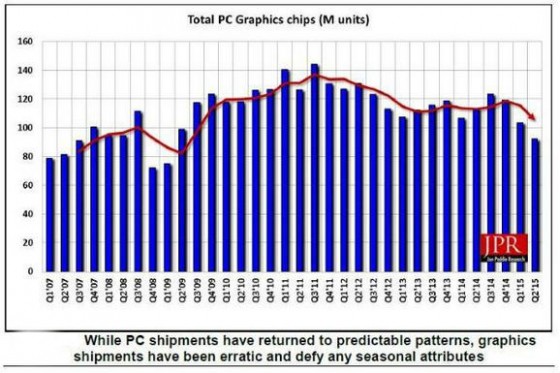 Quick highlights
AMD's overall unit shipments decreased 25.82% quarter-to-quarter, Intel's total shipments decreased 7.39% from last quarter, and Nvidia's decreased 16.19%.

The attach rate of GPUs (includes integrated and discrete GPUs) to PCs for the quarter was 137% which was down 10.82% from last quarter, and 26.43% of PCs had discrete GPUs, which is down 4.15%.

The overall PC market decreased 4.05% quarter-to-quarter, and decreased 10.40% year-to-year.

Desktop graphics add-in boards (AIBs) that use discrete GPUs decreased 16.81% from last quarter.
The quarter in general
AMD's shipments of desktop heterogeneous GPU/CPUs, i.e., APUs, increased 25.0% from the previous quarter, and were down 53.5% in notebooks. AMD's discrete desktop shipments decreased 33.33% from last quarter, and notebook discrete shipments decreased 9.1%. The company's overall PC graphics shipments decreased 25.8% from the previous quarter.
Intel's desktop processor embedded graphics (EPGs) shipments decreased from last quarter by 7.4%, and notebooks decreased by 7.3%. The company's overall PC graphics shipments decreased 7.4% from last quarter.
Nvidia's desktop discrete shipments were down 12.03% from last quarter; and the company's notebook discrete shipments decreased 21.6%. The company's overall PC graphics shipment decreased 16.2% from last quarter. The company saw strength in gaming from Western Europe and China which helped it buck a down quarter for the industry.
Total discrete GPU (desktop and notebook) shipments from the last quarter decreased 17.07% and decreased 26.27% from last year. Sales of discrete GPUs fluctuate due to a variety of factors (timing, memory pricing, etc.), new product introductions, and the influence of integrated graphics. Overall, the CAGR from 2014 to 2017 is now down 6%.
Ninety nine percent of Intel's non-server processors have graphics, and over 66% of AMD's non-server processors contain integrated graphics; AMD still ships integrated graphics chipsets (IGPs).
Graphics chips (GPUs) and chips with graphics (IGPs, APUs, and EPGs) GPUs shipments are a leading indicator for the PC market. At least one and often two GPUs are present in every PC shipped. It can take the form of a discrete chip, a GPU integrated in the chipset or embedded in the CPU. The average has grown from 1.2 GPUs per PC in 2001 to almost 1.55 GPUs per PC.
Click here to learn more about this report, or to download it now.