Quality reports are generated much faster with significant error reduction compared to manual input.
CAD tools vendor KeyToData has added automated capture of inspection data to InspectionXpert, its software for preparing first-article inspection quality reports from CAD and PDF files.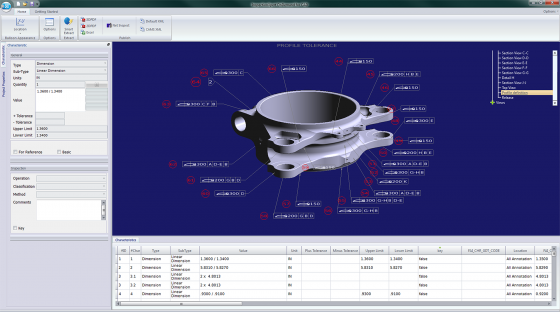 The new one-click ballooning feature extracts dimensions and tolerances and other manufacturing data embedded in CAD documents and PDF files. Captured values are automatically added to quality inspection reports (including FAI, PPAP, and AS9102). KeyToData says the benefits are straightforward – manual input errors can be prevented and drawing revisions can be processed with "exceptional time savings."
InspectionXpert is available in two editions. InspectionXpert OnDemand for PDF supports CAD drawings as PDF and TIF files. InspectionXpert OnDemand for CAD opens native CAD files including CATIA V5 2D and 3D, CATIA V6 3D, and AutoCAD DWG 2D, without having to purchase a CAD license. KeyToData says support for additional CAD formats including NX, STEP, JT, and DXF will be offered soon.
Also new in the CAD version, CATIA data containing Part Properties or Parameters can be imported automatically and populate desired fields within the project's Bill of Materials of Specifications.
Also new in the PDF version is the opportunity to edit properties of a characteristic directly in the Table Manager without opening and manually editing the PDF file.
With this release InspectionXpert will also be released in Italian.