PTC makes the case for merging PLM and the Internet of Things at LiveWorx 2015 Stuttgart.
By Tom Lansford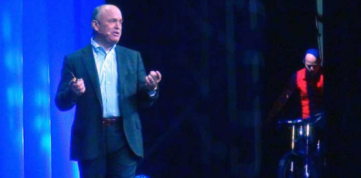 Why does a CAD & PLM company invest in the Internet of Things, Big Data Analytics, and Augmented Reality? It could be due to a vision of a new "digital twin" where the digital and the real come together, interact, and are – literally – linked together.
It is November and we are at PTC LiveWorx in Stuttgart, Germany. With over 2500 people present, 2015 is the largest pan-European PTC clan-gathering ever. In fact, it is possibly the single largest European event to bring together the Internet of Things, Product Design, Product Lifecycle Management, and Manufacturing. The event, which was called PTC Live! In previous years, has been rebranded as "LiveWorx." The change is appropriate. PTC is pushing their ThingWorx strategy at almost light-speed and their IoT acquisitions are a critical part.
If you have been following the development of the Internet of Things, the Industry 4.0 and Smart Factories initiatives as well as observing PTC developments from a distance, you could be forgiven for thinking that PTC was bolting-on IoT abilities to enhance their Design and PLM offerings and add value for their manufacturing customers. Yes, the company's investments in acquisitions and internal development around IoT technologies actually does exactly that. But it is clear PTC is driving the company toward a much more ambitious goal. Let's look closer at their business.
Continue reading at Professional Workstation: PTC pulls together IoT technologies and redefines the Digital Twin
Tom Lansford is a marketing consultant who has been working in the professional workstation, graphics, and engineering software markets for more than 25 years.