Jon Peddie says "I love it—why did I wait?"
By Jon Peddie
Opening the boxes of the new Sur­face Pro 3 is a delight. The design­er packages have thick, solid sides, and the design elements of the wrappings and the interiors where the machine and its parts rest are (excuse the unctuous flatter) perfect. The system came together easily and intuitively; it was literally a great out-of-the-box ex­perience. But here's weird part—after you've done that, you don't want to throw the box away, it's that delightful.
But enough of the sensual aspects of the device. Does it work, have any usefulness, enhance one's productivity, and perform well? Short answer—yes, all that.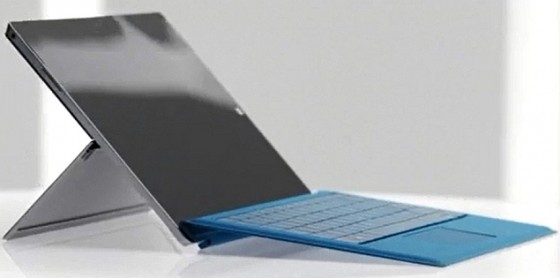 Bright lights, big screen
Let's start with the things I care about—aside from how it looks. The screen is 12 inches with an astonishing resolution of 2160 x 1440, that's 1.5x HD, and 37% UHD 4K, which gives it a PPI of 216. It weighs a scant 1.75 pounds, 2.4 pounds with the keyboard.
The ridiculously thin-and-light key­board has solid positive keys with back lights that come on when it senses your fingers are near, another delightful fea­ture for those occasions when you're in a darkened airplane, or other places where light is restricted. The keyboard has a nice positive stroke to the keys, with just enough mechanical noise to make you think it's a real keyboard (which it is, but which I didn't expect it to be), and it has a clever fold-down panel that elevates the back of the keyboard.
I'm surprised by how nice this Sur­face is, how well thought out and ex­ecuted—something one doesn't expect from the evil empire. But I worry. Ru­mors about Microsoft's perfidy about supporting the Surface run freely across the web, while conflicting stories about the next-generation Surface ignite the rumor-mongers. Microsoft has brought out other amazingly wonderful consumer products before, the Zune and Side­winder are prime examples of great products that somehow didn't pass the hurdles of hide-bound Microsoft's ROI master and were tossed into the dust bin, to the dismay of hundreds of thou­sands of users.
So the hundreds, possibly thousands of Surface Pro 3 users live in constant fear that the magistrates that sit on the high council of the Microsoft court will issue a verdict—off with its head, and the Surface Pro 3 will be tossed into bone pile of so many other promis­ing and satisfying Microsoft consumer products.
There's a lesson here
But enough soul-wrenching laments about the unloving business decisions of giant share-price-driven companies, and back to the virtues of a truly great personal mobile device that can be comfortably used by information field workers and even some graphics pro­fessionals.
Much of the diatribe above started as an exercise to see if one (me) could write an essay on this device without it crashing, or the tools (or lack thereof) getting in the way—that is, Is this really a ready-for-prime-time serious work? Answer: hell yes.
It's a love fest
I can easily see this being my primary meeting/conference machine. I love my Dell M3800, and would always prefer to be using it, but there are those situations where its size just isn't appropriate (like in coach in an A320 or Bombar­dier CRJ700, or an airport bus). How is that possible that a super-geek graphics and performance snob, yours truly, could possibly find a ma­chine that would delight him as much as his M3800? Well, part of it can be found in the raw specs: 12-inch display; .76 pounds plus keyboard; core i3, i5, or i7. It's not cheap, starting at $799 with a core i3 and 64-GB SSD. A 512- GB i7 costs $1,949, which is about what I paid for a Sony Vaio Z with a core i5 and 13-inch HD display two years ago, and I was delighted with it.
There's a 5.0-megapixel rear-facing camera, a 5.0-megapixel front-facing camera, stereo microphones, and ste­reo speakers with Dolby sound. It's got an ambient light sensor, accelerometer, gyroscope, and a magnetometer.
This particular Pro 3 has a 2.5-GHz core i5 with 8-GB DDR3 and a 256-GB SSD and sells for $1,299. Microsoft in­vites you to compare it to a Macbook Air, which coincidentally we also just bought, so I was very interested in that analysis. The Air we bought has a 13- inch screen, an i7 processor with 8-GB DDR3, and 512-GB SSD, and it cost $1,749. If we had gotten just a 256-GB SSD, it would have only been $1,299, which puts at par price-wise with the Pro 3—however, the Air has a larger screen but smaller resolution (1400 x 900), which gives it 130 PPI. The Sur­face has a touchscreen; the Air doesn't, but it has a multi-point large touch pad, which compensates for the screen. How­ever, the Surface comes with an active stylus—you know, the thing Jobs made fun of, but everyone wants.
Rumors of my death are exaggerated
Microsoft says it's still committed to its Surface tablets despite disappointing sales, and that it will keep developing the line through at least one more gen­eration of the hardware.
Responding to a report in DigiTimes that claimed Microsoft was "not very aggressive about development of a next-generation Surface and is likely to ter­minate the product line," Surface gen­eral manager Brian Hall said in a blog that Microsoft is committed to "the continued growth of the Surface brand."
"We have kept our roadmap plans close to the vest, as we needed to prop­erly land new Surface products in a competitive market," Hall wrote. "But we've always said that we have a road­map of products."
Hall added that many of Microsoft's current Surface Pro accessories will be compatible with the next generation of the Pro slab, including the Type Cover, Docking Station, power adapter, and Ethernet adapter.
Microsoft launched the Surface Pro 3 in May, and it was available in stores in the U.S. in June, and then August for the rest of the world.
Microsoft's Surface group reportedly remains in the red, with total losses said to be as high as $1.7 billion. In its an­nual report, the company said it spent $1.9 billion on Surface during the 12 months that ended on June 30, 2014, and sold $853 million of the units. Add­ing to that dismal result, Surface rev­enues were down 18% in the fourth quarter of Microsoft's fiscal 2014 as compared to the third (however, the Surface Pro 3 was widely available only near the end of the year).
What do I think?
Given my choices, a Dell M3800, a 2-year-old Vaio Z, a Macbook Air, or the Surface Pro 3, my first choice is the Dell. Second choice is the Surface; after that it's a toss-up between the Air and the Sony Z. The Surface is a tablet (when I want one …) and could almost replace the Asus Nexus 7-inch I use as an e-reader and for lightweight email—here again size matters. The Pro is just a little too big to be used comfortably as an e-reader. But if I only wanted to carry three things instead of four (Dell, Pro, Asus, and Galaxy Note 3), then the Asus would get left home. The downside of the Pro 3 is the obnoxious Windows 8, but I'm coming to terms with the productivity-killer OS and learning to accept the Easter-egg hunt for apps and tools. I probably shouldn't be in such a damn hurry anyway.