The Lenovo C30 stands apart from all other workstations as the only small form factor dual-socket workstation on the market.
By Alex Herrera
In our nearly two decades tracking the market and researching its technology, we've reviewed plenty of workstations. Comparing and contrasting models from competing vendors hasn't always been an easy or particularly revealing exercise, because the plain truth is that the silicon guts of today's workstation models from leaders HP, Dell, Lenovo, and Fujitsu are very much the same. Intel's CPUs and chipset ship in 100% of (Tier 1) OEMs' workstations, while Nvidia commands anywhere from 85% to 90% of GPUs (depending on the quarter).
With all working off the same set of building blocks, OEMs have to work overtime engineering and marketing workstation features that differentiate in areas beyond the silicon, most notably (but not limited to): reliability, aesthetics, ergonomics, noise, power-efficiency and form factor. That last one, form factor, is something that has helped separate HP from the workstation pack lately.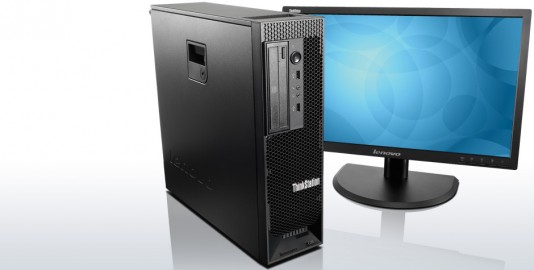 Market leader HP was first to push a small form factor (SFF) variant of its entry-class workstation, the Z200. And last year, it was the first to bring to market a highly-serviceable, workstation-class all-in-one, the Z1. But HP's not the only one looking for a competitive edge by introducing novel packaging for a workstation.
Number three, but coming-on-fast, Lenovo has one of its own, the ThinkStation C30. Unlike the Z200 series SFF or Z1 models, the C30 isn't entry-class at all. Rather, it's the only small form factor dual-socket workstation currently offered by any of the big four OEMs. Lenovo's third-generation take on the concept, following the C10 and C20, the company launched the C30 last spring around Intel's (at the time) new Sandy Bridge-EP platform for dual-socket workstations and servers.
How was Lenovo able to shrink a full-featured dual-socket workstation into a compact package? We got to find out first hand in December of 2012, when Lenovo loaned us a machine to review. Our C30 came very capably equipped: two top-of-the-line Sandy Bridge generation, octal-core Xeon E5 CPUs, running at a nominal (i.e. non-Turbo) 2.9 GHz; the ultra-high end, Fermi-class Nvidia Quadro 5000 GPU; 16 GB of 1600 MHz DDR3 memory; and topping 500 GB of SATA storage.
 

Component

CPU

2 x Intel Xeon E5-2690 @ 2.9GHz

(a.k.a. "Sandy Bridge-EP")

Memory

16 GB of 1600 MHz DDR3

Disk

500 GB SATA

Graphics

Nvidia Quadro 5000 (Fermi) with 2.5 GB

Nvidia Quadro K5000 (Kepler) with 4 GB

Nvidia Quadro K4000 (Kepler) with 3 GB

OS

Windows 7 Professional 64-bit

MSRP

$1,169 (base)

$7,762 (as configured, with Quadro 5000)
Configuration specifications for our Lenovo C30 review machine. (Source: Jon Peddie Research)

Front view of the Lenovo C30, the only and only 3U dual-socket workstation. (Source: Jon Peddie Research)
A compact, dual-socket deskside workstation is unique (at least for now) among Tier 1 suppliers, and the C30 (starting at $1,169) impresses with its diminutive stature. Specifically, at 427 x 130 x 444 mm, the C30 is dramatically smaller than any competing dual-socket Xeon offering from competitors. That's 3U width in rack sizing, making the C30 extremely flexible, as comfortable in a backroom server as it is deskside.
As an observer of workstation products and technologies, we don't bring up tool-less design as either a differentiator or a high-value feature. But as a user of workstation products, we love tool-less. You wouldn't think reaching for a screwdriver to open up a chassis, secure a graphics card, or swap out a hard drive would be a big deal, right? But when you're doing it often enough, hunting for that screwdriver or the screw that rolled under the desk can get very old very fast. And the target audience of many a workstation purchase, an IT professional, is spending far more time fiddling with hardware than we are.
No doubt about it, tool-less is now a workstation checkmark requirement, and Lenovo's C30 is no exception. It was designed with sturdy, easy-to-find tabs, intuitive to use. We swapped graphics cards and removed and reinstalled drives with ease.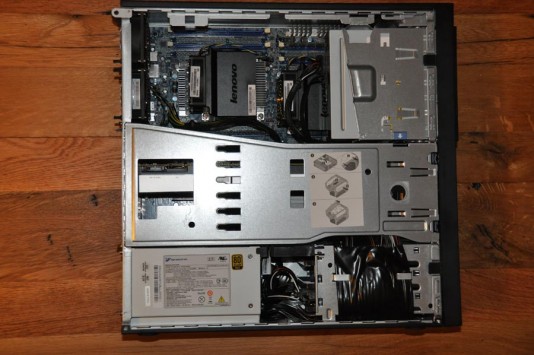 With a machine like the C30, one that crams more stuff into less space than most other workstations, carefully thought-out access and organization is critical. And with two CPU sockets, multiple drive bays (three for 6 TB Max), hefty memory capacity (128 GB of 1600 MHz DDR3 Max) and support for full-length, high-power, dual-slot cards like Nvidia's Quadro 5000, there's simply no way to have access to everything easily accessible without some creative, moving parts.
For example, the only way an optical drive was going to fit was to align it vertically, but that unfortunately obstructs access to the motherboard, in this case one of the CPUs and associated memory. To alleviate that issue, Lenovo created a solution similar to what we've seen in other small form factor models, designing the optical bay to easily unsnap and rotate out of the way, as shown in the photo below.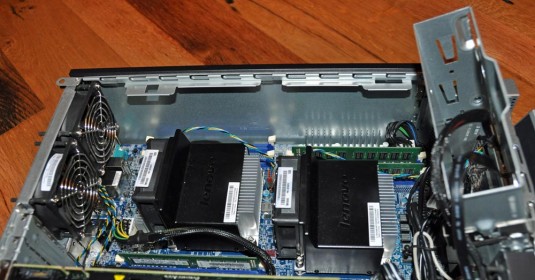 Tidy interiors are something we notice not just with our eyes but also our ears.  Neat carefully engineered placement of components and interconnect is not only critical for access but also to minimize noise and power. For many buyers, noise levels can sit high on the list of purchase criteria. And since OEMs have fewer ways to differentiate purely on performance, they are increasingly competing on things like minimum decibels.
A lot of a workstation's noise is a function of airflow, and seemingly minor issues like awkward air routing or dangling cables  can add up to a big difference. So a neater chassis is a quieter chassis, and Lenovo engineers know it.  They carefully sheath and route cables out of the way, and they designed component covers and cowls to not only provide stability and retention, but effectively channel airflow through the chassis.
Similarly, a more efficient power supply makes for reduced noise as well, not to mention lower electric bills. The higher the efficiency, the less wasted power and heat, lowering cooling demand. The bar for workstations is now the 80 Plus Gold rating, and the C30 meets that bar. That means its supply can yield more than 80% of input AC line power into output power across the usual range of DC voltages (+5V, 3.5V, +12V and -12V).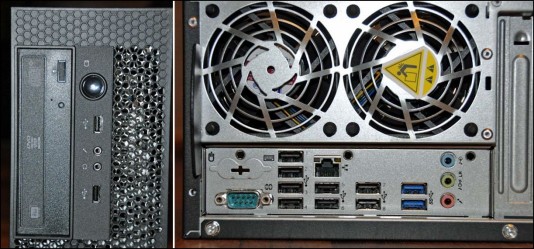 First introduced by HP in its Z workstations, the chassis-integrated handle has become ubiquitous, at least in mid-range class workstations. One can argue HP gave this seemingly inconsequential, non-tech feature a disproportionate amount of PR time and ink. As users who do move machines around a lot, we have to admit we love the addition of handles.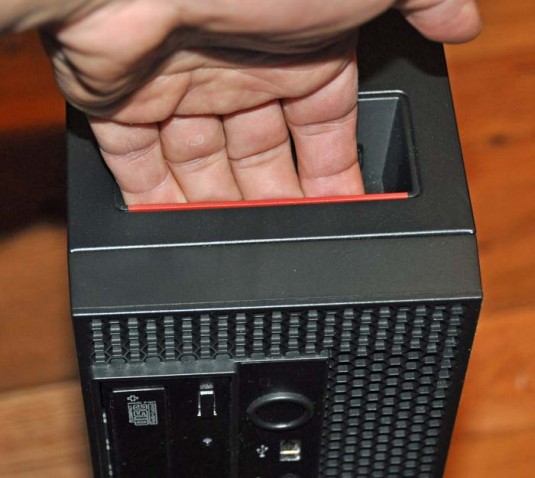 Most buyers are not going to list I/O capabilities as a top criteria for their workstation purchase. Still, those same buyers are going to notice if expected types and counts of I/O ports aren't there when they need them. Especially for a pricier model like this one, there's no excuse for coming up short on I/O.
The front panel offers the easily accessible, with two USB ports, audio mic in, and mini-jack stereo. Designers added eight more USB ports in the rear along with the standard audio and Gigabit Ethernet ports.  That's a total of 10 USB ports, and we're not just talking USB 2.0. Two of them (the blue ones) are über-bandwidth, SuperSpeed USB 3.0 ports.
Notable, but justifiable exceptions for I/O are digital audio, eSATA, and FireWire (IEEE 1394). The needs served by eSATA and FireWire are pretty well supported and superseded by USB 3.0. And a user looking for a digital audio workstation (DAW) would most likely be adding a premium audio card rather than relying on motherboard audio.
Benchmarking the C30 … with the Quadro 5000, Quadro K4000 and Quadro K5000
To get a handle on the C30's performance, we employed the same basic suite we have in the past. We tapped SPEC's Viewperf to isolate the stress on the graphics cards, and we used SPECapc, Cadalyst and Cinebench tests to get a handle on how well the cards support whole-system performance for key verticals like Digital Content Creation (DCC) and CAD. Choosing among the SPECapc suite of benchmarks, we chose Lightwave and 3ds Max, representing two popular applications used in those spaces.
We tested the system first with the Nvidia Quadro 5000 graphics card that came with our C30, and then we re-ran the tests with the recently released Quadro K5000 and K4000 alternately swapped in. The Quadro 5000 is a Fermi-class board that's been out around two years, while the K5000 and K4000 are two of Nvidia's new Kepler generation cards (ultra-high and high end, respectively) that began shipping late 2012 and Q1 of 2013.
With both cards, we made sure to download the latest-and-greatest driver from Nvidia's support site. When running SPECapc 3ds Max and Cadalyst on the Quadro 5000, we used the 3ds Max performance driver available from Nvidia's site. There were no comparable drivers available for the K5000 or K4000 at the time of testing.
Viewperf 11
First up was Viewperf 11, the most recent revision of the long-time graphics benchmark. We ran Viewperf 11 on the C30, three iterations per graphics card. Running the two provided a great opportunity to compare one generation against the next, as both products target the same basic price band.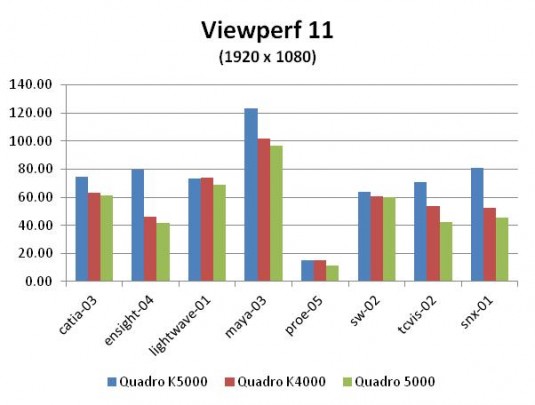 The Quadro 5000 has been the top seller in the ultra-high end price segment since its introduction, and by a wide margin. Now it appears the K5000 is a more-than-worthy successor, providing performance boosts across all viewsets. Speed gains for the most part fall in the 20% – 70% range, with outliers ensight-04 yielding a 90.5% boost and lightwave-01 only 6.4%. Averaged across viewsets (with equal weighting), the Quadro K5000 delivered a 41.3% gain over the Fermi-based 5000 in Viewperf 11, quite a sizeable gain from generation to generation.
The $1,269 (MSRP) Quadro K4000 performed strongly as well, delivering solid bang for the buck. A high end card, the K4000 not only met but exceeded the numbers from the previous generation ultra-high end (and about $1,900 ASP) Quadro 5000. If we look at Viewperf scores/$, the Quadro K4000 delivers 64% better price-performance of the 5000. And, as we should expect, the K5000 outperforms the K4000 in raw scores (by about 25%) but the K4000 bests its higher-priced sibling by roughly the same (24%) in price-performance.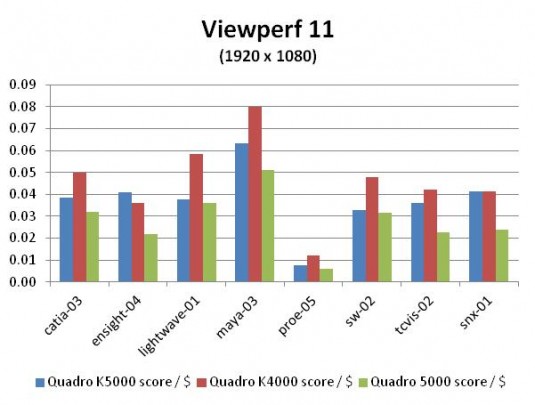 The results from both cards bode well for the full range of Kepler-based Quadro cards, including the K2000, K1000, K600 and 410 (none of which we've benchmarked yet, as of this writing).
SPECapc for Lightwave 9.6
Viewperf provides a revealing look, albeit a theoretical one, at a machine's best-case graphics potential. But theoretical and best-case are generally less interesting than practical and typical-case. To evaluate overall system performance, we employed two SPECapc tests, for 3ds Max and Lightwave, along with Cadalyst 2011 and Cinebench. While 3ds Max is increasingly used in CAD spaces like architecture, engineering and construction (AEC), both have primarily been used by digital content creators.
Now with SPECapc, neither the graphics nor the rest of the system are solely responsible for scores. Rather, it's the sum of the parts that are being tested, with the goal of demonstrating how the system might perform in a real-world environment. Where GPU-accelerated rendering is the bottleneck, throughput will vary by graphics card. But where it's not (CPU, memory or I/O limitations), the test won't show a difference. Average it all out, and the results for different cards in the same system should show substantially smaller differences than Viewperf.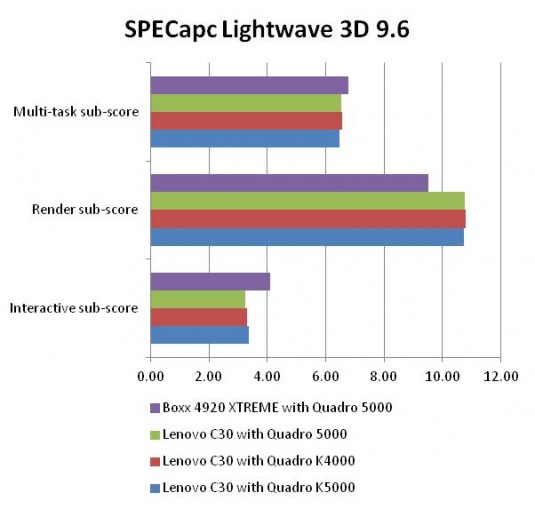 In the context of Lightwave, we were not only able to compare results for the C30 with the trio of the Quadro 5000, Quadro K5000, and Quadro K4000 installed, we were able to compare  scores from a Boxx 4920 Xtreme workstation we reviewed earlier in 2012. What makes the comparison interesting is that the single-socket Boxx machine offers far fewer CPU cores, but the cores it does have are clocked a lot faster than the C30's—a liquid-cooled 4.5 GHz, compared to the C30's 2.9 GHz.
As we'd expect, the notoriously CPU-bound SPECapc Lightwave 9.6 tests generally run faster on the fewer, faster cores. However, in the one sub-test that can best take advantage of multiple cores, the "Render" component, the C30 triumphs.
The benchmark showed little difference between the three Quadros, again not surprising considering the test's slant toward CPU processing.
SPECapc for 3ds Max 2011
While SPECapc Lightwave doesn't often shed a lot of light on differences in GPU, the same is not true for SPECapc for 3ds Max 2011. We like the way SPEC organized the sub-test composite scores for 3ds Max 2011, separating out emphasis on the GPU and CPU. The Large Model Composite alternates stress on the CPU and GPU, weighing test results for two sequences: the CPU creating a large scene, and the GPU viewing the scene (with varying viewpoints/ports).  The former should put trivial stress on the CPU, and the latter should so overwhelm the GPU that any CPU overhead should be effectively hidden.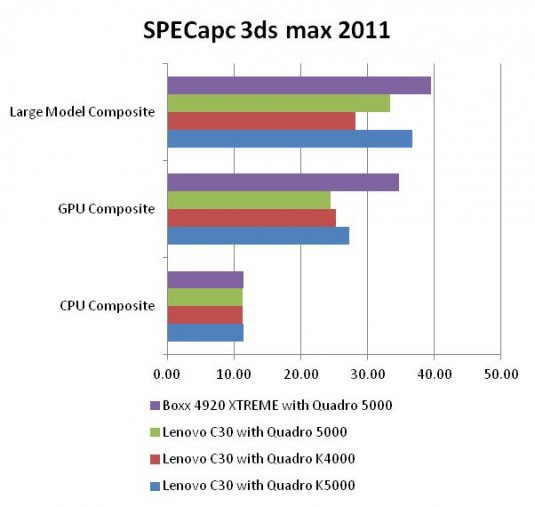 The results here are interesting when comparing the system configurations of different CPUs and different GPUs. All three C30 configurations yielded about the same CPU Composite result as the Boxx 4920 Xtreme (in fact, the C30 with K5000 delivered the exact same score), a somewhat surprising result. We'd have thought either the 4920's much faster cores or the C30's more plentiful cores would give an edge one way or the other.
Looking at how the test comes up with the CPU Composite score, however, provides a reason for the equal results. The composite is a blend of two sub-tests measuring CPU computing and CPU rendering. The former would tend to favor faster cores and the latter more cores. So if the two were blended with similar weights, then the composite scores for the two configurations could certainly converge on a similar score.
On the Large Model Composite test, however, the 4920 with previous-generation Quadro 5000 outscored both C30 configurations. Does that mean the 5000 is a better 3ds Max card than its predecessor? Quite unlikely. The better explanation is that the Large Model composite test spends a good chunk of time creating a big scene to render, a process that is mostly CPU bound. We don't know the relative weightings of the more CPU-bound portion, versus the more GPU-bound portion, but it would appear the faster CPU counted more than the faster GPU.
The more mystifying result (really, the only mystifying result in this exercise) was the 4920 with Quadro 5000 outperformed the C30 with both the new Quadro K5000 and K4000 on the GPU Composite. We know that a portion of the GPU Composite testing isn't overly taxing on GPUs, therefore not revealing differences in GPU capabilities. Still, the result was hard to figure. Regardless, the Quadro K5000's roughly 10% edge over the 5000 on GPU and Large Model Composites show Kepler's superiority. Based on past experience, a 10% margin on a system-level benchmark is commendable. The K4000 meanwhile bests the Quadro 5000 on GPU Composite but loses out on Large Model Composite.
Cadalyst
The CAD space represents the largest chunk of workstation and professional graphics users. But while 3ds Max gets a share of work in CAD as well as DCC, there's one application that dominates the former space: AutoCAD. And when it comes to getting a feel for how well a card or system can handle AutoCAD, we fortunately still have the mainstay Cadalyst benchmark, now updated to 2012.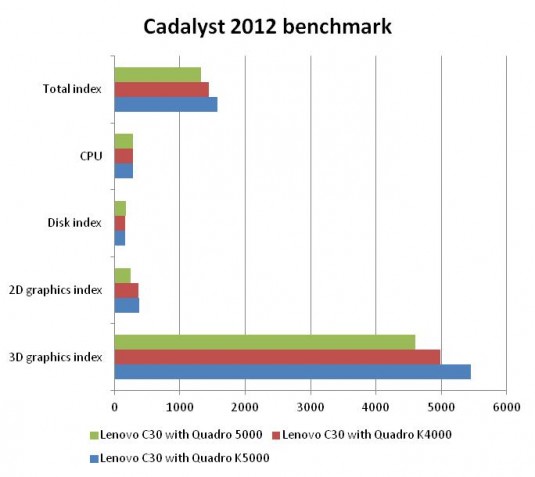 The Cadalyst 2012 results proved a good showcase for the C30 and both new Quadro K-series cards. We have a limited history with the 2012 update of the benchmark, but suffice to say that these scores were well beyond what has been reported by third parties in the past year. Furthermore, the K5000-equipped C30 eclipsed the marks set by the C30 with the Fermi-generation Quadro 5000 … and by a substantial margin: 18.6% on the 3D index, 52.6% on the 2D index, and 18.1% on total index. The 18.1% total score is an impressive generation-to-generation gain for a graphics card running a system-level benchmark on the same system as its predecessor.
And the K4000 again showed how neatly it fits in the price-performance spectrum—right in between the old 5000 and K5000. Interestingly, it exceeded the 5000 by 9%, just about half of the edge of the K5000.
Cinebench
Last but not least, we have Cinebench. Cinebench renders a 3D sequence (currently, a car chase through town) utilizing both CPU and GPU resources. It reports a composite performance number for both CPU (CPU) and graphics (OpenGL). On both metrics, our results tracked expectations. Cinebench's CPU-based renderer leverages multiple cores well, enabling the C30's more plentiful cores to outpace the Boxx 4920's fewer, faster-clocked cores. And both new K-series Quadro delivered increases in frame rate for OpenGL commensurate with their positioning. The C30/K5000 configuration outperformed the C30/5000 by 9%, while the C30/K4000 edged the C30/5000 by (again) around 1/2 that figure, 4.4%.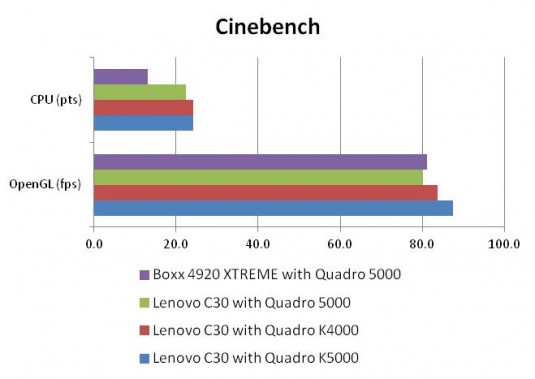 The verdict?
With OEMs covering so much common ground with workstation products, it's often difficult coming up with definitive, impactful statements about a model we review, either positive or negative.  Take the popular single-socket, mini-tower deskside model every OEM pitches, leveraging the latest platform from Intel and graphics from Nvidia. Regardless of how well either IHV did their jobs with the last generation of silicon technology, with OEMs designing the same basic components in similar packages, separating competing workstation models isn't very straightforward … not usually, anyway.
But in this case, our job was a lot easier. Because the Lenovo C30 isn't like any other offering from a major supplier. There is no other dual-socket workstation that can double as a conventional deskside workstation as well as a rack-mount node in a backroom server.
We'd think that combination would appeal not only to space-sensitive verticals like financial markets, but to businesses needing high performance and who value the flexibility of deployment. Think digital media creation, where early stages of the workflow might require more deskside use and later stages where an extra render-node in the backroom might help a project's critical path.
Yes, the C30 is a well-designed machine. It had to be, in order to satisfy both size and serviceability requirements. Getting at what needs to be got at is a simple process, no tools required.  But more than just well-designed, it hits a unique niche. It's small but offers most of what full-size mid-range towers do: dual-sockets, big memory, high-performance graphics and big, RAID-capable storage. Our review confirmed our assumptions: if high performance in a minimal package is important—and budgets can accommodate—the C30 is an obvious choice.
Similarly, but for very different reasons, it's not hard to give both of Nvidia's new Quadro K-series cards a thumbs-up as well. With the previous generation Fermi GPU, Nvidia didn't deliver on exactly what they'd hoped. Fermi, and the ultra-high end Quadro 5000 it spawned, was certainly another solid product from the market leader. But it wasn't ideal … it was a bit big and it consumed more power than the company certainly would have liked. Those modest deficiencies didn't hurt Quadro in the least, and Fermi and the Quadro 5000 have kept Nvidia in a dominant market position.
When we first saw Kepler on paper, we were struck by several notable departures from Fermi's design strategy. Nvidia learned a few lessons, lessons manifested in Kepler. Not only did Nvidia double up on efforts to improve performance/Watt, but the company veered away from its decision with Fermi to use one implementation to serve both graphics and GPU-compute markets and applications. The latter was one reason the chips were a bit bigger than necessary, and we assume, why the products were later than hoped as well.
With Kepler, both the graphics-focused Quadro and compute-focused Tesla brands benefit from the investment in a common GPU architecture. But in implementation, the more graphics-centric products passed on some of the more expensive compute-mandated features. The result? More competitive products bearing both brands.
The 5000 and 4000 class products have been big money makers for Nvidia, and the Kepler-based K5000 and K4000 should at least maintain that position. The numbers both for raw graphics throughput (e.g. Viewperf) and system-level performance delivered a somewhat bigger bump than we'd typically expect moving from generation to generation. Granted, AutoCAD isn't a key target application for a card in this price band. But the performance running both it and more relevant applications like 3ds Max confirm that Kepler's graphics goodness was well-thought out in a system-level context, delivering a solid reduction in run-time for more "real world" task, rather than simply producing fast rendering "in a vacuum."
Furthermore, the positioning of the new K5000 and K4000, relative to both each other and the K5000's Fermi-based predecessor, showed very sensible and impressively consistent separation. On the same C30 system, with uncanny consistency, the K4000 performed at a level midway between the 5000 and the new K5000. Nvidia's slotting of these two cards in the price/performance spectrum was spot-on.
Alex Herrera is a senior analyst for Jon Peddie Research.