The high-end Vega Frontier Edition as well as the entry-level WX 2100 and WX 3100 professional GPUs are now available.
By Johan Keyter
AMD recently unveiled their newest GPU offerings aimed at the professional market, with the flagship Radeon Vega Frontier Edition, as well as the Radeon Pro WX 2100 and WX 3100 graphics cards.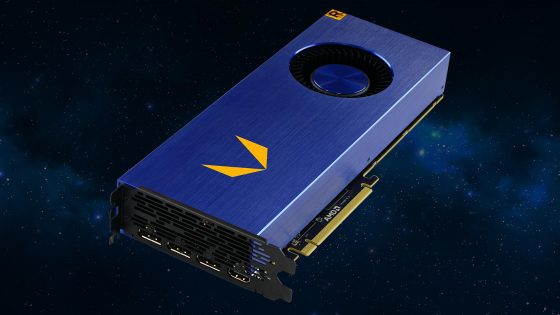 Unlike most Radeon products, these cards have been designed for professional workstation rendering and simulations. The Vega Frontier Edition is the new top-of-the-line solution, capable of churning out a whopping 13.1 TFLOPS single-precision floating-point performance. The card also offers 16GB of graphics memory, meaning large data and texture files can be efficiently stored and handled.
According to AMD, the Vega Frontier Edition has been designed to cater specifically to professionals engaged in advanced visualization, game development, and machine learning. The card is the first to utilize the new Vega GPU architecture which features advancements such as a high bandwidth cache controller, double-rate 16-bit math, and enhanced geometry and pixel engines.
The card also comes equipped with ProRender, an open source physically based rendering engine that aims to improve CPU and GPU rendering performance. Radeon ProRender currently sports official plug-ins for Blender; Dassault Systemès SolidWorks; and Autodesk 3ds Max and Maya, all of which are available for free download from Radeon. Additionally, a beta version of Radeon's ProRender Game Engine Importer is being released soon. This tool allows CAD users to import their work from applications like SolidWorks directly into the Unreal Engine and view it in VR.
The Vega Frontier Edition has also been developed to accommodate advanced computing tasks such as machine learning and algorithm development. According to Radeon, their ROCm open software platform along with the updated Vega architecture can be utilized by scientists and programmers working in fields such as advanced AI development.
While the Vega Frontier Edition takes the new top spot among Radeon's professional offerings, the company also unveiled two new entry-level workstation GPUs in the form of the Pro WX 2100 and WX 3100. Also aimed at the professional market, the Radeon Pro WX line is optimized to work with most of today's design software solutions. The cards are based on the 14nm 'Polaris' architecture and can generate 1.25 TFLOPS single precision compute. The WX 2100 features 2GB of GDDR5 memory (64-bit interface) while the WX 3100 ships with 4GB of GDDR5 on a 128-bit interface.

The Radeon Vega Frontier Edition (retailing at $999) as well as the Radeon Pro WX 2100 ($149) and WX 3100 ($199) are available right now from most AMD distributors.
All new boards in the Radeon series sport the vibrant YinMn Blue shade discovered in 2009 by researchers at Oregon State University.  
Promotional video for AMD Radeon's new high-end Vega Frontier Edition GPU.
Johan Keyter is a technology journalist based in Germany.