Just a technology preview, but Magic Leap One is still making a splash.
Magic Leap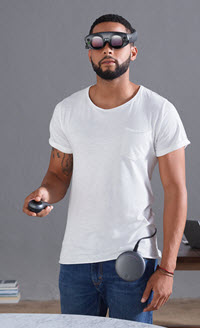 has finally revealed the first look of its augmented reality headset designed for creators, as the company says. The AR headset is expected to ship in 2018 and the price is yet to be announced. The founder of Magic Leap, Rony Abovitz said an SDK for developers will be coming in early 2018.
The Magic Leap One: Creator Edition consists of following hardware:
Lightwear: the goggles-resembling headset uses Magic Leap's "Digital Lightfield" technology to provide naturalistic experience.
Lightpack: a disc-shaped pocket-sized computer that can be worn around belt and is tethered to the goggles.
Control: a handheld controller with a haptic touchpad for taking wide range of inputs and navigating through menu selections.
Magic Leap is secretive about their work and has been accused of promoting vaporware. Technology website, The Verge has been particularly caustic about Magic Leap's technology demos, which were staged as had been admitted by the company. The AR startup has raised around $2 billion so far. It has been using the funds to explore the future of computing. With the announcement of Magic Leap One: Creator Edition, Magic Leap says they are introducing a new kind of human-computer interaction where digital content meets physical world. The company hopes to make the experience richer. Magic Leap claims their combination of technology offers a computing platform that will help the brain process digital objects naturally.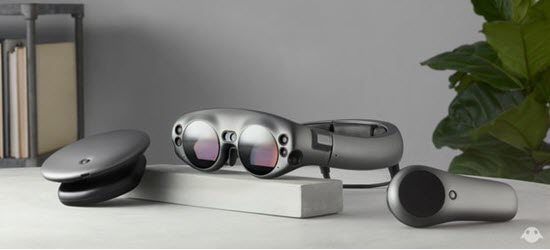 Rony Abovitz told RollingStone that the Magic Leap team was hoping to solve the problems that arise due to long time use of AR/VR headsets. In order to decrease the discomfort of wearing the headset, the goggles will come in two sizes. The users will be able to customize forehead pad, nose pieces, and temple pads of the headset. The company is also considering to build prescription glasses into models. This will further simplify the use of headset for the users who wear glasses.
This is just a preview of the technology that Magic Leap has been testing for some years. According to the Magic Leap website, "The product is continually advancing and may be different at time of shipment." It is a bit difficult to say what the company is thinking about the timing of a consumer release and pricing, but their competitors are moving faster. Mixed reality headsets are available from Acer, Daqri, HP, and Microsoft (developers' version). On the other hand, the field is just emerging and being first is no guarantee of success.