A rising US dollar slows global sales. The outlook for 2016 is more of the same.  
By historical standards, Ansys (NASDAQ:ANSS) has reported a mediocre third quarter. For the period ending September 30, 2015 total revenue was $237.8 million, up 2% from a year ago. Measured in constant currencies (removing the effect of fluctuating exchange rates) the revenue growth was a more comfortable 9%.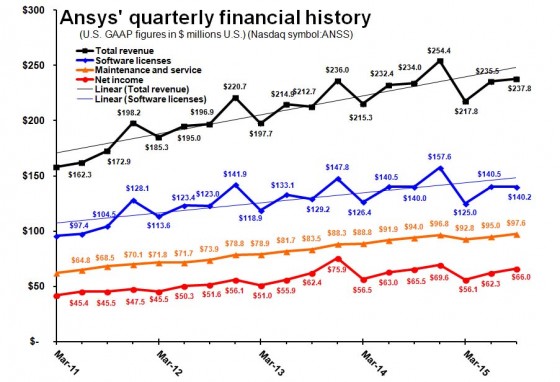 Net income was $66 million, up 1%. Recurring revenue, which is comprised of lease license and annual maintenance revenue, totaled 72% of revenue for the third quarter.
Digging into revenue (all comparisons year-over-year, not adjusted for constant currencies):
Software licenses: $140.1 million, essentially flat.
Maintenance/service: $97.6, up 3.8%.
Revenue by regions:
North America: $96.6 million, up 13%
Europe: $71.4 million, down 6.8%
Rest of World: $69.7 million, down 3.4%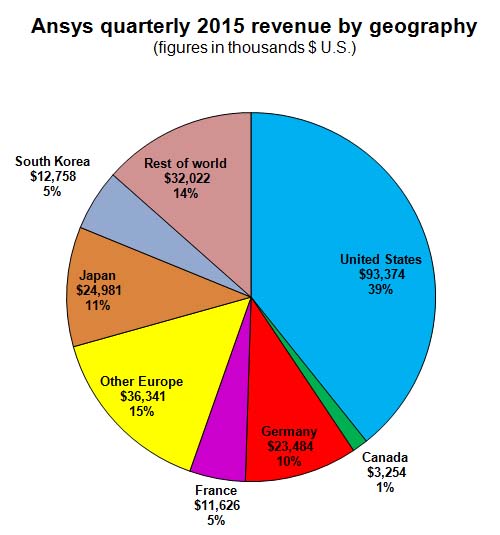 What do we think?
By L. Steven Wolfe, P.E. 
Is Ansys reaching middle age?
We're not accustomed to seeing Ansys use weasel-phrases such as "in constant currency" and "year to date revenue growth" as it did to mask otherwise punk results for the third consecutive quarter. GAAP revenues edged up a scant 1.6% year-to-year while net income rose just 1%.
It's true the appreciation of the US dollar compared with most other currencies has dampened sales internationally. In the US, sales rose a robust 14% compared with the like period in 2014 to 39% of revenues. So it's possible when the dollar falls (as it inevitably will) Ansys's international sales will grow again. Yet Ansys' own forecasts currently belie that notion. The company projects 2015 revenues of $943 million to $951 million, an increase of 1% to 2% compared with 2014. For 2016, Ansys forecasts  revenues of $1.01 billion to $1.05 billion, a 6% to 10% increase over the 2015 estimate.
Six percent earnings growth is not bad for most companies, but with a trailing price-to-earnings ratio of 34, Ansys stock is priced like a high-growth technology company, not an ordinary industrial firm. Ansys' past torrid growth was propelled by acquiring other companies in the engineering simulation field. Internal growth for engineering simulation software is probably in the range of 5% to 15% annually.
As it approaches a billion dollars in revenue, there aren't many simulation companies large enough to give Ansys the sort of growth it experienced a few years ago. Ansys could make a large and risky acquisition. But not all its acquisitions—such as Apache in the semiconductor field—have turned out well. It might be wiser to accept a lower growth rate, make safe purchases of smaller companies, and start sharing some of its huge profits with investors in the form of dividends.
L. Stephen Wolfe, P.E., a contributing analyst for Jon Peddie Research, provided research and his usual legendary insights for this article.