3D artist commissioned to recreate Hadrian's Wall as a massive banner image.
A small museum in Northern England needed a centerpiece to its new exhibit on the Roman occupation of Britain and the creation of one of the world's most famous landmarks, Hadrian's Wall near the England-Scotland border. The museum commissioned 3D illustrator Barry Croucher to create a banner 12 meters by 2.5 meters, depicting the Roman occupation of the area and the construction of the wall. Croucher delivered a stunning final product, a banner designed to look similar to relief carvings on Trajan's Column in Rome.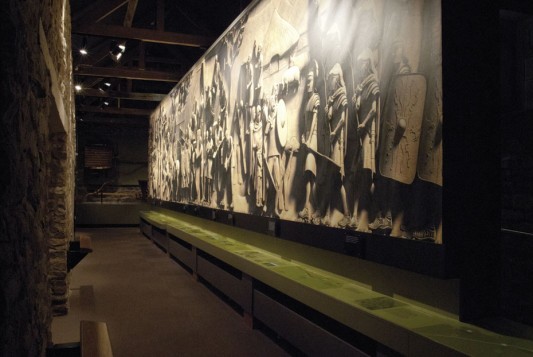 An image of the entire banner is at the end of the article, rotated 90° to fit our page format.
Croucher did the work entirely in Modo 501 from Luxology. To achieve the effect of a three-dimensional relief carving, the entire scene was digitally displaced from a flat plane using Modo, which resulted in the creation of approximately 95 million polygons, using eight gigabytes of RAM at image rendering time.
The Vindolanda Trust's Roman Army Museum, located just outside Newcastle in Northumberland, England, lies adjacent to a Roman fort, which was one of many built to protect Hadrian's Wall. Hadrian's Wall was built by the Roman emperor Hadrian in A.D. 122 to mark the northern boundary of the Roman Empire. It originally formed an unbroken barrier from the East to the West coast—essentially separating England from Scotland—and was the most heavily fortified border in the Empire. A significant portion of the wall still exists and its remains are the most popular tourist attraction in Northern England.
"I had never worked on anything bigger than artwork at magazine size but this banner required artwork that was 34,000 pixels by 7,000 pixels," said Croucher. "It was a very challenging project but the improved render engine in Modo 501 is so fast and easy to use that it turned out to be no problem to complete a piece of this size."
Croucher produced the banner by creating 3D models detailed with extensive sculpting using Modo 501's new multi-resolution sculpting tools. He then baked displacement maps from the models and assembled the maps to form a composite displacement map in Photoshop. The final image was rendered in three pieces, which were then combined to create the final product.
The banner, which is a permanent part of the museum, is currently on exhibit at the Roman Army Museum. Croucher was also commissioned to create an image of the god Jupiter in the same style to be printed on glass for the same exhibition.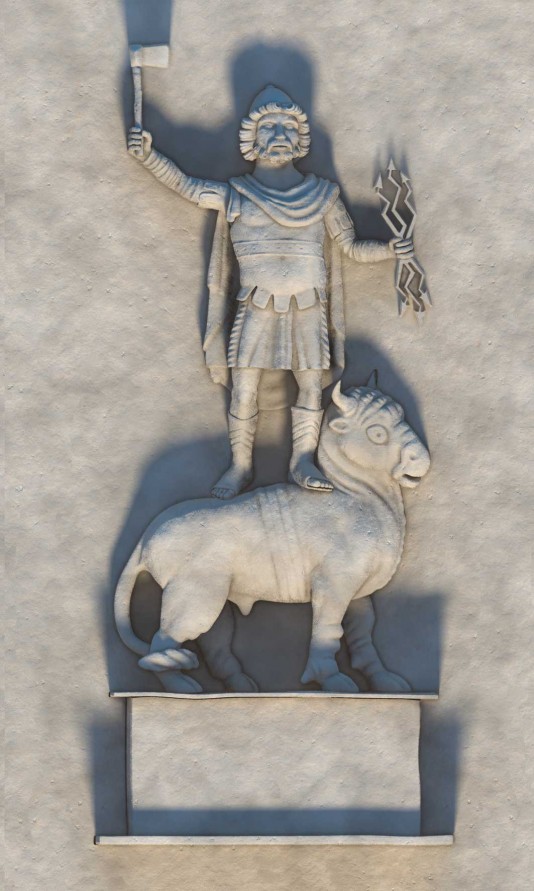 "I don't think I could have accomplished this project without Modo – at least not without investing in much more expensive software," said Croucher. "It really is a thrill to see my work in an exhibition of this size."