Net income up 12.6%; revenue up 8%; Russia, Brazil, and India are slow, while United Kingdom revenue was up 15%.
By Randall S. Newton
Ansys (ANSS: Nasdaq) reported record second quarter income today, with revenue growth coming from all regions, all major product lines, and most industries. Ansys stock was up 0.8% to 77.20 in early trading after the announcement.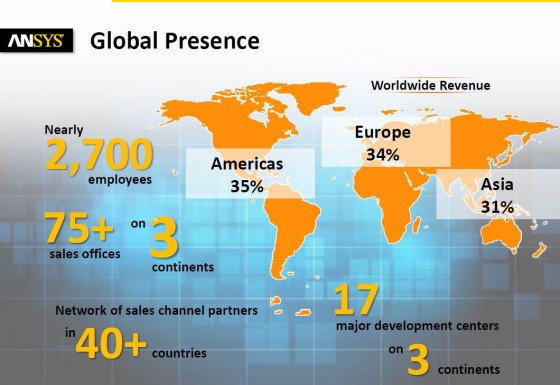 Total revenue in the second quarter (ending June 30, 2014) was $232.4 million, up 8% from 2Q13. Net income was $63 million, up 12.6% from a year ago.
Recurring revenue was 71% of total revenue in the quarter. Direct sales accounted for 75% of revenue. During the quarter there were 20 sales with orders in excess of $1 million. Ansys says these orders were a mix of new and recurring business.
Breaking down revenue:
Software licenses: $140.4 million, up 5.5% from 2Q13;
Maintenance and service: $91.8 million, up 12.4% from 2Q13.
Revenue by region:
North America: $82.1 million, up 4.6%;
Europe: $79.9 million, up 9.7%;
"General International Area": $71.8 million, up  10.6%.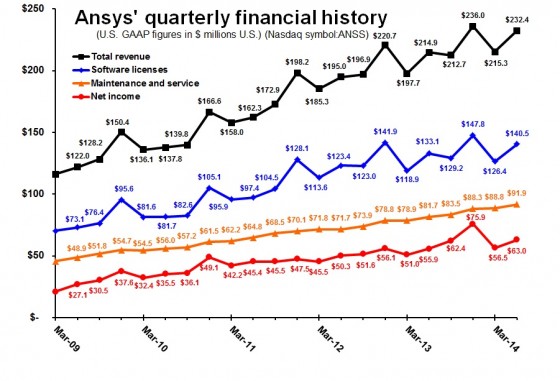 Within Europe, revenue from the United Kingdom was up 15.6% from a year ago; revenue from Germany was up 8.7% from 2Q13. Germany and the UK account for approximately 40% of Ansys European revenue. Japan is Ansys' largest "General International Area" customer; revenue was up 3.3% from a year ago. The rest of the GIA saw revenue increase 15.9% from a year earlier. Ansys says sales in Taiwan and Korea were "relatively strong," while China increased spending from its unusual pullback in the first quarter of 2014. Brazil, India, and Russia were weak spots in the GIA for Ansys during the quarter. Ansys is predicting smaller fluctuations in the Euro and the British Pound for the second half of 2014.
At the beginning of the quarter Ansys announced the acquisition of SpaceClaim, makers of 3D direct modeling software, for $85 million. The deal closed on April 30, 2014. Ansys expects revenue from SpaceClaim will be "slightly accretive" to earnings in 2014 and "accretive" in 2015 and beyond. In other words, SpaceClaim will contribute to revenue immediately. For the second quarter, SpaceClaim revenue was listed as "not material," meaning it was less than 5% of total Ansys revenue—less than $11.6 million for the quarter.
During the quarter Ansys hired former PTC executive Robert Kocis as its new vice president for worldwide sales and support. He will be in charge of overall strategy and management of the company's global sales and support organization.  He has big shoes to fill.
Four more of our custom charts follow. For larger versions, visit our Facebook page.
L. Stephen Wolfe, P.E., a contributing analyst for Jon Peddie Research, provided research and his usual legendary insights for this article.