Revenue of $301 million is below guidance; net profit cratered. Is this a temporary setback or the start of a long decline?
By Randall S. Newton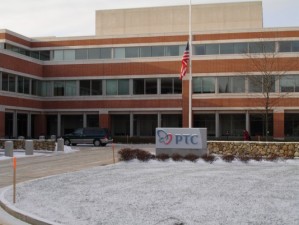 PTC (Nasdaq: PMTC) reported a second fiscal quarter (ending March 31, 2012) that came in below expectations. Revenue for the quarter was $301 million, up 12% from a year earlier. But all of the growth came from the services side of the business; sales of new software licenses were up less than 1%.
Net income was $3.5 million in the quarter, down significantly (81%) from $19 million a year earlier.
License revenue in the quarter was $74.8 million. PTC blames a large transaction in Europe that did not close and weak demand in North America for results that were below projections. Not all regions were anemic: license revenue was up 17% in Japan and 9% in Pacific Rim, year-over-year. Revenue from recently acquired MKS and 4CS was $22 million. Excluding this revenue source, license revenue was down 10% year-over-year.
Despite increasing the size of the direct sales force, CAD sales through the direct channel were down 33% in the quarter, year-over-year. CAD sales did better through resellers, up 7% year-over-year.  The direct sales force must have been more concerned about selling Windchill PLM than Creo CAD; PLM new license sales were up 33% through the direct channel.
Services revenue was $75.8 million in the quarter, up 20% year-over-year. PTC says the quarter was its seventh consecutive quarter of growth in services revenue. Maintenance revenue in the quarter was $151.3 million, up 15%. PTC currently has more than 1.5 million seats on active maintenance.
Overall revenue by regions in the quarter:
Americas: $109.9 million, up 15%
Europe: $115.9 million, up 9%
Japan: $38.7 million, up 18%
Pacific Rim: $37.4 million, up 3%.
On a constant currency basis, total revenue was up 12% year-over-year.
Cash per share on March 31, 2012 was $1.88. This is the third consecutive quarter of growth in cash per share as the company rebuilds its cash following last year's acquisitions.
Temporary setback?
The big sale in Europe that didn't come through must have been a real disappointment; not only did it impact 2Q results, but in setting new guidance for the third quarter PTC says it is not expecting any significant deals. Insiders are saying the lost deal was worth $10 million. If PTC lost to a competitor, the word will be out soon enough; it is more likely the potential customer is reining in spending in response to the continued economic malaise in Europe.
Service and maintenance is a good business for a mature company, but PTC needs more from its license sales. Creo sales continue to be dead weight pulling down PTC's performance. PTC's desktop revenue (mostly CAD) has been essentially flat for 5 years. (See the desktop chart below). Creo 2.0 was released this month; if sales don't start picking up it might be time for Harvard Business School to write a case study about what happens when you kill an iconic brand in the name of technical progress.
Is the current sales drop a temporary glitch? In bullet points, here's what we know:
Paul Cunningham, a superb large-account salesman was replaced by Robert D. Ranaldi.
Ranaldi reduced the customer revenue threshold for the dealer channel from $1 billion to $250 million. This was announced in October 2011, but final decisions were not made until March and April 2012. So in that period, dealers had little incentive to try selling to larger companies, while the PTC sales force lacked relationships with companies in the $250 million to $1 billion sales range.
Autodesk introduced PLM 360, and companies of all sizes are giving it a look. Even a temporary stall to kick the tires could have a ripple effect through the sales cycles at all other PLM vendors.
PTC laid off 180 people in the last quarter even though sales in the prior quarter appeared to be good. Why would a company lay people off and take on more direct sales?
MKS and 4CS contributed $22 million to PTC revenue that was not there a year ago. Without this contribution, total revenue would have been $279 million versus $269 million a year earlier. Total revenue growth would have been 3.7% year-over-year at a time when the economy is supposed to be recovering.
Seven of our custom charts follow.
L. Stephen Wolfe, P.E., a contributing analyst for Jon Peddie Research, provided research for this report.