Increased core count, DDR4 RAM memory technology support, ability to set an overclocked ratio per core with unlocked processors.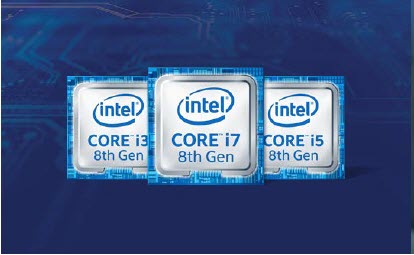 Intel is rolling out its new family of 8th Gen Core desktop processors for gamers, digital content creators, and overclockers. The processors will be available for purchase on October 5, 2017. The company is introducing the Core i3 8100 and 8350K, Core i5 8400 and 8600K, and the Core i7 8700 and 8700K. Along with the new processors, Intel unveiled its Z370 chipset-based motherboards, which are required to upgrade to the new processors because the 8th Gen has all new sockets. The processors offer wide range of performance options to consumers with unlocked 'K' processors. Prices start at $117 and go up to $359.
The core count in these new processors has been increased: Core i3 now has 4 cores; Core i5 now has 6 cores; and Core i7 has 6 cores with support for hyper-threading.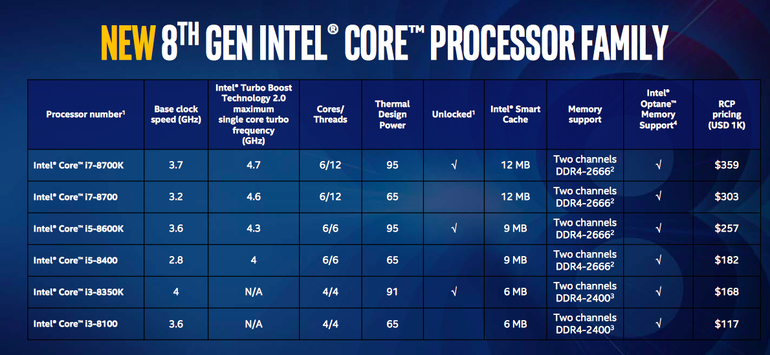 Codenamed Coffee Lake, Intel claims the 8th generation processors are 32% faster and frame rate is improved up to 25% as compared to previous generation processors; and 65% faster compared to a 3-year-old PC, when used for advanced content creation. Intel says these processors also support 4K 360-degree videos and VR.
Intel is touting the flagship core i7-8700K its "best gaming desktop processor ever," and says it can be overclocked to 4.7 GHz using Intel's Turbo Boost Technology 2.0. The company claims gamers can expect up to 25% more frames per second on demanding games like Gears of War 4.
Meanwhile, Intel has also introduced 7th Gen Core X line of high-end processors, including new Core i9 chips, offering up to 18-cores and 36-threads. Power-hungry users would want to upgrade to it; however, price tag of $1999 for the i9-7980XE chip is not for average desktop users.
Those looking for premium performance will likely upgrade to 8th Gen Intel Core desktop processors. New release offers performance improvements, DDR4 RAM memory technology support, ability to set an overclocked ratio per core with unlocked processors, etc. But the users of 7th Gen Intel Core processors will have to get  Intel's Z370 chipset-based motherboards, if they wish to upgrade. Intel is not offering backwards compatibility with the 200-series of motherboards.
Additional product information can be found at https://newsroom.intel.com/press-kits/8th-gen-intel-core/