Government investments in digital technologies—including direct manufacture, PLM, visualization, digital prototyping, and new materials development—will spawn innovation centers across the country.
In a move that could mean an improved job picture for manufacturing in the United States and something of a mini-stimulus, President Obama announced a long-term initiative to foster the growth of manufacturing in the United States. The plan brings together government agencies including the Department of Defense, with industry partners, and universities. Early steps include include two hubs for high-tech manufacturing, one in Youngstown, Ohio which will focus on 3D printing and another in Raleigh, North Carolina, which will concentrate on energy efficient electronics. On Tuesday, February 25, Obama announced two more sites,  one in Detroit which will work on innovation in lightweight and modern metals manufacturing. In Chicago, a consortium will focus on digital manufacturing, and design technologies. In his speech, Obama emphasized the importance of data management, increased efficiency in supply chains, and faster time to market.
Obama also announced new competitions to spur new research and development. The first competition will be for a new manufacturing innovation institute to build U.S. strength in manufacturing advanced composites. It is the first of four new competitions, which will be launched this year.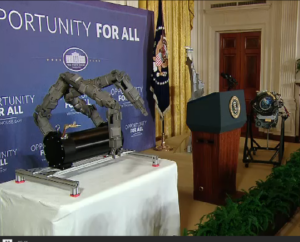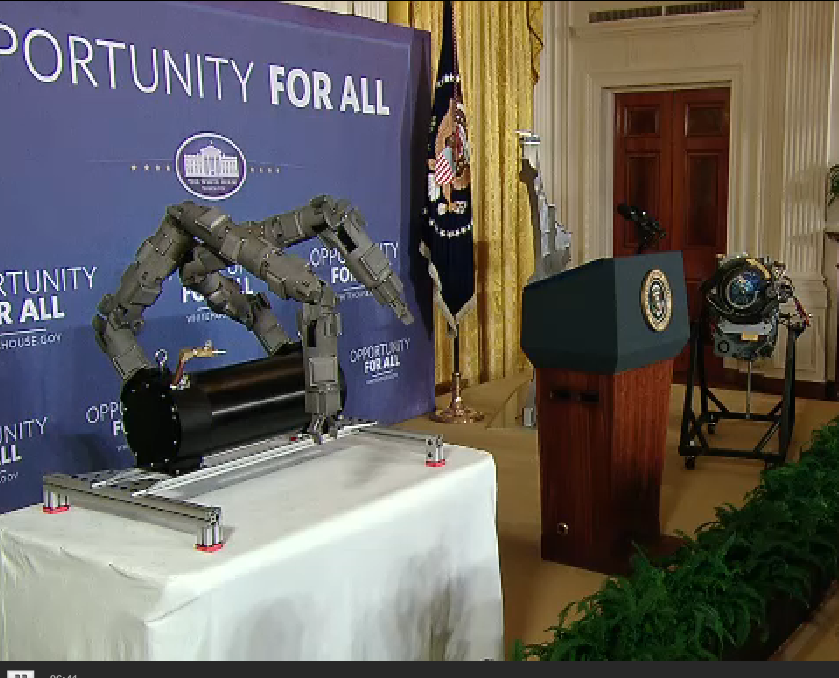 Obama is seeking to further a trend that's been gathering strength with the development of new manufacturing techniques. This is also part Obama's promised year of action, in which he'll try to support growth with initiatives that don't require Congressional support, since there is no Congressional support at the moment.
After outlining the continued slow growth of jobs in the U.S. and the importance of training workers in new technologies, Obama said, "I'm looking forward to working with Congress whenever they're willing to work on these issues," but he added, "in this year of action wherever I can act on my own, I'm going to seize that opportunity."
The details
The Chicago center, the Digital Manufacturing and Design Innovation (DMDI) Institute will be built on Goose Island,  with the cooperation of the U.S. government, industry, and universities. Initial funding is $270 million, which includes $70 million in federal money and $250 from private organizations and other government agencies. In all, 41 companies, 23 universities and labs, and other organizations are involved in the consortium that won the competition. The bidding, led by the Defense Department required competing groups to at least match its $70 million contribution to the project. Chicago beat the goal with $250 million in pledges. Of that, $16 million came from the state of Illinois.  The Chicago bid beat out competitors from the Massachusetts Institute of Technology (MIT) and the Huntsville, Alabama aerospace hub. The private sector funding included $5 million donations from General Electric, Rolls-Royce, Procter & Gamble, Siemens, Lockheed Martin, and Dow Chemical. The University of Illinois is also heavily invested in the project and its super computer Blue Waters is credited with being an important check mark in Chicago's favor.
The Detroit center, or rather the Lightweight and Modern Metals Manufacturing Institute (LM3I), is a 60 member consortium with $140 million in initial funding. The Department of Defense put of $70 million and it was matched by another $70 million from private and public sources. The consortium is being led by EWI and will include the leading manufacturers in aluminum, titanium, and high strength steel as well as universities and laboratories. The University of Michigan and Ohio State University are also involved as is Focus: Hope, Macomb Community College and the Southeast Michigan Workforce Intelligence Network. The long-term goal will be to improve processes for the manufacture of lightweight, high performance metals and alloys. They'll be working with various organizations in pre-competitive advanced research and partnerships across defense, aerospace, automotive, energy, and consumer products industries. "Pre-competitive" is another way of saying competitive companies can cooperate for mutual benefit.
The centers will have an R&D function as well as teaching to disseminate new practices and technology.
What do we think?
While obviously this is an effort to re-establish the U.S. as a leader in manufacturing innovation and technology advances, it is also a reflection of a slow growing but deliberate trend for manufacturing to move closer to the customers. General Electric is among the leaders in this effort because it has claimed its home-based manufacture is proving more efficient, with less error and reduced travel time for goods which no longer have to go overseas for manufacture. However, it's too easy to read these moves as programs to wrest jobs back from China; the world has changed too much for that kind of simplistic move.
As many have pointed out, as digital technologies emerge to improve automation, less people are needed in manufacture. There are fewer jobs but there are more jobs that are better jobs. The U.S. isn't only fighting with China on this front. It's fighting with Europe where there has been a much more concerted and better funded effort to improve technology innovation. Referring to the first four centers announced in Youngstown, Raleigh, Detroit, and Chicago, Obama said, "we can't stop at just four of these hubs," he pointed out that Germany already has sixty and has been investing precise machines and tools "and that cuts into our market share when it comes to manufacturing around the world." Obama talked about a long term vision that will take ten years, 20 years, and produce a network of manufacturing centers throughout the U.S.
Sure, countries are competing for jobs, but the bottom line is that if the dream is real, if a combination of better supply chain management, information flows, visualization, digital prototyping, direct manufacturing, and even lights-out factories mean that products can be made closer to home, that pretty much means more jobs closer to everyone's home.