Sales results have exceeded expectations, with workstation sales up 26% year-over-year.
By Tom Lansford
The transition from a publicly-traded company to a privately held enterprise seems to have been a good change for the workstation experts from Austin. Using the occasion of a recent presentation with their partners from Dassault Systèmes and Nvidia, Dell highlighted the radical growth in workstation units shipped during the last two financial quarters.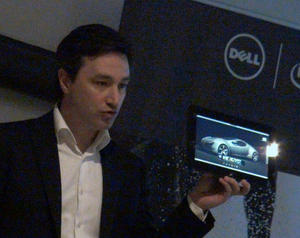 From the heart of the 9 arrondissement in Paris, Dell and partners Dassault Systèmes, Fashion Lab, and Nvidia shared products in design, engineering, and graphics arts—including the solutions for mobile professionals—to remote workstations in the data center. But the big news from Dell was the growth of the Precision workstation business for the last two quarters.
The company is clearly pleased with the performance of the Precision workstation line which has seen significant product launches in 2013 and 2014, notably, the launch of mobile workstations which attack new customers and market segments.
The first quarter of 2014 saw a 15% increase in volume which was a complete surprise to industry analysts who had been predicting a 5-6% growth for the quarter. Dell's Precision workstation products performed exceptionally well by increasing unit shipments 26% year-on-year during the first quarter. The company has increased its customer base by addressing the market with new platforms like the Dell Precision M3800, M2800 and R7610.
Read more about Dell – growing the Precision Workstation business as a private company at CADplace.
CADplace provides information on the CAD and professional design market in German, French and English. Tom Lansford has been working in the professional graphics market for more than 25 years.