JPR says quarter-to-quarter total GPU shipments are down 10%; desktop graphics off 6.7%.
Jon Peddie Research (JPR), the industry's research and consulting firm for graphics and multimedia, announced estimated graphics chip shipments and suppliers' market share for the first quarter of 2014.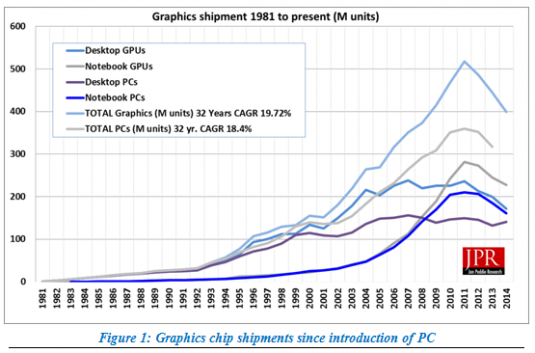 For the previous three quarters, the PC graphics market has gone up. This was the first quarter to show a decrease in shipments since last. Shipments were down 11.6% quarter-to-quarter, and down 4% compared to the same quarter last year.
Quick highlights:
AMD's overall unit shipments decreased 18.2% quarter-to-quarter, Intel's total shipments decreased 7.9% from last quarter, and Nvidia's decreased 10.4%.
The attach rate of GPUs to PCs for the quarter was 135% and 33% of PCs had discrete GPUs, which means 67% of the PCs are using the embedded graphics in the CPU.
The overall PC market decreased 9% quarter-to-quarter, and decreased 3.5% year-to-year.
Q1 is typically the quarter when retailers try to unload what they bought for the holiday season that they didn't sell, and is traditionally seasonably lower than previous quarters. The drop this quarter compared to last year's and is not alarming.
GPUs are traditionally a leading indicator of the market, since a GPU goes into every system before it is shipped, and most of the PC vendors are guiding down to flat for Q2'14.The Gaming PC segment, where higher-end GPUs are used, was a bright spot in the market in Q1. Both Nvidia and AMD said sales of their higher-end GPUs were strong, lifting the ASPs for the discrete GPU market.
The popularity of tablets and the slow but steady economic improvement are the most often mentioned reasons for the decline in the PC market, particularly at the lower-end. The CAGR for total PC graphics from 2014 to 2017 is basically flat. We expect the total shipments of graphics chips in 2017 to be 400.8 million units. In 2013, 447 million GPUs were shipped and the forecast for 2014 is 399 million.
The ten-year average change for graphics shipments for quarter-to-quarter is a growth of -2.8%, and this quarter was -11.6%.
The quarter in general
AMD's shipments of desktop heterogeneous GPU/CPUs, i.e., APUs dropped 21.9% from the previous quarter, and increased 3.7% in notebooks. AMD's discrete desktop shipments decreased 6.6% and notebook discrete shipments declined 21.8%. . The company's overall PC graphics shipments decreased 18.2%. This was due to a drop off in stand-alone integrated graphics chipsets, which was not unexpected given the company's move to embedded CPU graphics in their APUs.
Intel's desktop processor embedded graphics (EPGs) shipments decreased from last quarter by 5.1%, and notebooks decreased by 9.7%. The company's overall PC graphics shipments decreased 7.9%.
Nvidia's desktop discrete shipments decreased 6.6% from last quarter; and, the company's notebook discrete shipments decreased 14.5%. The company's overall PC graphics shipments decreased 10.4%.
Year-to-year this quarter AMD's overall PC shipments decreased 22.1%, Intel decreased 5.6%, Nvidia decreased 12.7%, and others essentially went away.Total discrete GPU (desktop and notebook) shipments from the last quarter decreased 11.5% and decreased 14.3% from last year for the same quarter due to the same problems plaguing the overall PC industry. Overall, the trend for discrete GPUs increased with a CAGR from 2014 to 2017 of 0.1%.
Ninety nine percent of Intel's non-server processors have graphics, and over 67% of AMD's non-server processors contain integrated graphics; AMD still ships integrated graphics chipsets (IGPs).
Year-to-year for the quarter, the graphics market decreased. Shipments were down 4 million units from this quarter last year, which suggests the big declines are leveling off.
Click here to learn more about the JPR market report, or to download it now.