The results are in from the Mt. Tiburon Testing Labs at Jon Peddie Research: The GTX580 may be late, but Nvidia makes up for it with a real winner.
By George Walsh
Managing Editor, Jon Peddie's TechWatch
It's only taken over a year for a product already a year late to be realized in all its fullness, but the GTX580 does it – it just shows how damn hard developing a GPU really is. Ambition, node jumps and an unrealistic cadence have created an environment that puts false values on the value of things and GPUs are the epitome of that malaise.
Gone are the days of sub billion transistor and order of magnitude jumps in architecture and performance, but the echoes of those extraordinary days linger and the press, investors and many consumers have never recovered from the party.
So here we are in reality land, welcome to the show, we're so glad you could make it – whatya got ?
Quite a lot. The GTX580 brings it.
Now all 512 cores and all 16 polymorph engines are running, and at a higher clock with the same or less wattage than the crippled 480. Super good tessellation, great ROPS, and 192 GBytes/sec high-speed memory transfers.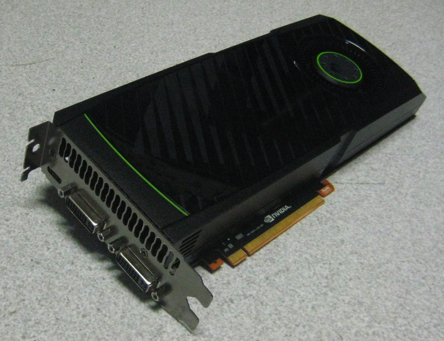 The numbers tell the story, they always do, even if for various reasons we ignore or try to hide them.
So to get some numbers, besides the specifications provided by the suppliers on their data sheets we ran a series of tests using popular games and benchmarks. Specifically we ran Unigine Heaven, Metro 2033, Stalker COP, Aliens vs Predators (AvP), HavkX, and Lost Planet 2, in three resolutions (1680×1050, 1920×1200, and 2560×1600) with 4X anti-aliasing turned on to provide them most realistic stress for a high-end AIB.
We then pitted the Nvidia GTX580 against its predecessor the GTX480, and two of AMD's finest the Radeon HD 5870 and HD 6870 and ran tests on an Intel Core i7 x980 3.33 GHz –based PC with 3 GB RAM running Windows 7 – 64bit.

Then we averaged the results, expressed in frames per second (FPS) to arrive at a general performance factor. Granted one of the conditions or games may have shown the GTX580 and its competitors to greatly superior but that's an unreasonable and unrealistic way to represent a consumer product.
So the average of the averages of performance for the four AIBs is shown in the Performance chart.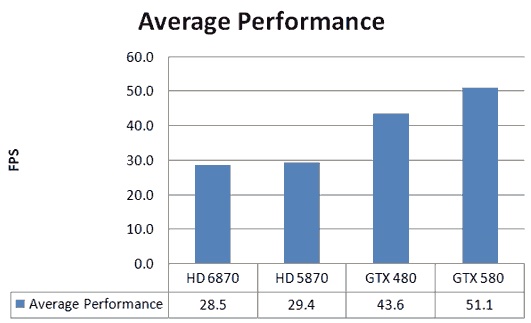 The GTX580 is 10 percent better than its predecessor and an average of 76 percent than the less expensive competitive AMD products.

Nvidia has been criticized for its power usage and so performance per watt has become a common unit of measurement. With its new power management circuitry and improved internal zonal clock gating Nvidia no longer has to apologize for the watts it used to deliver FPS.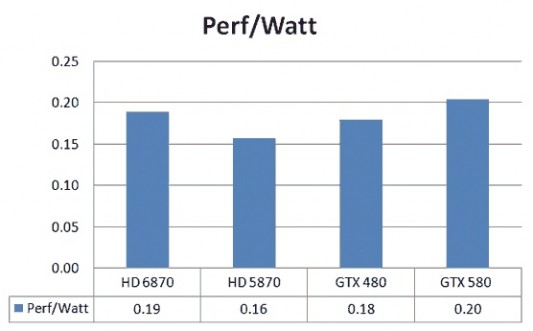 In addition to a novel vapor chamber cooling design of the heat-sink that circulates heat away from the GPU and into the heat-sink fins which have forced air running over them, the AIB has additional power management features.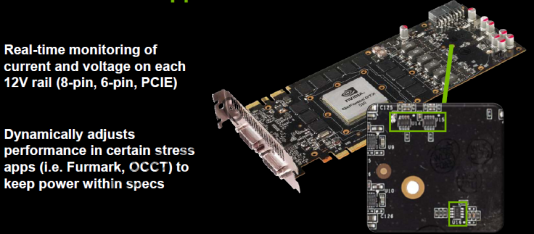 Although the GTX580 takes the gold on performance and perf/watt, it is an expensive AIB at $499 with 1.5 GB, and so the less expensive 1GB HD 6870 beats it on price-performance.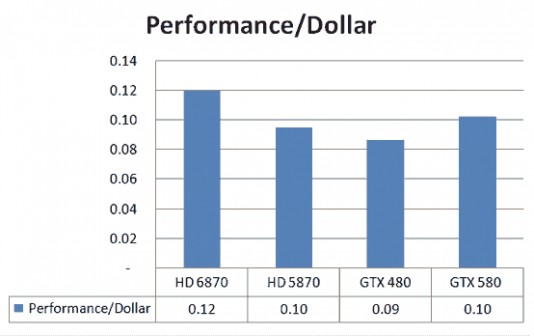 The Nvidia GTX580 did well in all games and benchmarks at all resolutions.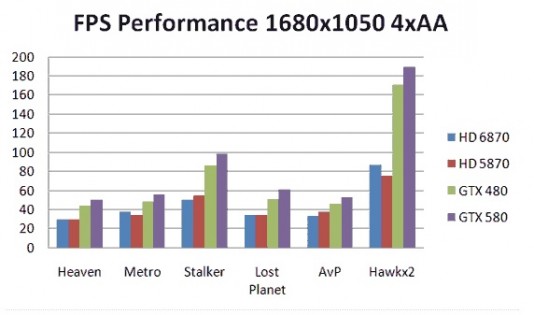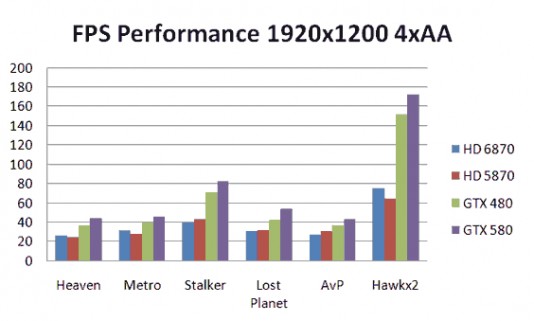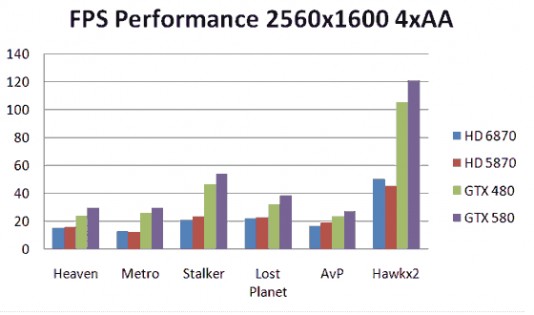 The GTX580 is a clear winner and easy to recommend if you have the budget for such a board.
The HawkX2 benchmark makes heavy use of tessellation and the tessellation coding was written by Ubisoft with technical support from Nvidia  to work through issues as things came up. That kind of support model is very typical for how GPU vendors work with developers.
Both AMD and Nvidia work with game developers and benchmark developers to ensure the games work well with their AIBs. And they both also pay marketing dollars for marketing rights to titles.
What do we think?
It's taken Nvidia a while to get its mojo back and the company isn't out of the woods yet, but the GTX580 and the smaller versions recently introduced definitively make the company not just a contender but a winner. With good technology, superior marketing skills, and multiple initiatives like 3D Vision, CUDA physics, and 3-way SLI there's a lot to like.