Disruption rules the marketplace as diverse form factors come and go.
By Jon Peddie
For over a decade now we have had a pretty stable, standard way of segmenting the desktop PCs:
Workstation (and there are sub-categories in this segment)
Gaming Enthusiast
Performance
Mainstream
Value (entry)
Depending on the strengths and weaknesses of their lineups, AMD and Intel have messed with the accepted segmentation. At one time or another both companies have suggested it should be Good, Better, Best, but that didn't provide enough differentiation for the OEMs and retailers. Lately, AMD is on a campaign to have the PCs categorized by application.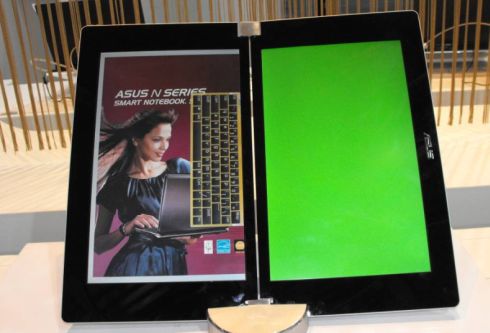 Portable computers have gone through a long period of stability and they came to be called Laptops. Somewhere along the way they became notebooks and the two names get used interchangeably. They've also been called portables, and mobiles. Then over time as notebooks (we'll stick with that name for now) got more diverse with regard to the CPUs and GPUs further segmentation has evolved.
Now we have:
Workstation (and there are sub-categories in this segment)
Gaming Enthusiast
Performance
Mainstream
Thin and light
Basic (entry)
Netbooks
Tablets
And Intel's latest category—Ultrabooks, which spans several of the segments. Given that notebooks are outselling desktops it's not too surprising that there would be more segmentation—a notebook for all occasions and budgets.
So with those thoughts in mind we take a look at some recent notebook developments.
Two screen notebooks: the more you see the more you can do
One of the limitations, some say drawbacks, to a notebook is the limited amount of screen space and resolution you can get. Over the years various clever people have tried to find a solution to the problem.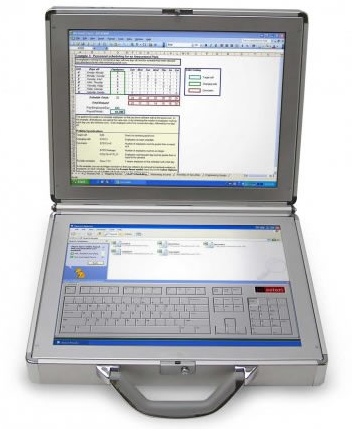 The first attempt that we saw was at Comdex 2002. Estari, a small engineering company in Pennsylvania, introduced a dual-screen laptop with a removable keyboard. Then, in 2007, Estari announced the product again as the 2-VU notebook. It came with two 15-inch XGA touchscreen and a price tag of $4,350—and then the company dropped out of sight.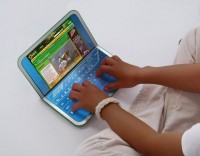 The OLPC (One Laptop Per Child) introduced a dual screen touch panel laptop that could have a virtual keyboard on one of the screens called the XO-2. No prototype of the XO-2 had been built and the machines weren't scheduled to ship until 2010. But by 2010 the OLPC team had scrapped their ambitious dual-touch screen XO-2 concept machine due to budget constraints.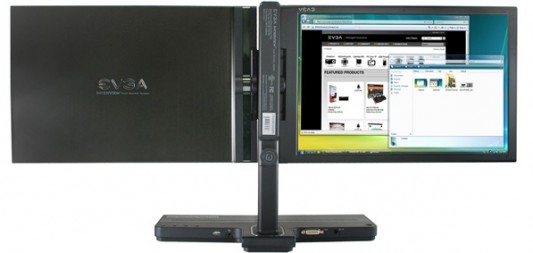 A slick design for a dual screen laptop showed up in 2008 from the Valerio Cometti of the Milan industrial design agency, V12, who called the concept the Canova. And, at CES 2008, eVGA showed a portable dual, 17-inch screen system that could fold up and was no larger than a laptop. We have one of these at JPR and love it.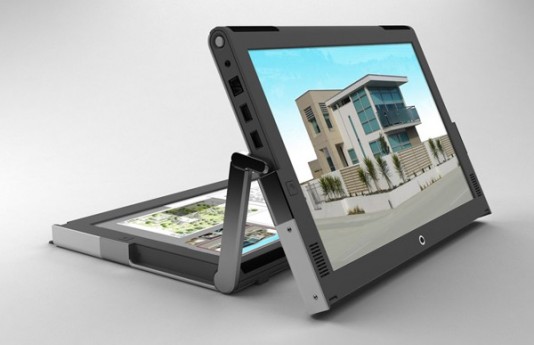 In 2009 we saw three entries of dual screen laptops. At CeBit Asus demonstrated a dual screen laptop prototype. The device was to be used a myriad of scenarios, for example as a conventional notebook with multi-touch screens, a virtual keyboard and touch pad; a multimedia hub, in which both dual panels could combine to form a larger display for widescreen entertainment; or an e-book mode in which users can hold the dual panel concept notebook just like they would a conventional book while flipping pages through intuitive gestures or by touch.
In January 2009 Lenovo brought out the Lenovo dual-screen Thinkpad W700ds with a 2.53 GHz Intel Core2 Duo processor, 4GB of DDR3, a 17-inch 1920 x 1200 main screen, a 10.4 inch 1366 768 second screen.
Alaska based gScreen introduced their dual 15.4-inch screen Spacebook—two full screens. Targeted at professional designers, filmmakers, photographers the Alaskan company is soon to ship the two-inch-thick laptop. The LED backlit screen size has been increased to 17-inches with 1920 x 1080 resolution. Other than that the laptop is fairly standard with optical drive, three USB ports, and GeForce GTS 250M GPU. It starts at $2295: http://www.gscreenlaptop.com/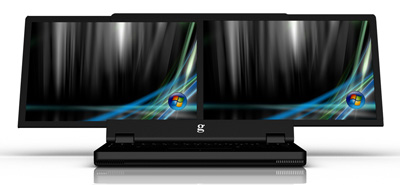 Jon Peddie is CEO of Jon Peddie Research.