4K resolution for virtual and augmented reality video compression; only send pixels to the head mounted display.
Video services start-up NGCodec today announced it has been working with Amazon Web Services (AWS) in the development of its RealityCodec for hardware-accelerated AWS-based video encoding and processing for virtual reality (VR) and augmented reality (AR).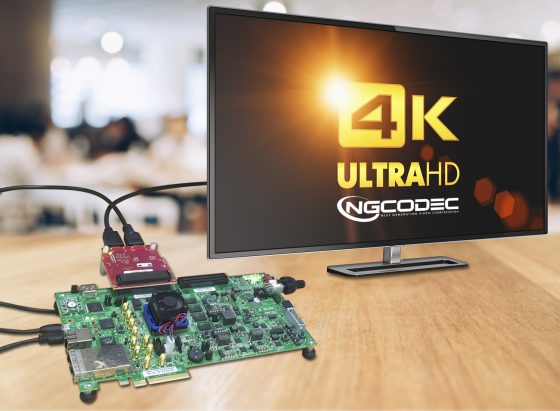 RealityCodec allows for AWS-based, high-performance video compression (at up to 4K resolution) and ultra-low sub-frame latency cloud-based VR and AR (should this feature be implemented by Amazon) for all AWS customers. NGCodec says that by running the compute function in the cloud, it is possible to send only the graphics pixels in the form of a video feed to the HMD (Head Mounted Display). The benefits to this approach, NGCodec says, are higher performance, lower cost and longer battery life for the consumer VR/AR hardware.
NGCodec's RealityCodec technology runs on NGCodec-designed FPGA (field programmable gate array) instances; the company says this level of custom hardware presents significant advantages for AWS cloud computing compared to traditional software encoding, including:
Massive acceleration and efficiency compared to traditional CPU/GPU instances

Higher-quality video for live encoding

Lower running costs and flexibility / upgradability, just like traditional software.
"AWS is breaking ground as the first public cloud to add FPGA instances, which offers significant acceleration over CPU and GPU instance types," said Oliver Gunasekara, CEO & co-founder, NGCodec Inc. "Many large media workflows, including on-demand and live streaming content, are moving to the AWS Cloud. These can now have all the benefits of FPGA acceleration in the AWS ecosystem."
What do we think?
Almost all the video we watch today — especially the video online — is lossy compressed. That means the compression algorithm cheats on delivering a perfect version of the original to save time and bandwidth. Every 10 years or so, a new industry standard comes along to improve the video compression process. NGCodec is riding the wave of the most recent standard, High Efficiency Video Codec or H.265/HEVC, which delivers a 50% reduction in bit rate over the previous standard (H.264/AVC). Taking it to the cloud with field-programmable hardware is a nice trifecta of software, cloud, and hardware.