Most CAD vendors released at least one mobile app in 2011, but some felt pressured to do it. 
Joy's Law of Innovation, credited to Sun Microsystems co-founder Bill Joy, can be summarized as "innovation happens elsewhere." It certainly was the case in 2011 for the CAD industry, where the innovation could be directly attributed to software vendors being pushed by mobile.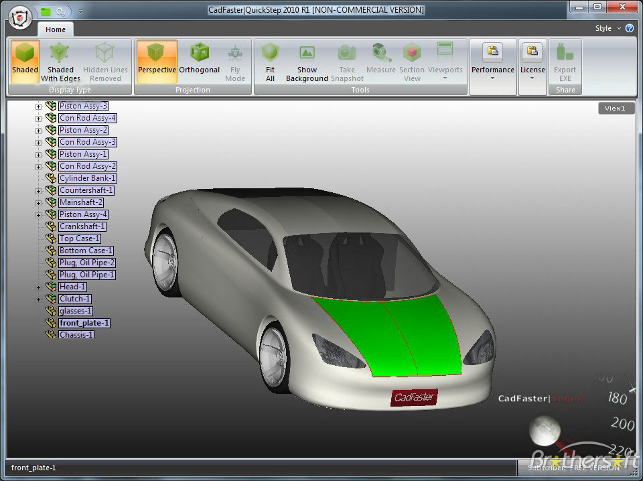 One by one, most CAD vendors have released at least one app for iPhone, iPad or Android mobile devices; almost all the new apps are free. If we could turn back the clock to 2009 or so and examine each company's secret development plans for 2011, it is unlikely we would see "develop mobile applications and give them away" on anybody's plate.
Some CAD vendors have responded better to the innovative pressure of mobile better than others. The reasons are many. Some started investing in cloud technology early, and it takes a supporting cloud to manage a mobile CAD app. Some responded to specific requests from customers with deep pockets and large installations. One vendor (Bentley, cited below) is honest enough to admit it feels "pushed" by the mobile revolution. Several small vendors are the current leaders in mobile apps for CAD, leaping over their larger competitors.
Here's a quick look at how the largest CAD companies dealt with the mobile technology revolution in 2011, followed by a list of small CAD vendors and start-ups with mobile apps:
Autodesk: If we were giving out grades, Autodesk would get an A for its efforts in mobile in 2011. There are currently 14 mobile apps listed on Autodesk's website, and more on the way. All 14 are in Apple's iOS; four are also in Android (AutoCAD WS, SketchBook Mobile, SketchBook Express, Inventor Publisher Viewer, and Pixlr-o-Matic). Granted, some of the Autodesk apps are not aimed at the professional CAD market, but there is significant amount of R&D crossover happening at Autodesk, with its popular Autodesk Labs as the innovation hub.
Aveva: The British vendor of software for plant design and shipbuilding is currently a no-show in mobile.
Bentley Systems: Bentley now calls all their free utilities "apps" no matter the hardware platform. Specific to mobile Bentley offers four iPad apps, with the most popular being their Bentley Navigator for iPad. In a candid moment at a user conference in November, CEO Greg Bentley said that his company feels "pushed" by the rapid innovation in mobile technology and high customer demand for mobile products. We think he was speaking for many companies, not just his.
Dassault Systèmes SolidWorks: A tablet-based viewer for SolidWorks models was the talk of SolidWorks World in San Antonio in January. Too bad for SolidWorks it was from start-up CADFaster. The marketing department cranked out iOS-based product guides and an app for getting the most out of SolidWorks World. But R&D was a mobile no-show.
Dassault Systèmes, all other divisions: The 3DVIA division has become the standard-bearer for mobile within DS. The 3DVIA Mobile apps for iPad and iPhone accept a mix of industry standard and Dassault-specific formats, which must first be published from a desktop computer to the web, then downloaded to the mobile device. The current releases of SolidWorks and Catia have a "publish to 3dvia.com" command, which converts the model and uploads it for subsequent review.
Intergraph: The Huntsville-based division of Hexagon, a leader in plant design, is a no-show in mobile.
Siemens PLM Software: The leader by seats in PLM is already on version 2.0 of Teamcenter Mobility, an iPad app that connects users to a corporate Teamcenter installation. Its CAD visualization is based on JT, the open visualization standard Siemens introduced several years ago which has become a de facto standard in automotive. There are no mobile apps from Siemens for their mainstream products such as Solid Edge; again the innovation comes from somewhere else. Start-up Simlab Soft has an iPad Exporter for Solid Edge.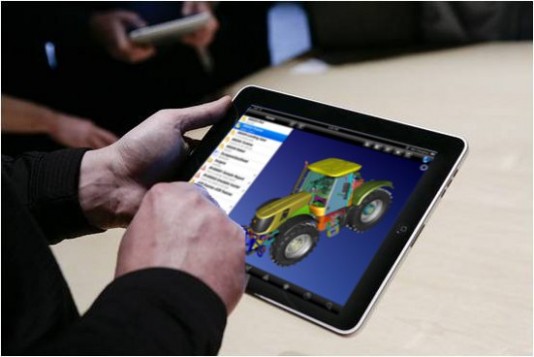 PTC: The company which brought the world parametric modeling is still working on its first mobile app, which we expect will be called Windchill for iPad. An alpha version was shown to the press at the Planet PTC conference in June. The demo received an oohs-and-aahs moment when shaking the iPad exploded an assembly. The last of the major CAD vendors to jump on the mobile bandwagon, PTC is still lecturing anybody who asks about the risks and responsibilities of using intellectual property in the mobile environment, and remains—at least in public—skeptical about cloud computing for product development.
Here are the start-ups and smaller CAD vendors with mobile apps not mentioned above, as listed in the recently published Jon Peddie Research CAD Report:
NTT Data Engineering Systems offers Beagle Mobile, a viewer for 3D ship hull data.
MicroCAD Software offers Quick3dPlan Mobile, which can create 2D plans using predefined shapes. Drawings can be exported to Quick3DPlan on the desktop.
LiveCAD offers Home Design 3D, a home decorating tool.
Elevenworks offers TouchDraw, for structured 2D vector drawings (think Visio).
Aneba Geoinformatica SL offers Cartomap CAD, a geospatial review tool.
Distrust Simplicity offers Cubits, for reviewing SketchUp files.
Gstar offers Gstar CAD MC, for viewing, editing, and sharing CAD drawings.
IMSI/Design offers TurboViewer Pro, a powerful drawing viewer it sells for $19.99, and a lite version, TurboViewer X, for $4.99.
Dot Systems offers DrawVis Free, a 2D drawing review tool that reads Autodesk DXF files.
Krueger Systems offers iCircuit, a tool for designing and experimenting with circuits.